Arataki "The One and Oni" Itto's Story Quest, Taurus Iracundus Chapter Act I: Rise Up, Golden Soul! is open to players who have completed the following prerequisites:
Inazuma Archon Quest—Chapter II Act III: Omnipresence Over Mortals
Sangonomiya Kokomi's Story Quest—Dracaena Somnolenta Chapter Act I: Warriors' Dreams Like Spring Grass Renewing
The quest, which starts with chasing after Arataki Itto to turn him in to the Tenryou Commission, evolves into helping a confused blue oni, Takuya, realize his ability to integrate into human society. Upon following Takuya's tracks, players will encounter a Domain called Crumbling Guilt.
The Domain's mechanics are simple: find your way around the interior to search for the imprisoned people and defeat the boss. To do so, you must use mechanisms to move stairways to make a path for yourself, as well as battle Kairagi who get in the way. Make sure to occasionally turn Elemental Sight on to spot Common Chests along the way.
First Mechanism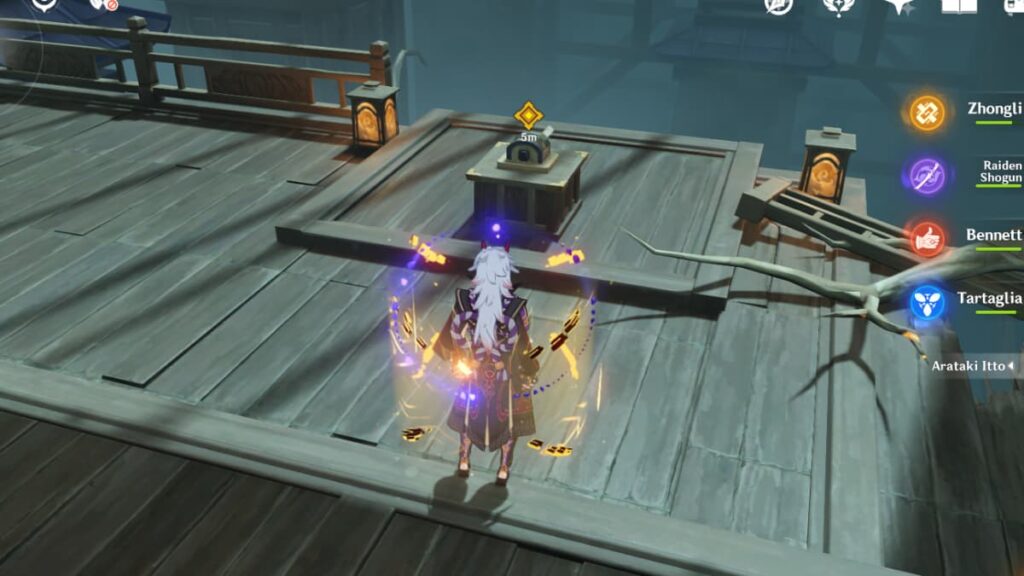 Upon entering the Domain, you run into the problem of being faced with a cliff and no way forward. Arataki Itto suggests interacting with a mechanism, which will cause the stairs to shift—allowing you to get through.
Second Mechanism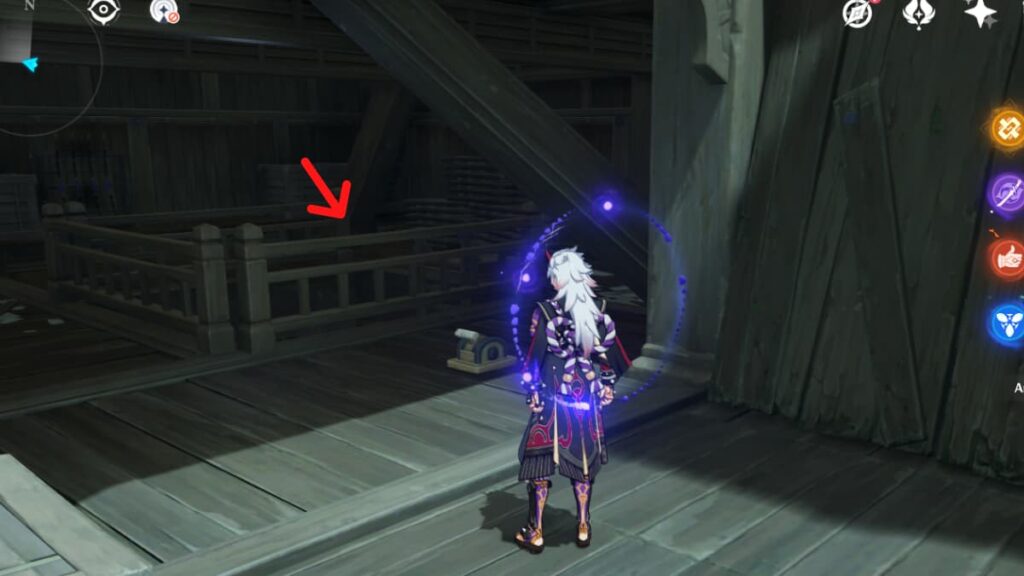 Once you climb the stairs, look left, and you'll find the second mechanism inside a shack. Activate it and a ladder will appear inside.
Related: Everything we know about Arataki Itto in Genshin Impact – Abilities, voice actor, and more!
Go down the ladder, and you'll find yourself back at the same location where you found the first mechanism. You need to activate the mechanism again to allow the stairs to shift toward a different entrance. Once that's done, climb up the same ladder.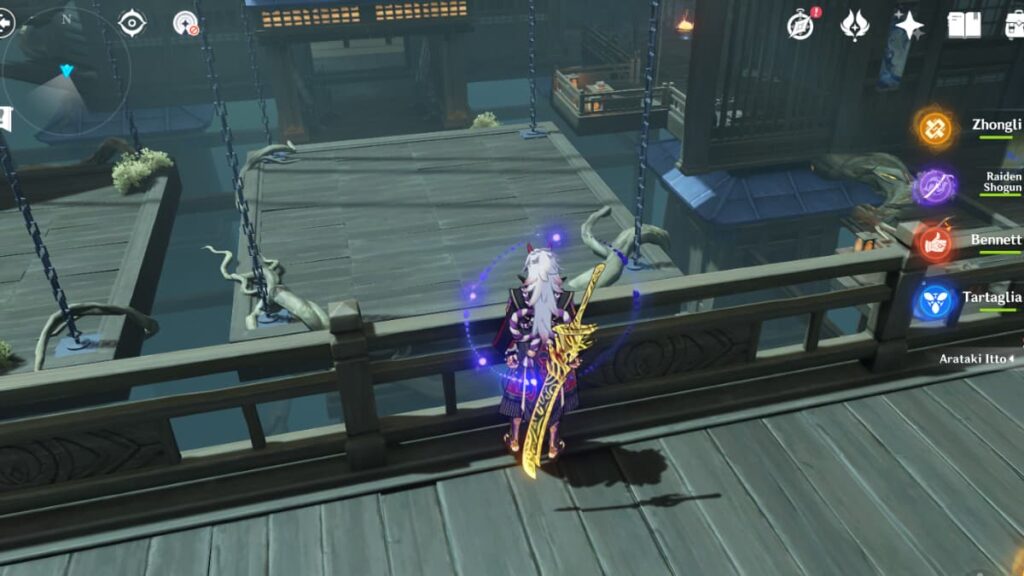 Now that you're back upstairs, head to the railing and jump or glide down to the platform. This is the staircase that shifted—it now leads toward a different entrance.
Head inside to find Kairagi waiting for you. Defeat them to unlock the Exquisite Chest in the middle of the room and open the sliding door to another room.
Third Mechanism
Simply follow the path to find the third mechanism, which, upon activating, will shift a stairway that will lead you toward the room with imprisoned people. Defeat the Kairagi to prompt a cutscene to play. You'll also get a Precious Chest from this segment.
Fourth Mechanism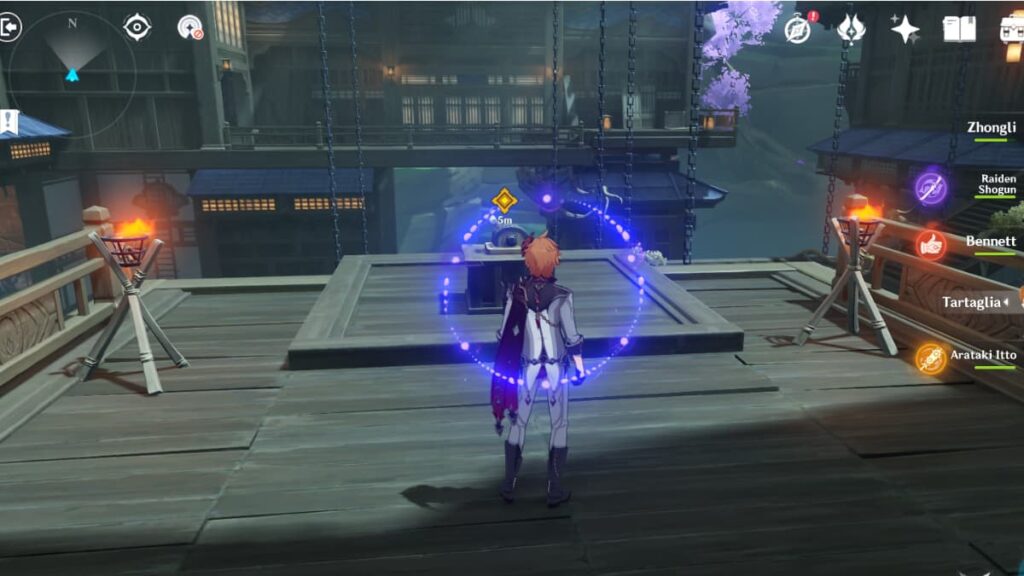 Go outside and follow the path to the fourth mechanism. Activating this will bring you the staircase leading toward Nogata, the final boss of this Domain. Once you're in his room, defeat the Kairagi to prompt a long cutscene featuring Itto's heroics, which will trickle into completing the Domain.
This Domain allows you to test run Arataki Itto in multiple battles! If you were lucky enough to get him through Wishes, check out our guide on Three ways to play Arataki Itto as a DPS character in Genshin Impact to jumpstart your character-building.