The "Fang of Watatsumi" is one of the five segments that make up The Moon-Bathed Deep World Quest, which players can activate through Tsuyuko, a Shrine Maiden loyal to the Sangonomiya Shrine. The first four segments of the World Quest, which include The "Fang of Watatsumi" can be done in any order.
Start by heading to the top of the cliff northwest of Watatsumi Island. Its exact location is marked in the image below. Make sure to bring your best combat team, as there's a big battle up ahead!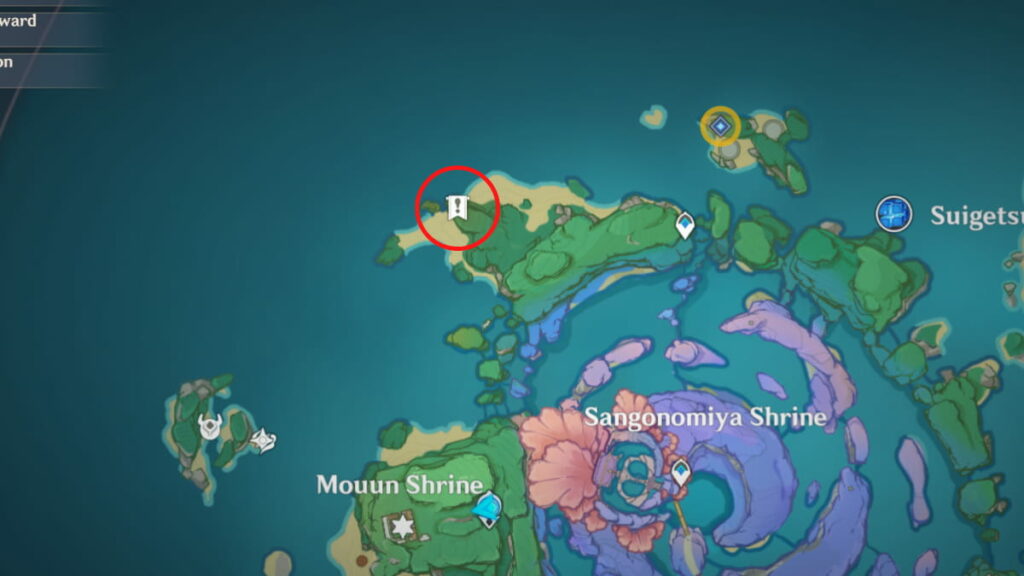 Upon reaching the area, you'll find a locked shrine with a Stone Tablet beside it. Read the Stone Tablet to prompt the Ley Line Monolith in front of the shrine to become interact-able. Likewise, interact with it to begin the battle.
Related: Best Team Comps in Genshin Impact
Enemies
Wave
Enemies
Waves 1 and 2
x2 Hilichurl Fighter
x2 Pyro Hilichurl Fighter
x1 Electro Hilichurl Grenadier
Wave 3
x1 Electro Hilichurl Shooter
x1 Electro Samachurl
x1 Hydro Samachurl
x1 Blazing Axe Mitachurl
x1 Crackling Axe Mitachurl
Waves 4 and 5
x1 Treasure Hoarder Gravedigger
x1 Treasure Hoarder Pyro Potioneer
x1 Treasure Hoarder Electro Potioneer
x2 Nobushi Hitsukeban
Wave 6
x1 Kairagi: Fiery Might
x1 Kairagi: Dancing Thunder
Battle Mechanics
The only goal in this battle is to protect the Ley Line Monolith for five minutes. You don't need to kill all the enemies. But they're pretty strong, so you can't just stand around and do nothing as they'll quickly destroy the Monolith.
Each enemy defeated will reduce the timer by five seconds. If your party isn't strong enough to defeat them, try stalling using a Freeze team. A budget option would be to use a combination of Barbara and Kaeya or Chongyun—or both.
If you fail, don't worry as you can try any number of times. After successfully protecting the Ley Line Monolith, the shrine will unlock and a glowing purple item will appear in the middle. Interact with it to pick up a Spirit Pearl.
Check out our guides on How to complete the "Tail of Watatsumi" in Genshin Impact and How to complete the "Eye of Watatsumi" in Genshin Impact to help you progress in this World Quest.