If you missed out on Genshin Impact's Mini Seelie event, here's your chance to obtain another pet! Like the Mini Seelies, Endora will follow your character around. Read on to find out how to obtain your new Oceanid companion.
How to get Endora, the Oceanid Pet
Endora is an obtainable reward in the Wishful Drops event that will release along with the Genshin Impact 1.4 update. Similar to the Lost Riches quest, in which players scouted for treasure to obtain a Mini Seelie, Wishful Drops asks the player to investigate multiple areas and help their mini Oceanid named Endora grow.
Wishful Drops event starts on April 9 at 10 am Server Time and ends on April 16 at 4 am Server Time. You must be Adventure Rank 20 or above to participate and have completed the prerequisite quest Life Flows On.
After completing this quest, you'll get an event-limited Endora Gadget. When equipped, your Elemental Skill will be replaced with Endora's Bubble Spit skill. Don't worry. You can switch between skills when necessary.
Related: Genshin Impact: Cleansing Heart
Every time you aid your Oceanid in absorbing a certain number of water creatures from an exploration area, by using Bubble Spit to capture them. This increases the area's exploration progress, and when you fully complete an area, you'll earn one Heart of the Spring. Do take note, you have to capture the water creatures. Killing them does not earn exploration progression, and using Cyro on these will help immensely in capturing them.
Before you can get the rewards, you'll need to battle Raging Rhodeia: aka, the Oceanid boss! During this event, inside her arena, players have the choice on which challenge they want to undertake—the normal boss or the event boss. Rhodeia will be showing off some new abilities in this fight, but fear not: instead of having to go through her water lackeys, you can now deal damage directly to Rhodeia herself.
During this event, certain characters will receive a buff of increased Hydro Resistance and Energy Recharge. Here are those characters:
Five-Star
Four-Star
All pictures character pictures will take you to more character information. This includes all Talent and Skills, along with Ascension and Talent materials.
After defeating Rhodeia, players can collect lots of Character Experience Materials by using 40 Original Resin like usual or a Heart of the Spring instead. There are five areas total in Wishful Drops, meaning you can gain up to five Hearts of the Spring. Each redeemed Heart will net you 30 Primogems and 30,000 Mora, so make sure to collect them all!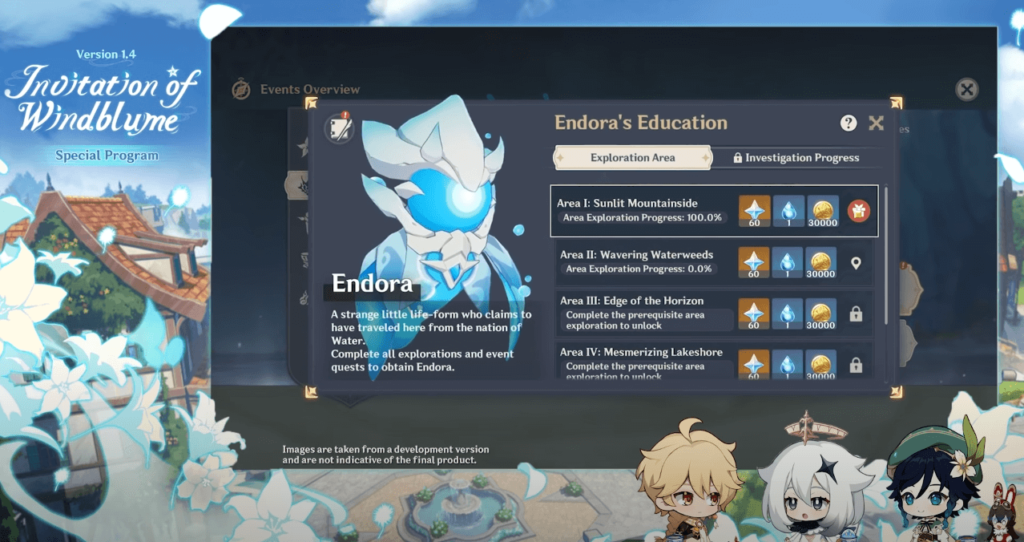 You'll need to complete all of the exploration areas and event quests to unlock Endora as a pet. Afterwards, Endora becomes a permanent companion who will stay by your side. In case all those other rewards weren't enticing enough, now you get your very own pet Oceanid!
Check out our article on the Genshin Impact 1.4 Patch Notes to see which confirmed characters and events are coming to the game! We'll also keep you in the know on upcoming banners and Genshin Impact code updates.