When a new banner is dropped and HoYoverse releases beautifully designed characters, it can be tempting to open your wallet immediately. However, there are several ways to efficiently earn primogems without spending a dollar. Here are ways to get primogems fast in Genshin Impact.
Best ways to get primogems fast in Genshin Impact
Shrine of Depths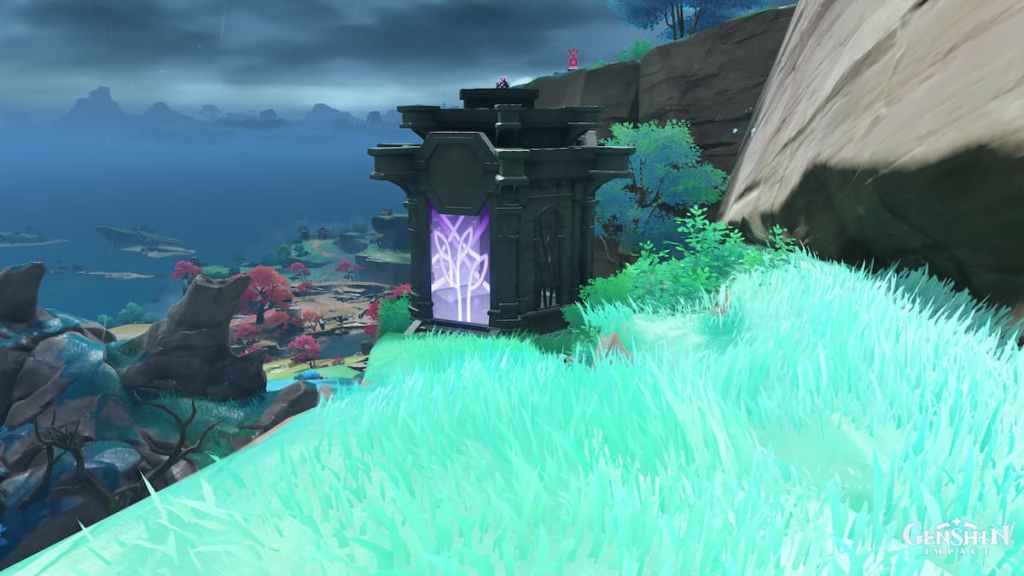 Shrine of Depths is a structure that appears across Teyvat and is closed by a wall of energy. It drops 60 primogems and various artifacts and character EXP materials. Players must obtain a Shrine of Depths key to unlock these shrines, which can be acquired from quests and domains. If you were unaware that these structures existed, you might have these keys already in your inventory. Each region contains 10 shrines and an exclusive type of key. Next time you find a Shrine of Depths, mark it on your map so you can return to it later.
Adventurer Handbook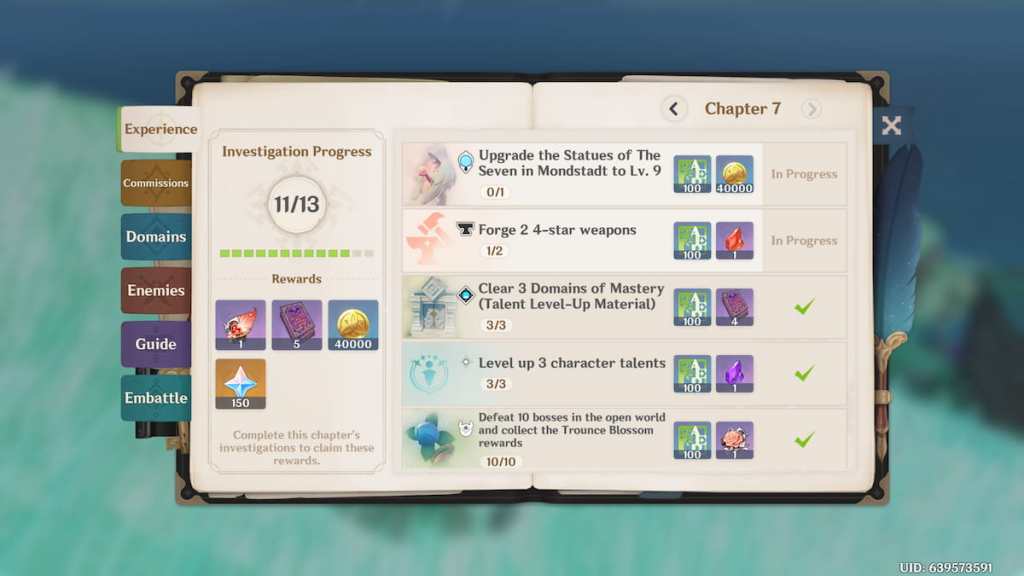 The Adventurer Handbook is a set of challenges that introduce players to the world of Teyvat. These challenges include defeating an Electro Hypostasis in single-player mode and opening 100 chests. There are numerous chapters of this book, and completing a page rewards the player with 50 to 150 primogems, depending on the page. These challenges are often completed accidentally because they focus on Genshin's core game mechanics. Now is perfect if you haven't checked your progress on the Adventurer Handbook.
Spiral Abyss
The Spiral Abyss is an endgame activity where you must defeat difficult enemies quickly. On each floor, you can earn stars, which are gained from completing time challenges. For example, a timed floor may ask you to defeat enemies with 240 seconds remaining on the clock as the hardest challenge, 180 seconds as the medium difficulty challenge, and 60 seconds as the easiest challenge. If you complete the 240-second challenge, you will also receive stars for the 180 and 60-second challenges.
With these stars, you can earn rewards for each floor. With three rooms per floor, it is possible to earn a total of nine stars on each floor. Spiral Abyss provides incremental rewards based on your number of stars, granting you 100 primogems per tier. If you have been neglecting Spiral Abyss, this is an excellent way to speed through the lower floors and gain hundreds of primogems.
Related: All Spiral Abyss Floors in Genshin Impact, Explained
Daily Commissions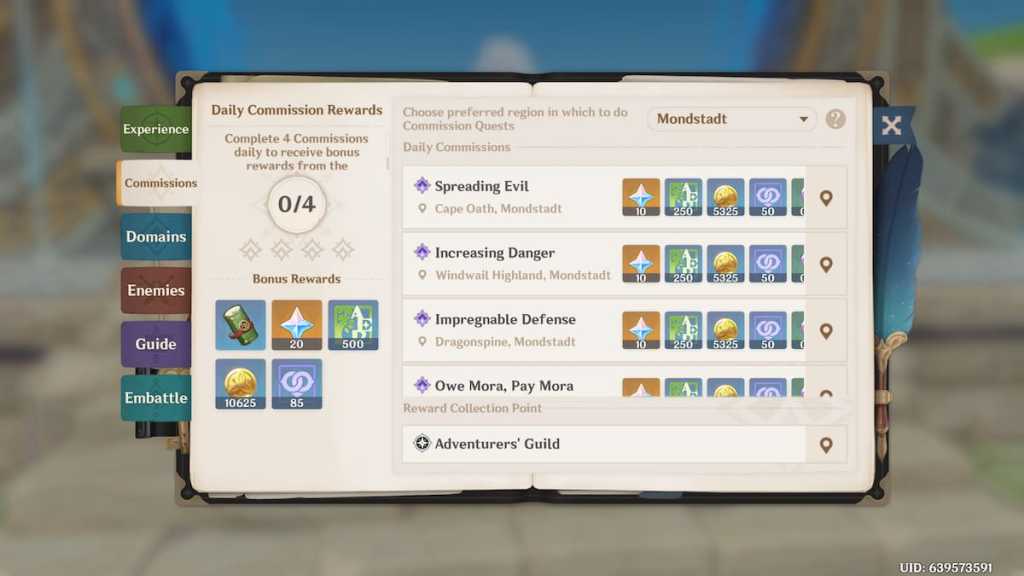 Daily commissions are perhaps the fastest way to earn primogems, as completing these missions grants you 60 primogems. Four random commissions appear throughout the region daily, and each commission grants you 10 primogems. However, if all four have been completed, you can go to Catherine at the Adventurer's Guild and claim an extra 20 primogem completion bonus. Completing these commissions takes less than 10 minutes and should be a daily ritual for any primogem-hungry player.
Exploration Domains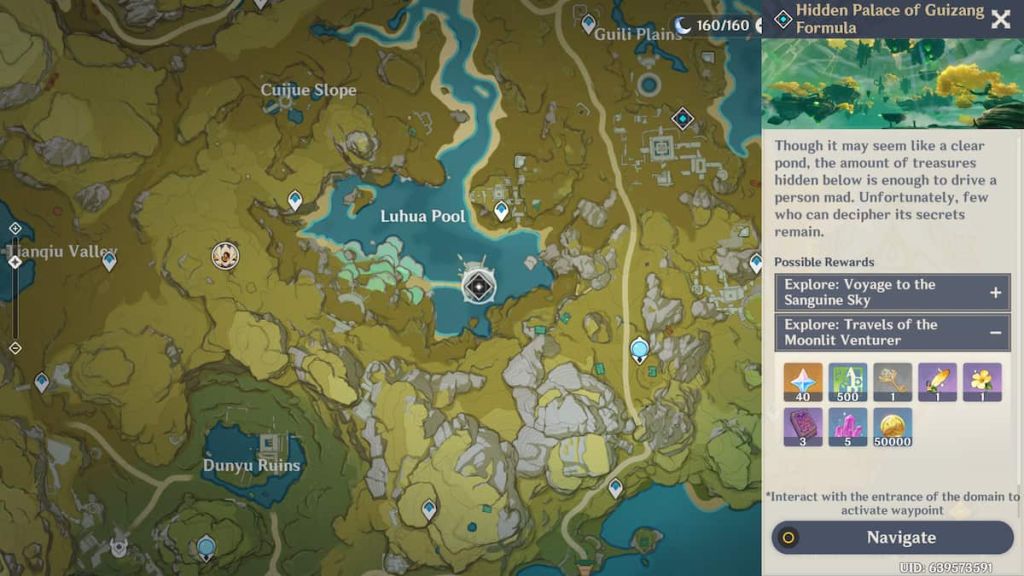 If you have yet to complete a region's activities fully, then exploration domains may still be available. These domains grant 40 primogems, a Shrine of Depths key, and other rewards. They can only be completed once, unlike artifact domains and talent domains. If you are new to a region, such as Inazuma or Sumeru, keep an eye out for these easy primogem opportunities.
Teleport Waypoint Hunting
If you are new to a region, you can hunt for teleport waypoints that have not been activated yet. Activating these waypoints earns five primogems each and can be obtained quickly with some exploration. Activating teleport waypoints early also helps with future quests, preventing the need for extensive walking between quest steps.
Event Quests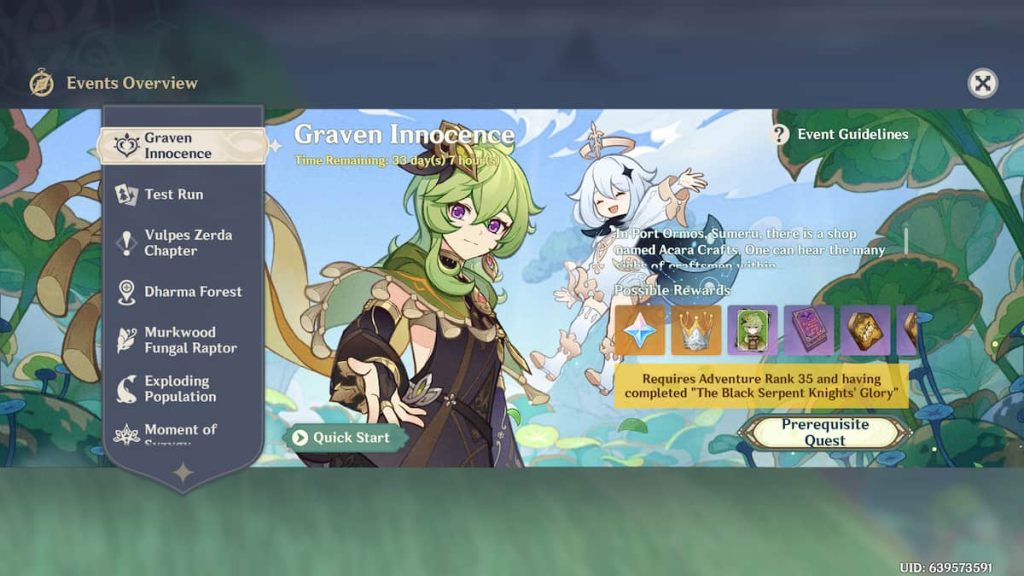 Event quests are excellent opportunities to earn primogems, although you can only access them at Adventure Rank 35 and after their prerequisite quests. These quests reward everything from primogems to free characters and must be completed within a limited time. These events usually occur when a new banner is dropped, creating the perfect opportunity for primogem gain.
Test Runs
Test Runs are available when a new banner is released and allow players to have a sneak peek of the banner character's gameplay. Each five-star character's Test Run awards 20 primogems, and double banners mean double the Test Runs, providing the opportunity for 40 primogems. Unfortunately, the four-star character Test Runs do not award primogems, but they do provide ascension materials.
Related: Should you pull for Tighnari or Zhongli in Genshin Impact Version 3.0?
Achievement Hunting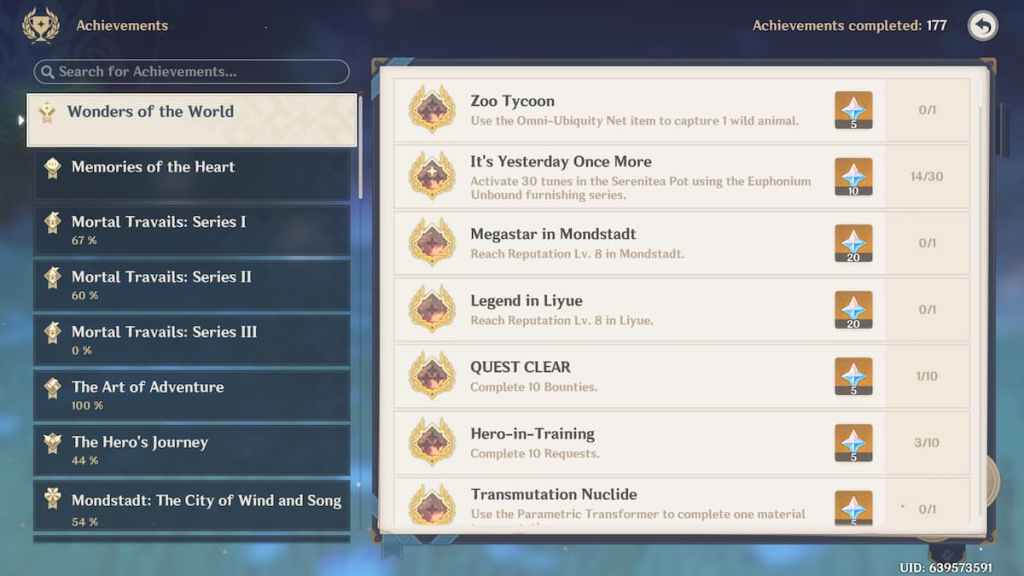 Achievement hunting is another excellent way to earn primogems fast. Each achievement grants anywhere from five to 20 primogems, and some achievements are especially simple to earn. Some easy achievements include Blazing Dadaupa, which involves setting a Wooden Shieldwall Mitachurl's shield on fire, and Survival Expert, which involves grasping how 40 different dishes are made. If you have been putting off the process of claiming these achievement rewards, now is the time.
Serenitea Pot Trust Rank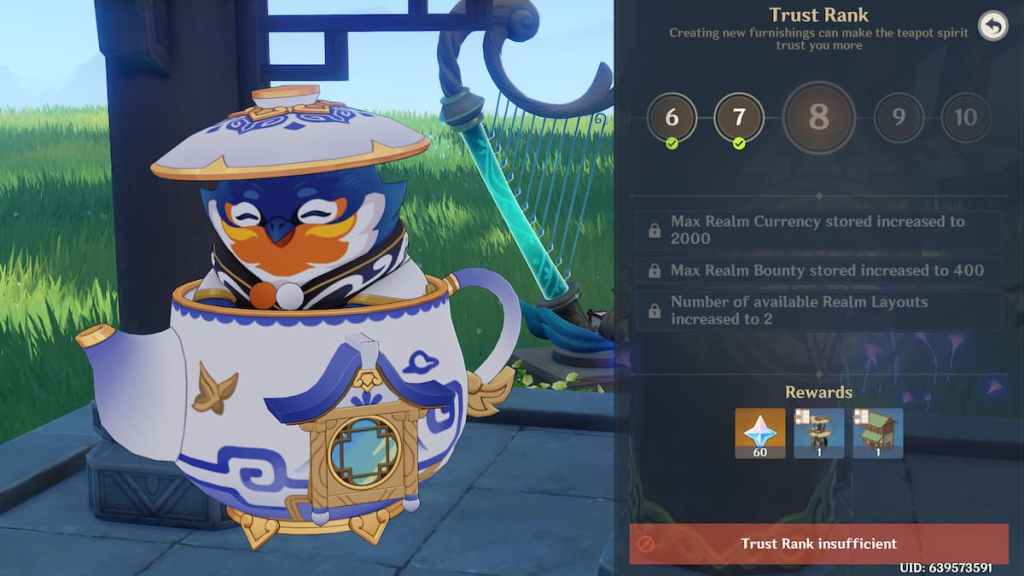 If you have unlocked the Serenitea Pot, increasing your Trust Rank grants 60 primogems each level. To increase your Trust Rank, you must create new furnishings for the first time, which will fill a trust bar. You can find this bar by selecting the Trust Rank menu, where you can view your current progress. Higher quality furnishings award a higher level of trust, and you can see each furnishing's trust value by selecting it in the Create Furnishing menu.
Genshin Impact Codes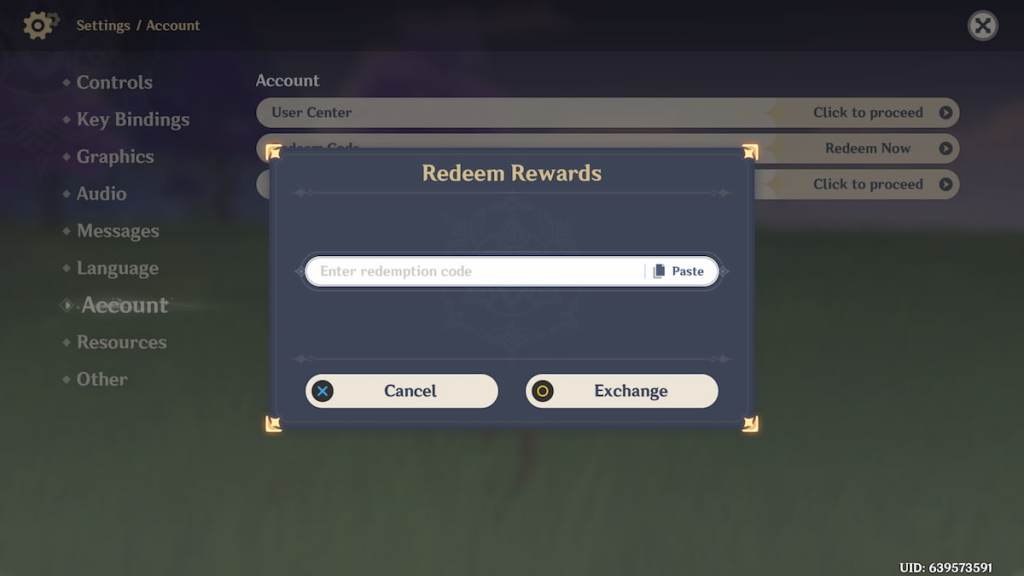 HoYoverse frequently reveals new codes after their livestream, with limited-time codes that award several hundred primogems. Although these codes expire quickly, there are two permanent codes in Genshin that never expire, but you can only use them once. Check out our Genshin Impact codes page, which our writers constantly update for a maximum of 110 primogems.
For more Genshin Impact guides, come check out Genshin Impact Version 3.0 Sumeru events overview – get Collei for free here on Pro Game Guides.