Inazuma's Cube puzzles can be as easy as aligning all the light-up faces or as mind-shattering as having to solve them like sudoku. In Tsurumi Island, you'll find plenty of Cube puzzles in all difficulty levels—three of which live in the north of Shirikoro Peak.
Start by heading to the puzzles' location in the area marked up below. Make sure you have the Peculiar Pinion Gadget equipped. You can obtain this Gadget by completing the Octave of the Maushiro.
You'll initially only find two Cube puzzles: one with five Cubes and another with four Cubes. The third can be unlocked after the first two are completed.
Related: How to solve all Tsurumi Island Stone Slate Ishine Script puzzles in Genshin Impact
First Puzzle
For the first puzzle, rotating A Cube will cause the B Cube to also rotate, so it's best to align the A Cube first. Rotate the Cubes by hitting them with any Attack.
Hit the Cubes in this order: A > A > A > B > B > B. The puzzle will complete when all Cubes are lit up and are facing the same direction. You'll get a Common Chest for completing this part.
Second Puzzle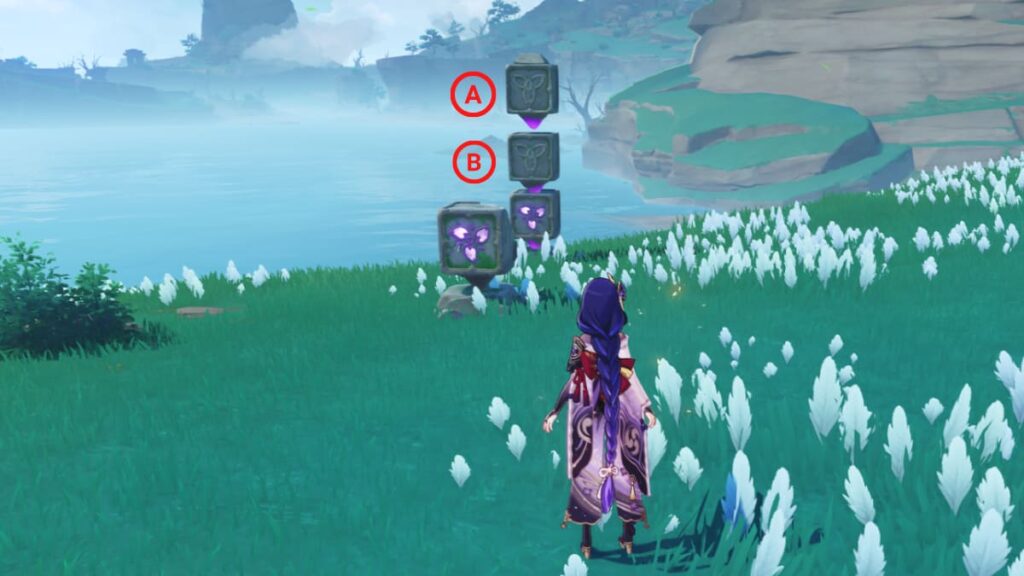 The second puzzle is easy as moving one Cube won't affect the other, so you can freely move them in any order until they all face the same direction. Or follow this pattern: A > A > B > B > B. You'll also get a Common Chest for completing this part.
Third Puzzle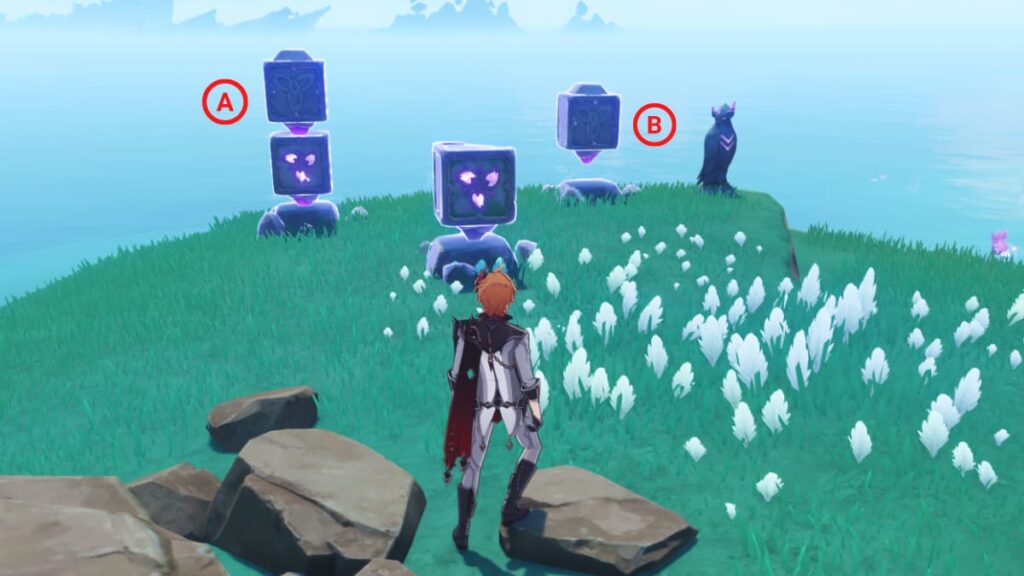 After completing the first two Cube puzzles, use the Peculiar Pinion Gadget on the Thunderbird Statue to prompt a hidden puzzle to appear. Like the second, rotating one Cube will not cause another to move, so you can freely hit them until they all face the same side. Consider hitting them in this order: A > A > B > B > B.
Once that's done, two Ruin Cruisers will appear. Defeat them to spawn a Remarkable Chest.
Check out our guide on How to solve the Star-Shaped Gem puzzle in Tsurumi Island | Genshin Impact to solve more puzzles on the island.