The Coordinates of Sun and Rain is a Genshin Impact Domain located in an underground cave below Apam Woods called The Rain's End. You must complete a series of long World Questlines to gain access to the area, then solve a puzzle to unlock the Domain.
Prerequisites for unlocking The Coordinates of Sun and Rain Sumeru Domain in Genshin Impact
You must meet the following prerequisites to unlock the Domain:
How to remove the barrier blocking The Coordinates of Sun and Rain Domain in Genshin Impact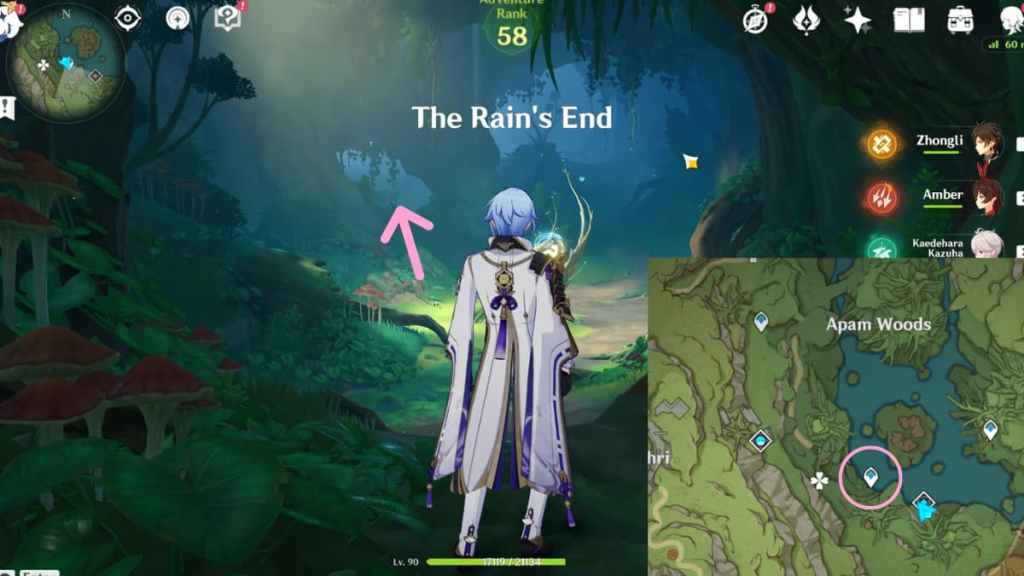 Once you've completed all of the prerequisites, head to The Rain's End via the Teleport Waypoint below Apam Woods, circled in the image above. If you don't see this Teleport Waypoint in your World Map, you might have forgotten to unlock it while doing the Varuna Gatha questline, so you can head to the Varunastra in the middle of Apam Woods and jump down the entrance to find the hidden Waypoint. Once you're underground, head toward the Domain through the path the arrow points to above.
Related: How to unlock the Garden of Endless Pillars Domain in Sumeru in Genshin Impact
You'll find a barrier blocking the Domain, and must solve a puzzle to disperse it. Apply Dendro onto the Elemental Monument to prompt green traces to appear. Follow the green traces to find a Sprouting Branch.
Equip the Vintage Lyre and follow the prompts to play the Rhythm of the Sprout (do > so > so > la > ti on the third row) to revive the Sprouting Branch. Interact with it to summon Healthy Dendrogranum, then follow the green traces back to the Elemental Monument.
A floating projectile will appear above the Elemental Monument. While the Healthy Dendrogranum is still active, shoot the floating projectile with an archer to disperse the barrier, allowing you to enter the cave housing The Coordinates of Sun and Rain Domain. Don't forget to interact with it at least once to unlock it.
To unlock another rainforest Domain, check out our guide on How to unlock the Under the Umbrella's Shade Domain in Genshin Impact.