Feeding Paimon isn't the only reason to go fishing in Genshin Impact. There are also awesome rewards if you know the right people to talk to. Here's where you can go to claim your rewards for fishing in Sumeru, including the free four-star bow, End of the Line.
Where is Loumelat, Sumeru's Fishing Association vendor in Genshin Impact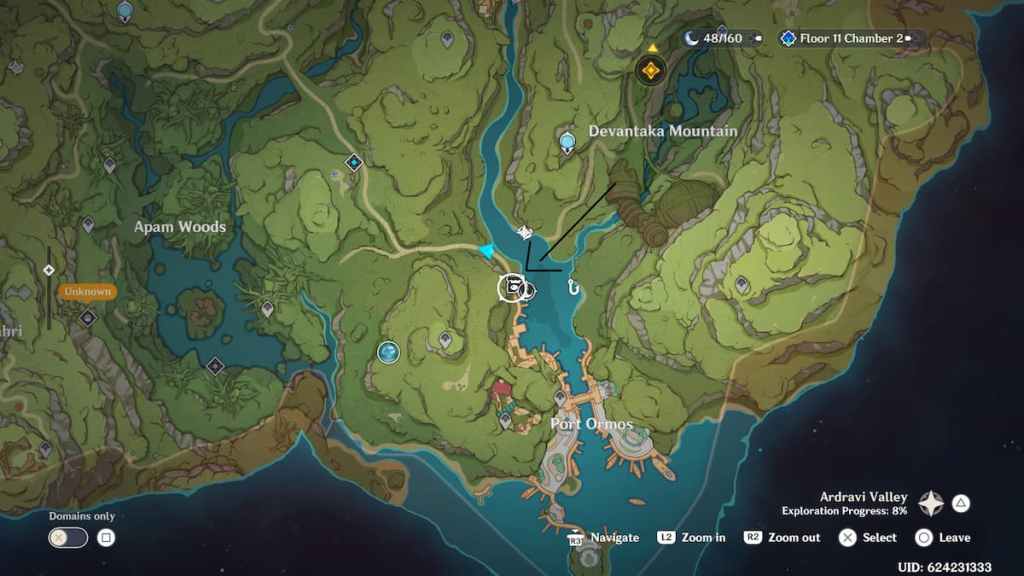 North of Port Ormos, at the end of the western dock. She'll tell you quite the story if you ask about her Rashid. Or you can buy some fishing supplies, including cool rewards, for the fish you've caught.
Related: How to unlock the underwater Teleport Waypoint in Sumeru in Genshin Impact
What you can get at the Sumeru Fishing Association in Genshin Impact
Lots of goodies. But keep in mind Fishing Associations deal in fish, not Mora. Here's how many of each fish you'll need to exchange for rewards:
Item
Item Description
Amount of fish you need
Formula: Sugardew Bait
Bait blueprint for Sumeran fish
Medaka x 3
Shaded Clarity
Furnishing blueprint
Medaka x 10
Serendipity
Sumeran Fishing Rod
Medaka x 20
True Fruit Angler x 20
Sunset Cloud Angler x 20
Sandstorm Angler x 20
End of the Line
Four-Star Bow
Peach of the Deep Waves x 4
Lazurite Axe Marlin x 16
Halcyon Jade Axe Marlin x 16
Original Fish Ointment
Refinement Material for End of the Line
Peach of the Deep Waves x 2
Lazurite Axe Marlin x 8
Halcyon Jade Axe Marlin x 8
Fishing Line Stabilizer
Gadget that can make fishing easier
Medaka x 3
Weapon Stats for End of the Line bow in Genshin Impact
| Stats | At Level 1 / Refinement 1 | At Level 90 / Refinement 5 |
| --- | --- | --- |
| Base Attack | 42 | 510 |
| Energy Recharge | 10.0% | 45.9% |
| Weapon Skill | Triggers the Flowrider effect after using an Elemental Skill, dealing 80% of attack as AoE damage upon hitting an opponent with an attack. Flowrider will be removed after 15 seconds or after causing three instances of AoE damage. Only one instance of AoE damage can be caused every two seconds in this way. Flowrider can be triggered once every 12 seconds. | Triggers the Flowrider effect after using an Elemental Skill, dealing 160% of attack as AoE damage upon hitting an opponent with an attack. Flowrider will be removed after 15 seconds or after causing three instances of AoE damage. Only one instance of AoE damage can be caused every two seconds in this way. Flowrider can be triggered once every 12 seconds. |
Want to know about other weapons in Genshin Impact? Check out Genshin Impact Sacrificial Sword – best characters, stats, and how to get it and Why the 5-star Haran Geppaku Futsu sword is the best DPS weapon in Genshin Impact here at Pro Game Guides