One of the best things about Skater XL on PC is that you can mod it. Since its release it has built up a big community that loves making content for the game, and so you get even more bang for your buck with every mod that you install. So, here are some of the best mods to include in your game.
Best Skater XL Mods
Before being able to use these you will have to make sure that you have Unity Mod Manager and the XLShred Menu installed which is what allows you to add the extras to your game. If you need help with this then YouTube has a few tutorials to guide you through the process.
Skin Editor
The Skin Editor mod makes clothing your skater way more versatile in terms of textures, and lets you avoid having to mess around with the shared asset file like you previously had to. The mod comes complete with different category options for organization so that you also don't have to worry about forgetting where you put certain modifications and textures that you've created. The customizations are also not limited to just clothing, as they can be applied to your board as well. In terms of accessories the editor brings along with it new hat variants as well such as a ski mask, 5-Panel hat and an array of beanies... Who doesn't love beanies?
Stats Menu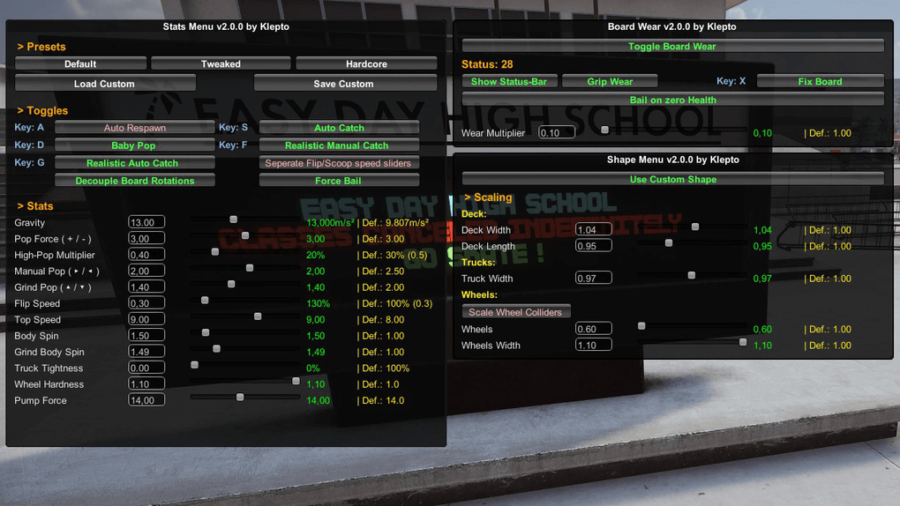 Similar skating game Session has an in-built stats menu that allows you to change many game factors, however, Skater XL needs a mod to include this, and that is the Stats Menu mod. Included in the XLShred loader, it allows you to change settings which are usually fixed, such as the strength of gravity, flip speed, push speed and pop (ollie) height. Although it is intended to be a realistic skating simulator, you can hit some ridiculously fun lines and do some outrageous tricks with these settings tweaked! Thankfully there are presets and default settings that come with the menu as well, as a newcomer might get a little out of hand with the sliders. You don't want to have fun moon walking just for your skater to never be able to perform a regular Treflip again!
There is also a second part to the menu specifically for your board. This controls concepts such as board wear which extends to the trucks and wheels as well. So whilst you can have an unrealistic trick line, you can have a realistic look to your skateboard. Along with this you can naturally customize the deck graphic, grip tape, board texture as well as the wheels. We know that half of the time you don't get to see your board design, but darn it if we don't choose a great looking one anyway! Plus, having your board graphic actually say Skater XL is a little too meta don't you think? This actually uses the Skin Editor which we covered above, so if you are looking to fully customize your board then these two mods go hand in hand.
Related: How to Manual in Skater XL.
Babbo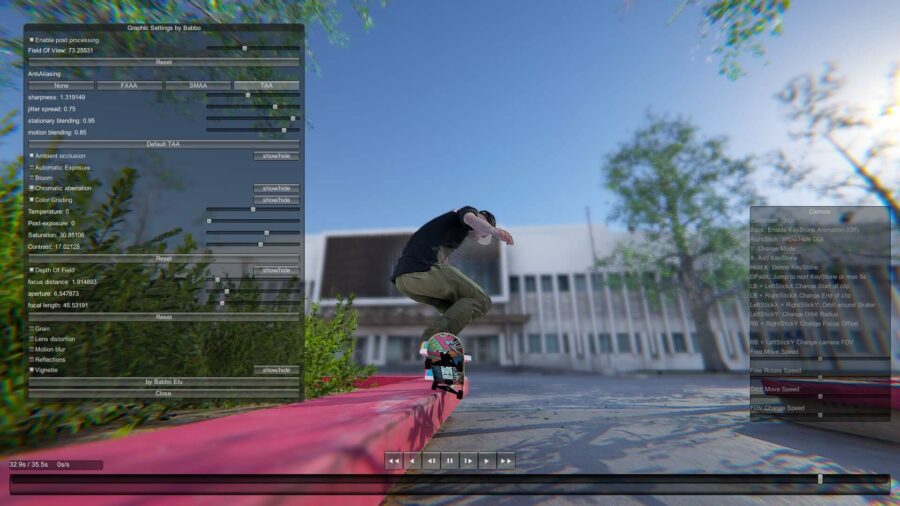 Babbo controls the graphics of Skater XL. With this you can change items such as the in-game lighting, color grading and it can also be used to add a fisheye lens so that you always feel as though you're skating in a video part. This, of course, is not something that you can usually do with Skater XL's base settings, so this a really handy mod if you are particular about lighting set ups, or just want your game experience to feel and look a certain way. The game does come with a bit of pesky motion blur as well which is not to everyone's tastes, so this mod helps to get rid of that and stop your game feeling fuzzy! This entry does not have an actual download page, and is only available through the Skater XL modding community Discord channel. You will have to ask to join before being able to get your hands on the file for this mod.
Rumble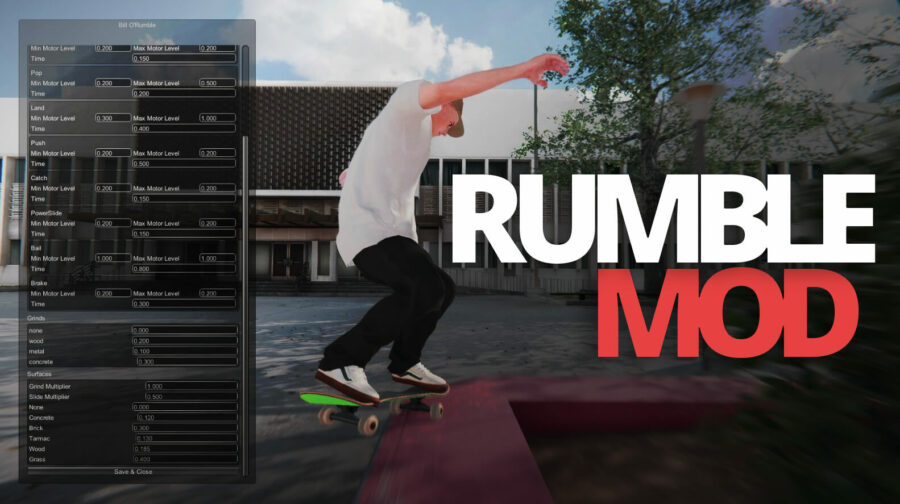 Some players are not so concerned with the lack of a rumble feature, but if you want to feel the controller vibrate as your board hits the ground then this mod is for you. Rumble gives you that good old tactile feeling when gaming, making it seem as though you can feel at least some sort of sensual result from landing tricks (not in the funny way! Get your mind out of the gutter!) Once again, the game doesn't come with it naturally, so this mod is a bit like when you had to stick a rumble pack onto your Gameboy Advance.
Related: How to do Common Tricks in Session.
Custom Parks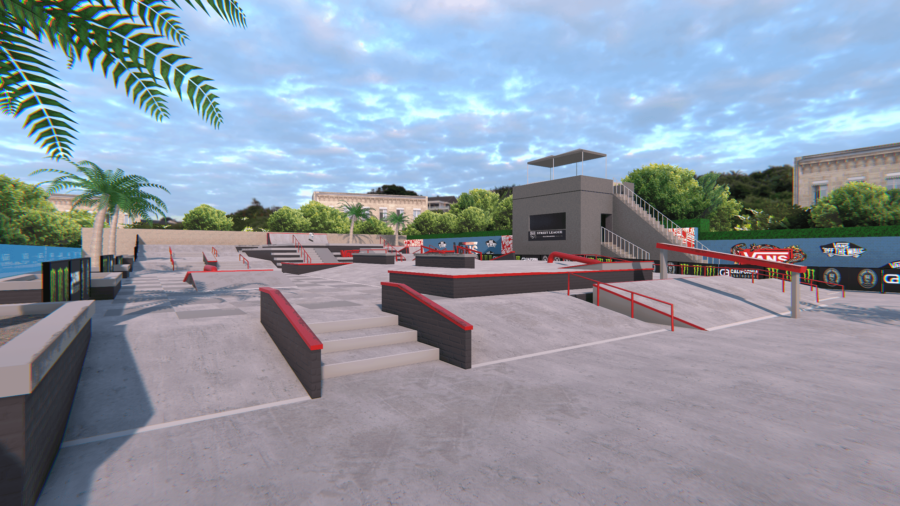 Despite being a mod, we would argue that custom parks are an absolute must in Skater XL. The modding community is extremely talented and creates fantastic maps which are on par quality-wise with the standard maps that come with the game. Locations like Applewood Park, Slam City Jam and Vans Huntington Beach are all available through these community add-ons. You can even play the Maloof Money Cup from Skate 3! Given that it is a realistic skating sim, having real-world settings and skate parks adds to the experience in a big way, and we recommend that if you only get one mod set up, that it is this one. Maps are available from the mod.io for Skater XL - if you do not see a map you are looking for then it is most likely available in the modding community Discord channel.
Honorable Mention: XLMultiplayer
As of last month, Easy Day Studios included an official beta for multiplayer within the game, so technically this mod is not needed anymore to be able to join up with your buddies and do some thrashing. However, although the community seem to be loving this update, sometimes official servers just don't provide the experience people are looking for - and so we thought it only right to to include the old, modded multiplayer option XLMultiplayer as well - just in case it is something you wish to check out!
Looking for more skating help? Check out how to get the Around the World Achievement in Skater XL.