Phasmophobia is the hot new ghost detective game that will have you searching for evidence and finding spooky phantoms that linger within particular locations. You will be using many different tools to make contact with these fiends, many of which you will be able to purchase and bring on the mission yourself. However, there are some that you will find while exploring the haunted area, and one of those is what we are going to discuss in this guide.
It should be noted that the Ouija Board is a dangerous option to use when playing the game. It will greatly decrease your sanity level, so it is not recommended if you are already low. The board can also anger the ghost, which is a double whammy of losing sanity and then being attacked!
Using the Ouija Board
To use the Ouija Board in Phasmophobia, you will first need to find one. They will randomly spawn in the area you are searching, but unfortunately you can't buy them or add them to your inventory. Once you find one, you can then pick it up and move it wherever you'd like. Place it somewhere that is at least somewhat nearby where you think the ghost is inhabiting. Once you've played it down, make sure the text is lit up. Once the letters are glowing, you can then ask the ghost questions. If a ghost is nearby, it can respond to you by using the board!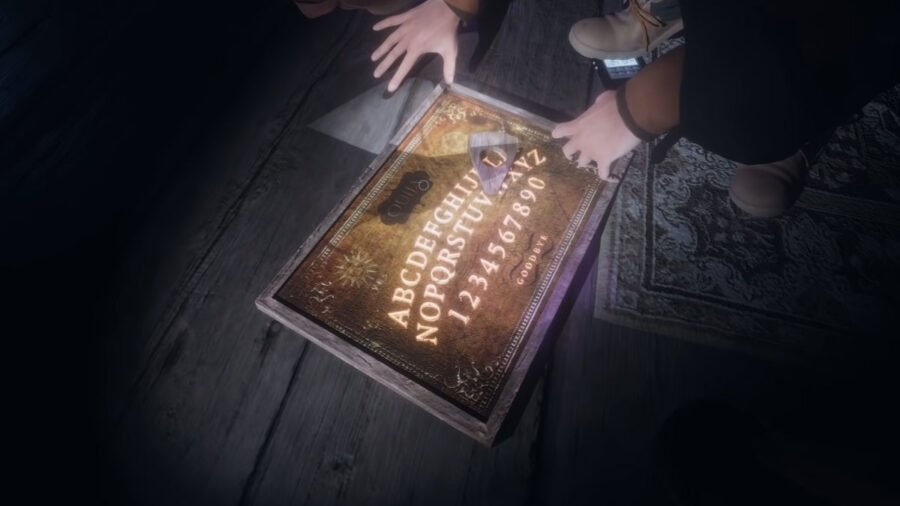 Questions to Ask with the Ouija Board
Here's a list of questions you can ask to the Ouija Board when it is
Are you old?
Are you young?
Are you alone?
Are we alone?
Are you here?
Are you close?
Are there any spirits?
Did you murder?
How old are you?
How long have you been here?
How long ago did you die?
How many are in this room?
How many ghosts are in this room?
How many ghosts are in here?
When did you die?
What is your room?
What is the name of the person you killed?
What is the name of the person you murdered?
What is your age?
Where are you?
Who did you kill?
Who is your victim?
Who did you murder?
Who died?
Who is here?
Who is in this room?
Credit to Java on Steam for the list of questions that are available.
You can check out the Ouija Board in action in the following video: