There are plenty of side missions for you to take on in Hogwarts Legacy. Some are short, almost self-explanatory tasks meant to help you discover how to solve simple puzzles scattered around the castle. Other times, you'll talk to another student and be given a rudimentary map, then asked to find the treasure that it leads to. One of the first maps that you'll be able to follow is given to you by Arthur Plummy just outside of Charms class. Here's where to find the Cache in the Castle Treasure in Hogwarts Legacy.
Where to find the Cache in the Castle Treasure Location in Hogwarts Legacy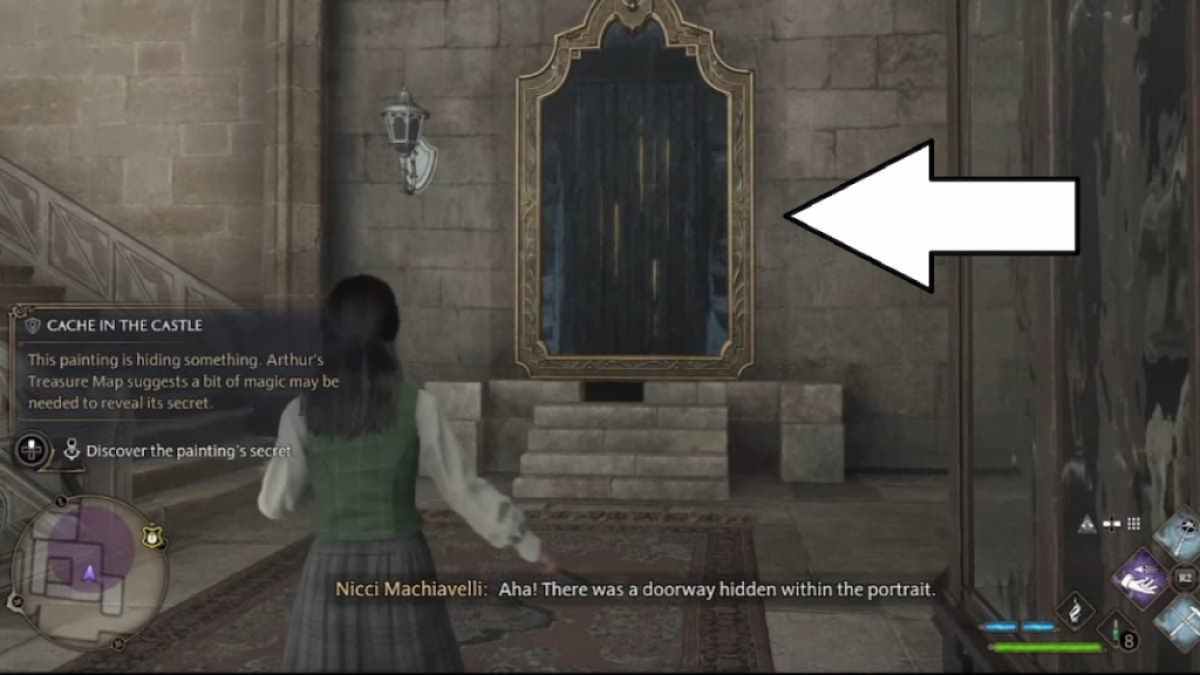 Ultimately, the Cache is hiding here behind a portrait that you'll need to cast Accio on. This will pull the knocker at the top of the portrait and reveal the treasure. You're meant to stop by three landmarks in between the Charms Classroom, through the Defense Against the Dark Arts Tower, and to the Transfiguration Courtyard on your way to obtain this prize.
Where to find the first Landmark in Hogwarts Legacy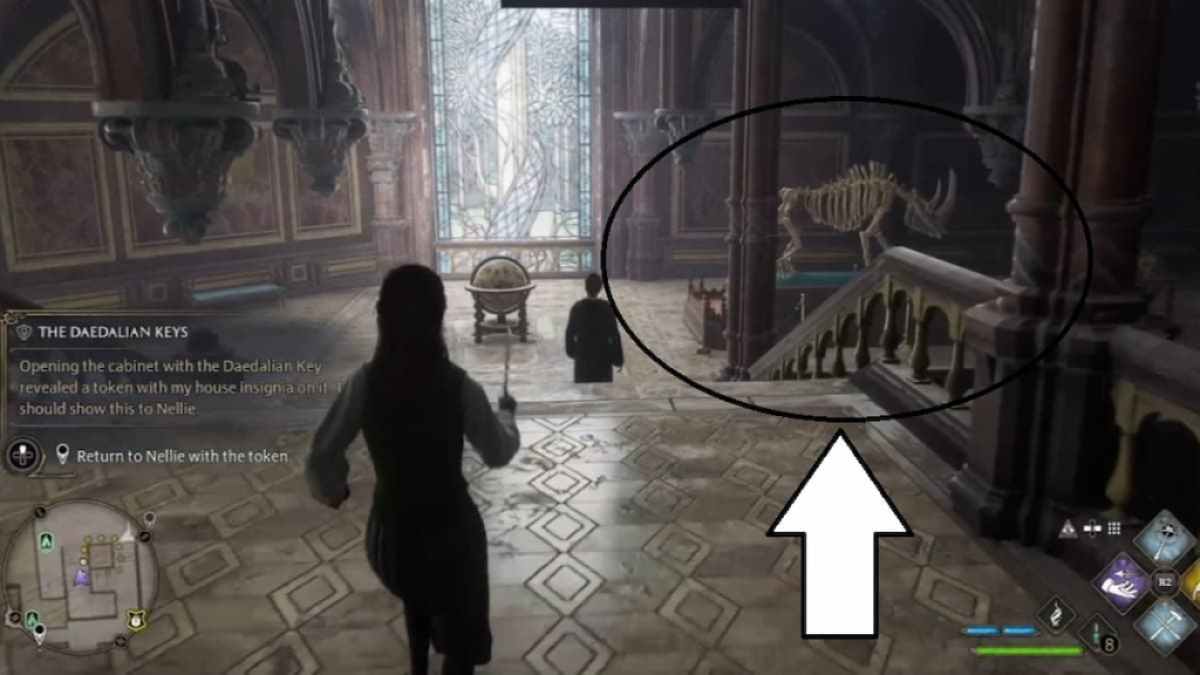 Starting from where you meet Arthur, head down the staircase just past the Charms classroom. You're heading for the Rhinoceros skeleton pictured above. It's about four floors down from the Charms classroom in the Defense Against the Dark Arts Tower. You'll simply need to walk by it, then head to your second location.
Where to find the second Landmark in Hogwarts Legacy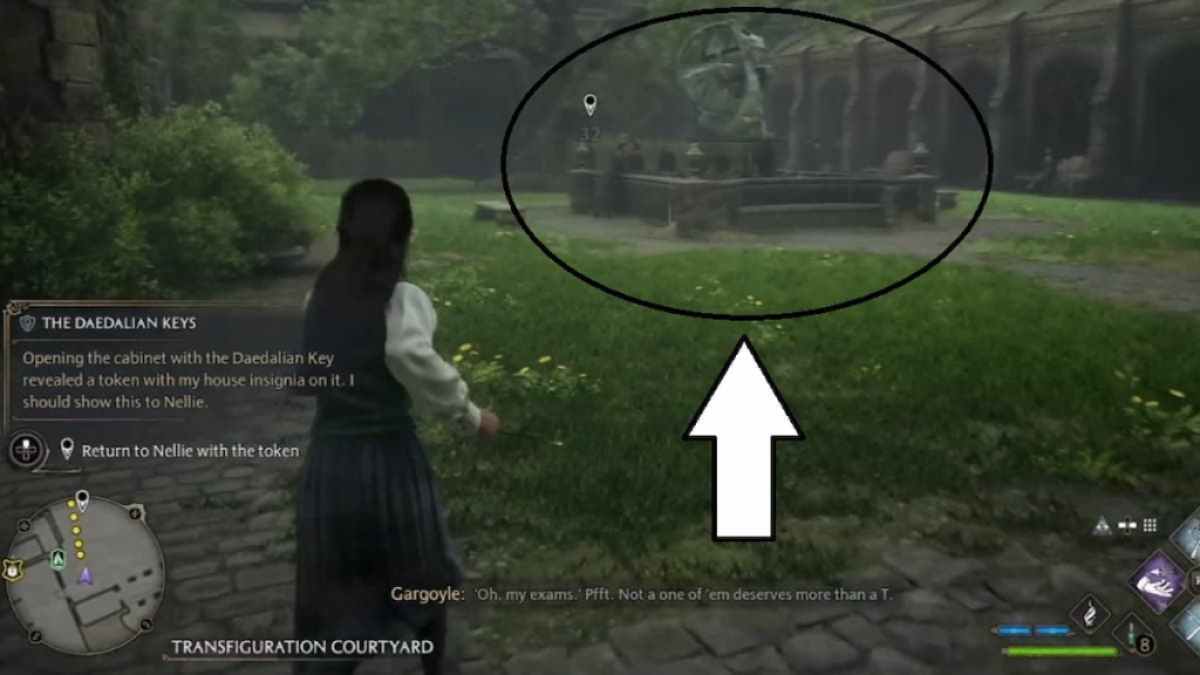 From the Rhinoceros Skeleton, head down the main staircase and through the large double doors to the Transfiguration Courtyard. Your second landmark is the large dragon fountain in the center.
Where to find the third Landmark in Hogwarts Legacy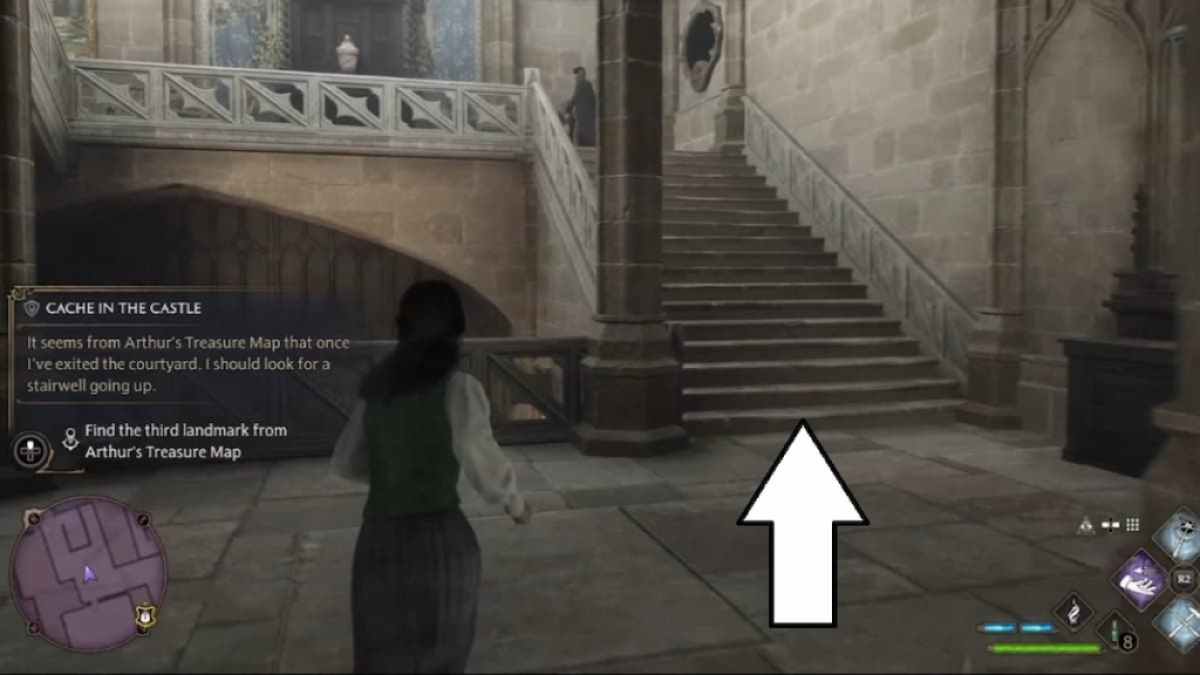 The third landmark is the staircase pictured above. From the dragon statue go through the doors directly behind the dragon in the fountain. You'll make note of the stair well on your right just past those doors. Go up two cases of stairs and you'll find the portrait that you'll need to cast Accio on to find the Cache. Your reward will be an Authentic Historian's Uniform.
How to view Arthur's Map again in Hogwarts Legacy
If at any point you need to review the map, you have a handy Quest Items section in your inventory for that. To reach it start from your Main Menu, or the Map Menu. Use L1 to toggle your header section to Inventory. You'll find the Quest Items Tab of your Inventory menu on the left hand side of the screen. It's the second from the top. Move your cursor over to the icon of Arthur's Treasure Map in the center panel, then press the indicated key on the description box to view the map again.
Looking for more help in Hogwarts Legacy? Check out How to change your hair and character features in Hogwarts Legacy here at Pro Game Guides.