If you are excited for the oncoming departure of the Astral Express in the upcoming free-to-play HoYoverse title Honkai: Star Rail, we have good news. HoYoverse will be running a Web Event called All-Stars Invite from now until May 24 that you can participate in to create your own Astral Express ticket and receive in-game rewards. You even have a chance to win physical rewards. Here's how to participate.
Honkai: Star Rail All-Stars Invite Web Event guide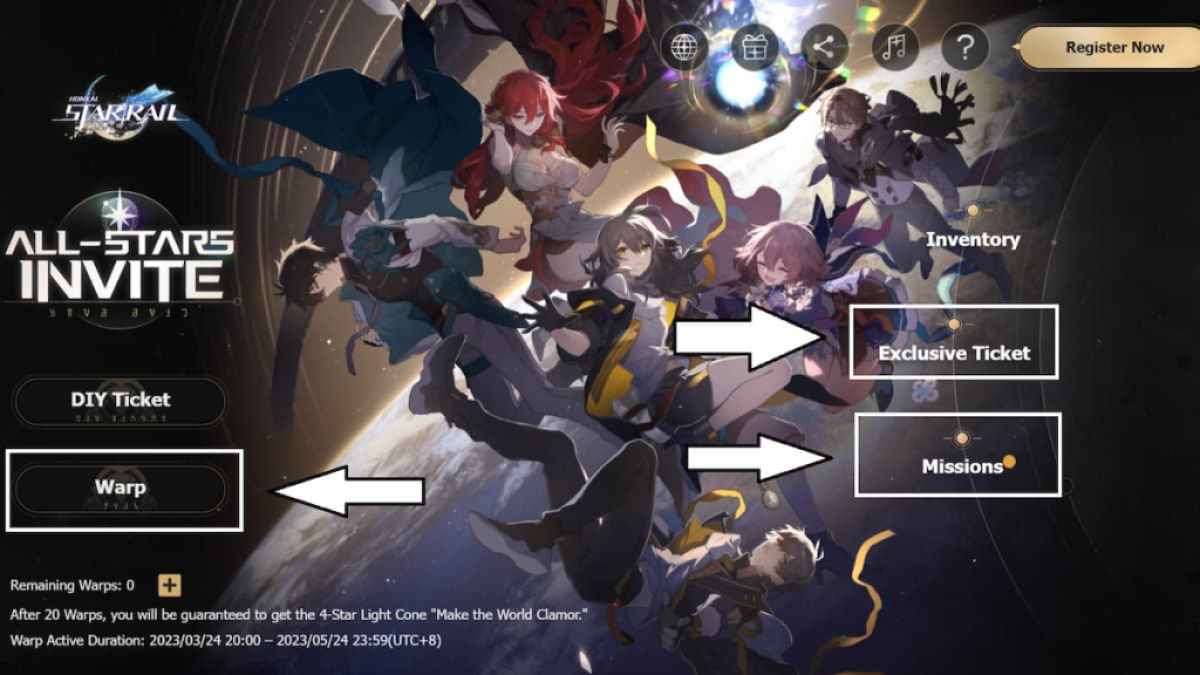 To start, you'll need to go to the All-Stars Invite Web event page. The event is broken into two parts: creating your Exclusive Ticket and completing Missions. You can access both on the left hand portion of the screen. Completing these tasks will award you Web Event Warp Tickets (not in-game ones!) that can be used on the Web Event Warp in the bottom left hand corner of the screen.
Honkai: Star Rail All-Stars Invite Web Event in-game rewards
In the Web Event Warp, you have a chance to obtain high rarity items like the Four-Star Light Cone Make the World Clamor and Four-Star Relics from the Thief or Musketeer set. You are guaranteed to obtain the Four-Star Light Cone within 20 draws and a Four-Star Relic every 10 draws.
While you'll receive plenty of rewards from the draws, you'll only be able to pull over two of them into the game. We recommend choosing the Four-Star Light Cone and a Four-Star Relic of your choice. You can select them via the Inventory tab above Exclusive Ticket on the right hand side of the screen. Rewards can be claimed starting on Honkai: Star Rail's launch date, April 26. You'll have up until May 5th to claim rewards. These rewards will be unlocked after completing the Trailblaze Mission "The Blue" - "A Moment of Peace" and will be distributed via in-game mail.
Honkai: Star Rail All-Stars Web Event physical rewards
By creating your Exclusive Ticket, your account will be given an Exclusive Ticket number. On May 5, ticket numbers will be drawn and a few lucky participants will receive physical prizes. The prize breakdown is as follows:
iPhone 14 Pro 256G, Apple Watch Series 8 GPS Smartwatch (colors not specified): 5 in total.
PlayStation 5 Base Edition: 10 in total.
Honkai: Star Rail Character Bundle (random character): 100 in total.
The winners will be announced on Honkai: Star Rail's official Twitter account. Physical prize winners will need to go to the HoYoLAB website and fill in the delivery information under Manage Delivery Addresses on the Information Management page before May 19.
Looking for more of our coverage of Honkai: Star Rail? Check out All events coming in Honkai Star Rail Version 1.0 here at Pro Game Guides.