Horizon Forbidden West features a range of machines Aloy has faced previously in Zero Dawn. Players will need to know how to defeat them to harvest resources and progress through the campaign. The Shell-Walker is one of the Transport class machines in Horizon Forbidden West. These machines have energy shields and tend to shoot Shock attacks at Aloy from a distance.
In Horizon Forbidden West, every machine has specific weak points and is often vulnerable to special elemental damage. A Shell-Walker is a Medium-sized Transport machine with a few weak points like its Lightning Gun, Antenna, Power Generator, Shield Claw, and Cargo Holders. Shell-Walkers are weak against Acid-damage but resist Fire and Shock-damage.
Related: How to climb the Tallneck at "The Stillsands" in Horizon Forbidden West?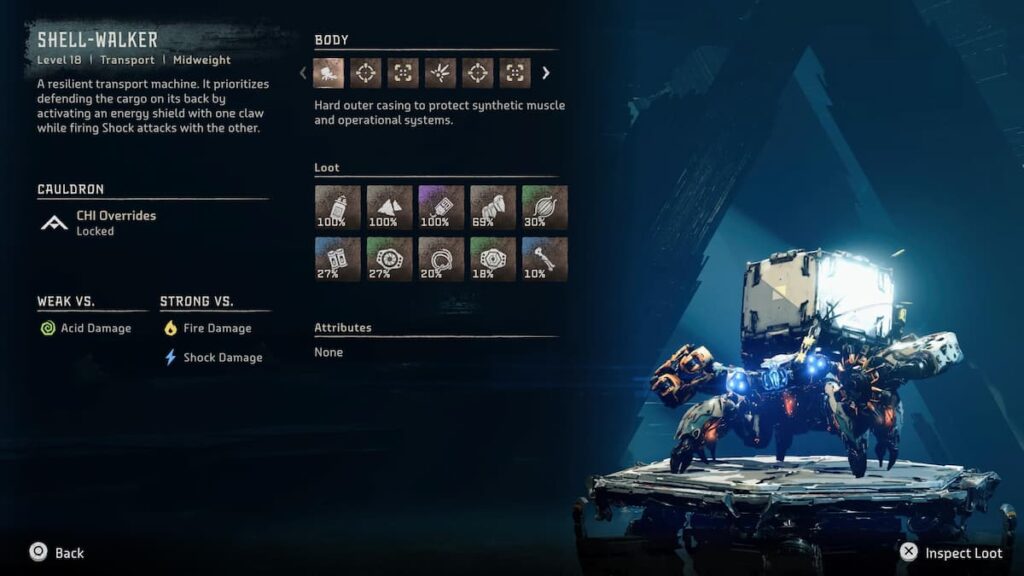 Players can try to detach components like Cargo Holders, Lightning Gun, Antenna, and Shield Claw by using Tear-arrows to get the loot from them. Destroying the machine without detaching these components will not fetch the best loot. The following components can be found after defeating a Shell-Walker:
Metal Shards
Machine Muscle
Medium Machine Core
Metal Bone
Sparker
Crystal Braiding
Sturdy Hardplate
Braided Wire
Shell-Walker Primary Nerve
Shell-Walker Circulator
Shell-Walker Lightning Gun
To override Shell-Walkers, players will need to visit Cauldron CHI located on the southwestern edge of the map near Sentinel Forest.
Wondering how to complete The Broken Sky Quest in Forbidden West? Check out How to scan the Bulwark in Horizon Forbidden West? on Pro Game Guides.