Kerbal Space Program 2 is the second installment in the Kerbal Space Program series. Similar to the first installment, the second edition also suffers from performance issues due to various real-time calculations and simulations. Still, you can implement the following techniques like Adjusting Graphic Settings or Verifying the integrity of game files to stabilize and somewhat fix any stuttering or lag issues in Kerbal Space Program 2.
All working solutions to fix performance issues in Kerbal Space Program 2
Checking Minimum requirements: Before doing anything, check whether your PC can clear the minimum requirements for the game. You can find the minimum requirements in the following table.
| | |
| --- | --- |
| Parameters | Value |
| CPU | Intel Core i5 6400 or AMD Athlon X4 845 |
| GPU | GTX 1070Ti or AMD RX 5600XT |
| RAM | 12GB |
| DISK | 45GB |
Related: Kerbal Space Program 2 Early Access Dates & Features Compared to the Full Launch
Adjusting Graphic Settings: Altering your graphic settings can fix a lot of issues regarding FPS drop and others. You can visit the Graphics Tab under the Settings option to change the following settings:
| | |
| --- | --- |
| Parameters | Value |
| Game Screen Mode | Fullscreen/Boderless |
| V- Sync | Off |
| Resolution | Your Preference |
| Anti-Aliasing | Off |
| Anisotropic Filtering | Off |
| Preset Quality PC | Low |
| Environment Prop | Off |
| Environment Prop Density | Low |
| Environment Prop Draw Distance | Low |
| Water Quality | Low |
| Shadow Details | Low |
| Shadow Quality | Low |
| Cloud Quality | Low |
RAM Allocation: Kerbal Space Program 2, like its predecessor, is a heavy RAM consumer. So, close down every unnecessary program like Discord, Spotify, or other programs, and run Kerbal Space Program 2 alone. We recommend giving it at least 12GB of free RAM for a smooth performance.
Corrupt Files: Corrupt files are other culprits that can disrupt the performance of the game. You can repair the game files from the Steam Store by right-clicking on the game name and choosing the Properties option. Now, click on Local Files and select Verify Integrity of Game Files.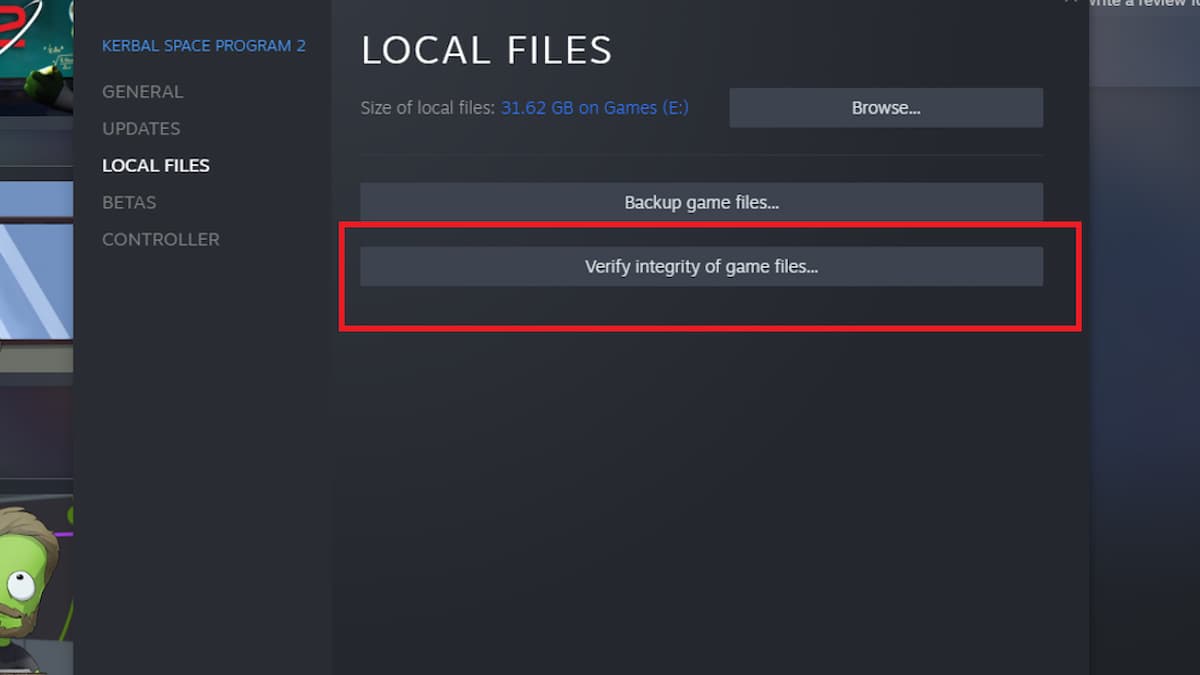 SSD Installation: Please install the game on an SSD for quick communication between your CPU and RAM. Avoid using any HDD and transfer the game to the SSD if you own one.
Remember, these are the early days of the game. So, you can always expect patches and updates to fix such annoying issues from the developers. Still, if your problem is too persistent, you can contact the Intercept Games Support page to lodge a personalized complaint.
For more on Kerbal Space Program, check out Differences between Kerbal Space Program 2 & Kerbal Space Program on Pro Game Guides.