Disney Dreamlight Valley is a fascinating adventure life simulation game available on PC and Nintendo Switch and free to play on Xbox Gamepass. Interact with some of the best Disney characters on a magical journey to restore Dreamlight Valley. Create friendships, decorate the Valley, grow a garden, and even prepare different meals with the ingredients you grow or find around the world. You can make pristine 5-star meals that are highly beneficial for restoring energy or creating Friendships. Here are some of the best recipes you can make quickly and easily.
Best easy 5 Star meals to make in Disney Dreamlight Valley
Large Seafood Platter
The Large Seafood Platter is the easiest five-star meal to make because all its ingredients can be harvested in the Valley and don't require purchasing them or growing them yourself. You can find Clams, Oysters, and Scallops spread all around Dazzle Beach to use for the Platter, and pick some Lemons from trees in Forest of Valor and Glade of Trust.
Ranch Salad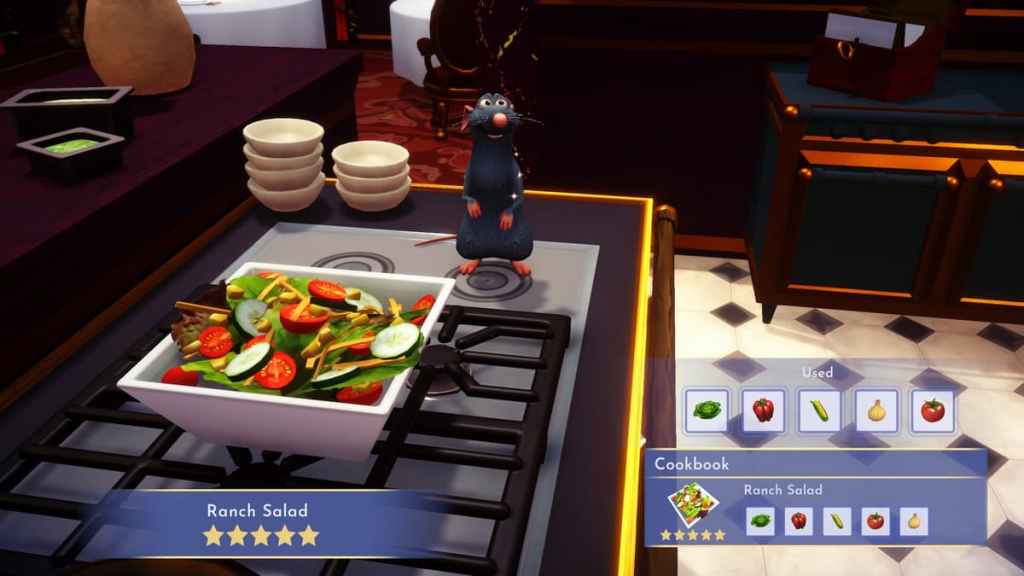 Corn
Tomato
Bell Pepper
Lettuce
Onion
Salads are usually known to be simple and healthy meals, and the Ranch Salad in Dreamlight Valley isn't much different. These veggies are easy to attain and grow quickly if you have them in your garden. You can find Lettuce in Peaceful Meadow, Tomatoes and Corn in Dazzle Beach, and Bell Pepper and Onion in Forest of Valor. They are sold at Goofy's Stall in the whole form or as seeds.
Vegetarian Pizza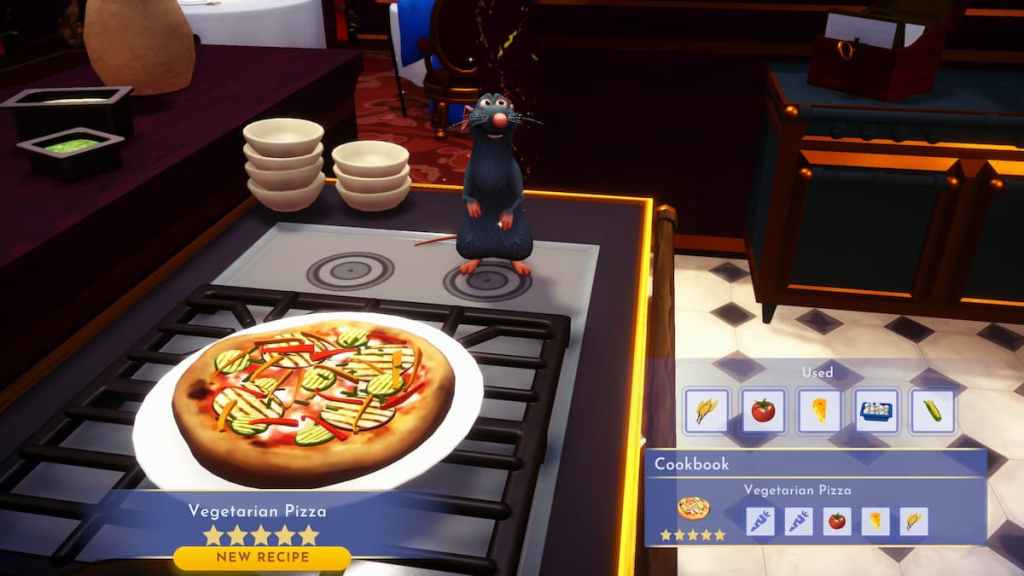 Wheat
Tomato
Any Vegetable x2
Cheese
Despite being a whole pizza, this Vegetarian Pizza recipe is super easy to prepare with ingredients you probably have within reach. The only two ingredients you need to seek are Wheat, found right in Peaceful Meadow, and Tomato in Dazzle Beach. You can purchase the Cheese from Remy at the Chez Remy, and the other Veggies are entirely up to you, meaning you can use ones you have already grown or stored.
Related: How to get tomato seeds in Disney Dreamlight Valley
Pastry Cream and Fruits
Sugarcane
Milk
Any Fruit x3
This tasty little dessert is super quick and simple to make, and most of its ingredients you can harvest from around the Valley without any purchase necessary. You can use any three Fruits, any of which can be found in trees and bushes, to collect. Sugarcane can be found in Dazzle Beach, easily bought from Goofy's Stall, or you can find seeds by removing Night Thorns and grow them yourself. The Milk is purchased right from Chez Remy.
Birthday Cake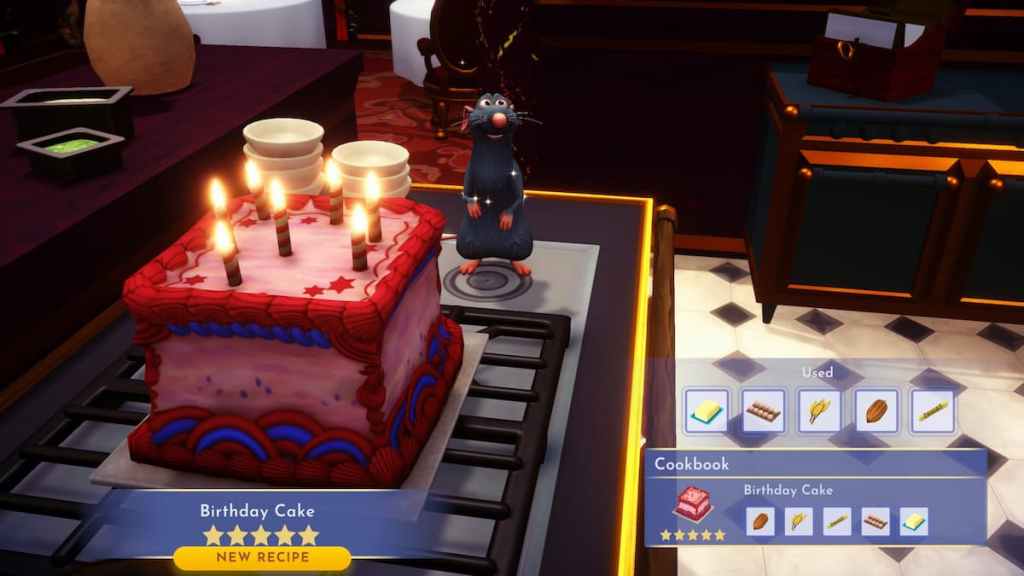 Cocoa Bean
Egg
Sugarcane
Wheat
Butter
The Birthday Cake is a fun dessert created in no time since gathering these ingredients is a piece of cake in itself. All you need is some Wheat from Peaceful Meadow, Sugarcane from Dazzle Beach, a Cocoa Bean from a tree in the Glade of Trust, and Eggs and Butter purchased from Chez Remy.
Mushu's Congee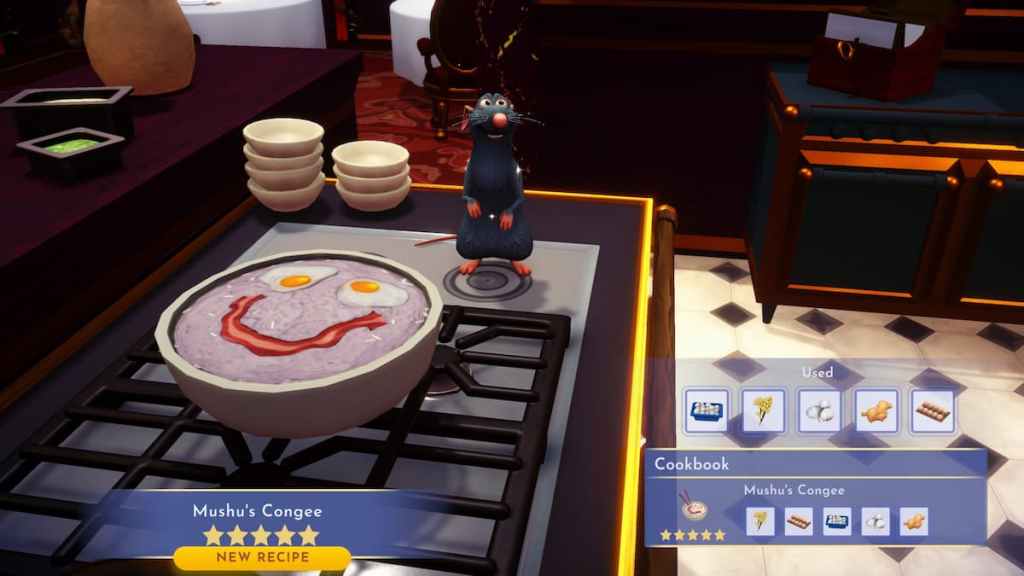 Rice
Ginger
Garlic
Mushroom
Egg
This specialty dish is inspired by the meal Mushu makes in the film Mulan, which is no wonder it gets an excellent 5-star rating. What makes it even more remarkable is that it is super easy to recreate yourself. Most of its ingredients are herbs picked from the land, such as Ginger from the Forgotten Lands, Garlic from the Forest of Valor, and Mushrooms from the Glade of Trust. The other two ingredients are Rice, purchased from Goofy's Stall in Glade of Trust, and Eggs, bought from Chez Remy.
Bouillabaisse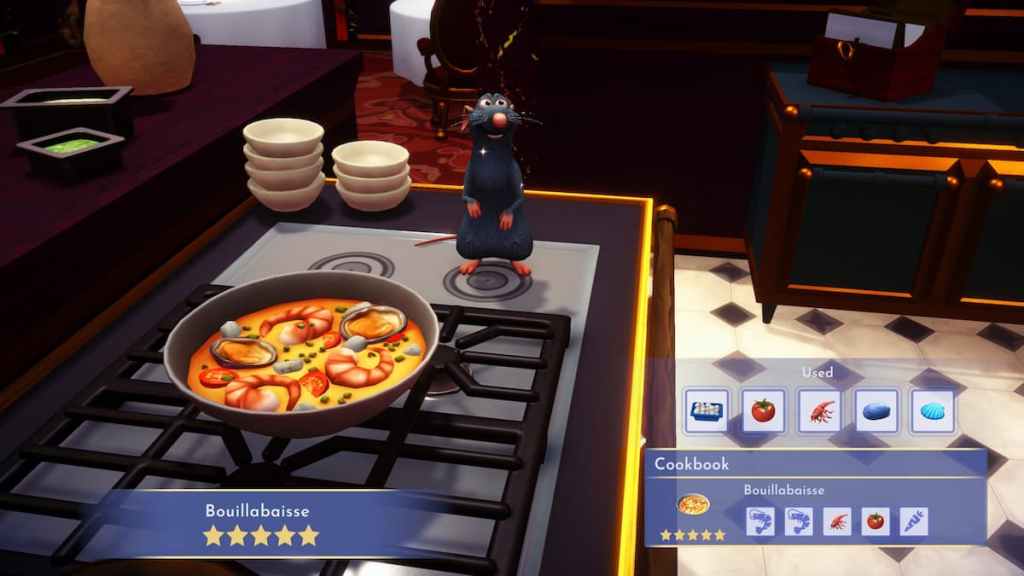 Any Vegetable
Shrimp
Tomato
Any Seafood x2
Bouillabaisse is another fantastic five-star meal that allows for a lot of flexibility. If you only have limited ingredients, that is perfectly fine. All you will need is plenty of Seafood, all of which can be found at Dazzle Beach. You will have to seek out two main ingredients: Shrimp and Tomatoes. You can catch Shrimp from fishing spots around the Beach and Tomatoes bought at Goofy's Stall. The last ingredients are substituted for whatever you find: one random Veggie and two random Seafood items. Clams and Scallops are a great option since they can be found in abundance around the Beach.
Wedding Cake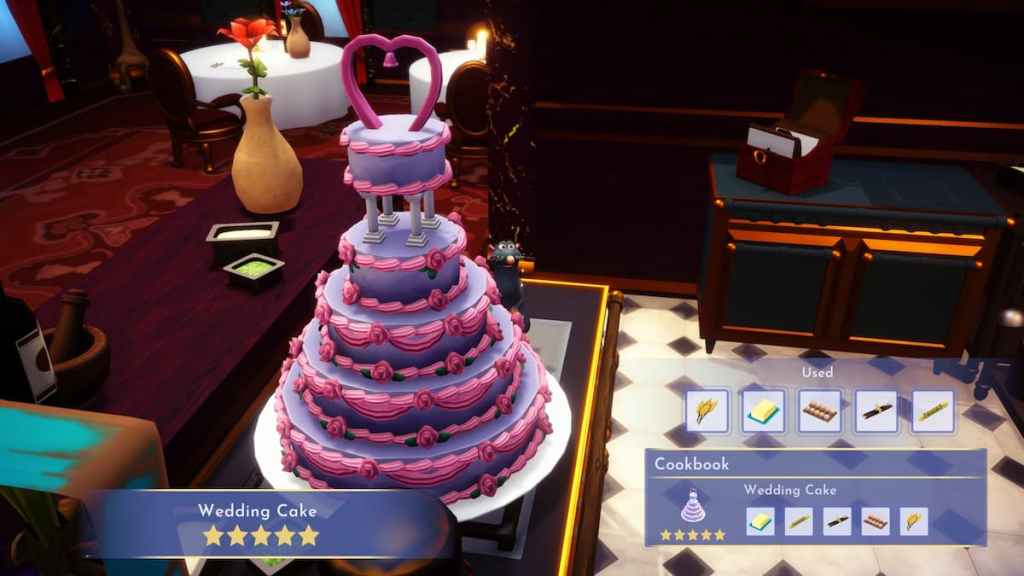 Wheat
Egg
Sugarcane
Vanilla
Butter
Wedding Cake may seem like a tall order, but all of its ingredients are relatively easy to access, making it an excellent choice for a 5-star meal. Wheat is located right in Peaceful Meadow, Sugarcane right down the way in Dazzle Beach, and Vanilla can be harvested as an herb in Sunlit Plateau. You can buy the last two ingredients of Butter and Eggs from Chez Remy.
Fish Creole
Garlic
Rice
Any Vegetable
Any Fish
Tomato
It can sometimes be hard to catch the Fish you want around the Valley, especially if they are found in gold fishing spots. Luckily, this meal is super flexible and allows you to use any available fish and any random Vegetable. Mushrooms are easily harvested around the grounds of Glade of Trust, leaving the last two ingredients as your main priority. Tomato can be purchased from Goofy's Stall in Dazzle Beach, and Rice can be bought or found within Night Thorns in the Glade of Trust.
Aurora's Cake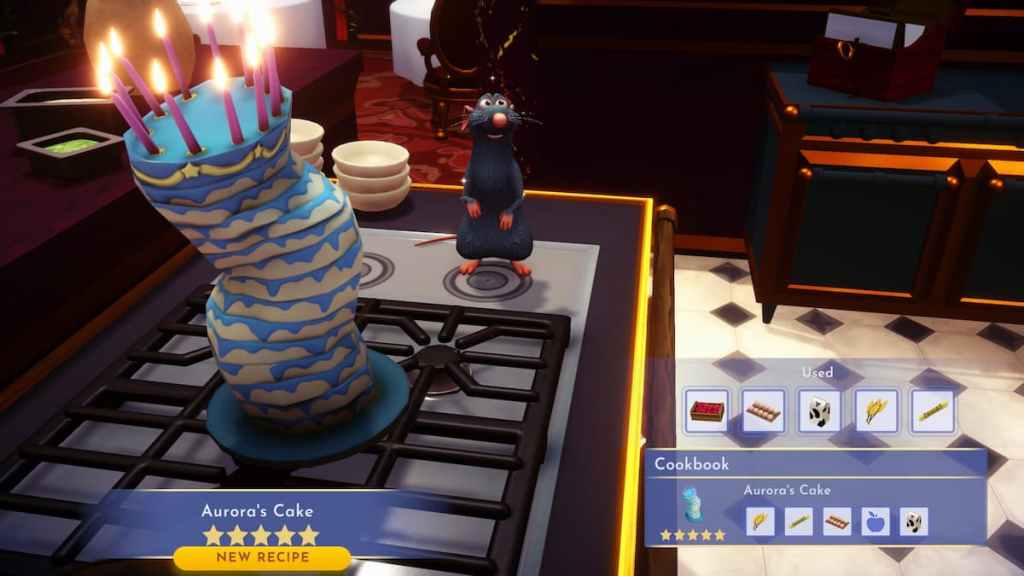 Wheat
Milk
Sugarcane
Egg
Raspberry
Another beautiful Disney-themed recipe to recreate is Aurora's Cake. This five-star meal comes in the form of a cake, which means the ingredients aren't much different than the other few cake recipes. You will need Wheat and Raspberries from Peaceful Meadows or the Plaza and Sugarcane from Dazzle Beach. The last two ingredients you can purchase from Remy at Chez Remy.
Five-star meals are essential recipes in Dreamlight Valley since they restore most of your energy when eaten or boost your Friendships with characters more quickly than others. However, some of these dishes can be a hassle to prepare, so these above recipes will hopefully allow you to create some more easily. Happy cooking!
Looking for more Pro Game Guides Disney Dreamlight Valley content? Check out guides on Disney Dreamlight Valley – How to learn new Recipes or 11 Best Crops to Sell in Disney Dreamlight Valley!