"The Last Mission" is a Hidden Story securely tucked away in the far reaches of North Vern, in one of the most convoluted maps in Lost Ark so far: the Vernese Forest. Players could easily scour this area for ages without managing to find the Hidden Story casually.
"The Last Mission" location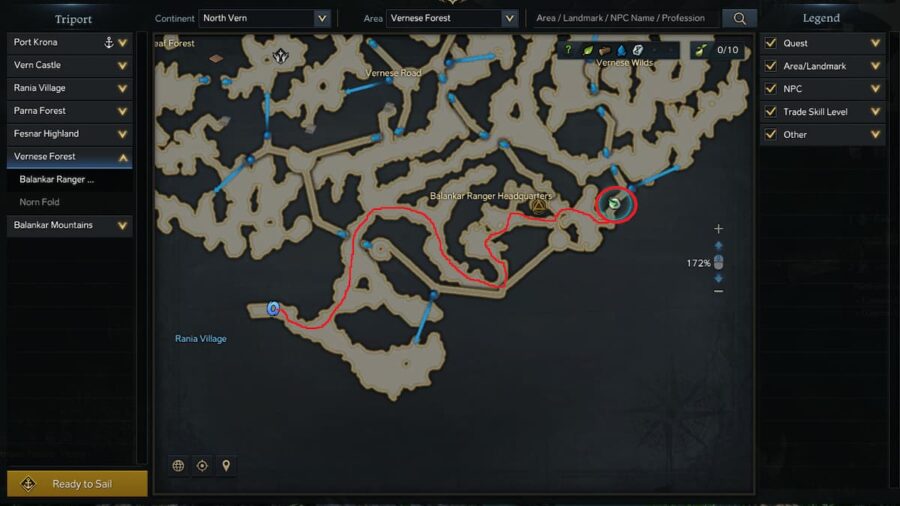 This Hidden Story is still a difficult Hidden Story to get even if you know where it is. Navigating the twisting mess and one-way paths of the Vernese Forest can give you a headache if you're not prepared for it.
Related: How to get Steel Plate Inscribed with Mysterious Signals in Lost Ark - Pro Game Guides
"The Last Mission" is just a singular location Hidden Story, sparing players the horror of having to sprint around Vernese forest while scrounging for more secluded investigate locations. Once you've made it along the path we marked above to the end, you're finished.
If you've already been through Vernese Forest and have the Triports activated, your trek for the Hidden Story is made much easier since it's right nearby the Balanker Ranger Headquarters Triport.
While you're in the area, the Proxima spawnpoint is here in the Vernese forest. You'll need to beat him at least twice for ingredient drops for the Adventurer's Tome, so it may be a smart idea to time your trip for "The Last Mission" when Proxima is due to spawn and you can claim your rewards from him.
For help finding another singular location Hidden Story, go check out Where to find "Knight's Oath" Hidden Story in Lost Ark on Pro Game Guides!