The Vern Anniversary Spirits are a simple item to obtain but still important to pick up since you'll need two if you're going for all of North Vern's unique dishes. If you're among those who are doing just that, prepare to mourn for your wallet.
Where to buy Vern Anniversary Spirits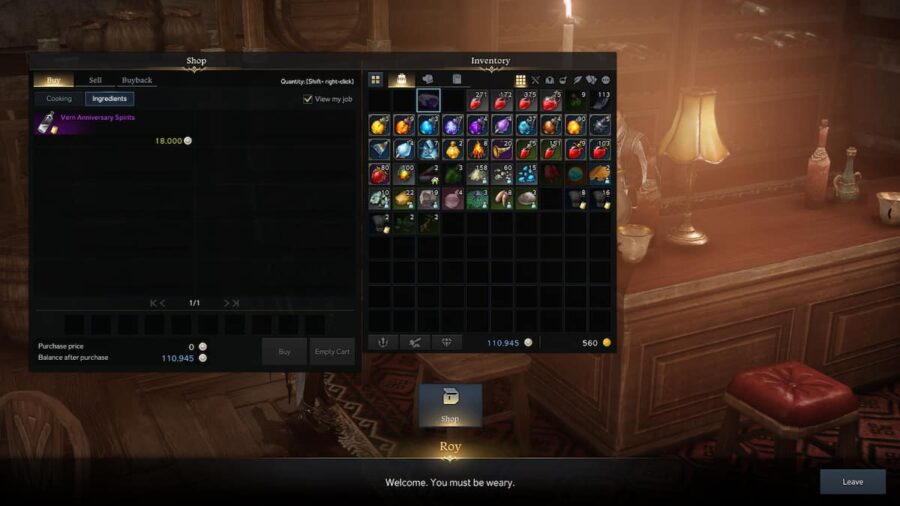 Roy inside of Roy's Wine Bar has the alcohol you're looking for. Under the ingredients tab of his shop, he'll straight-up sell bottles of Vern Anniversary Spirits to you for 18,000 Silver apiece.
If you're just passing through Rania Village, this is something fast and easy to pick up and chug for some Adventurer's Tome completion before you leave.
Related: How to get all North Vern Cooking Collectibles in Lost Ark
If you're going for full completion though, make sure to buy a second bottle. You'll need a bottle of Vern Anniversary Spirits for Long Live the Queen!, which is the final and most difficult food item to get in North Vern.
While you're at it, you can head out of Roy's Wine Bar and head slightly southeast to Luigia the food merchant. She sells Proxima Stems and Proxima Roots, both for 18,000 Silver apiece. These are eventually made into the Proxima Course Meal, which is also a meal needed for the Adventurer's Tome.
The Proxima Course Meal is also a component of Long Live the Queen! as well, so you'll need an extra set of Stems and Roots as well. If you're buying the town out of all the ingredients you'll need, then you'll be spending 108,000 Silver.
For more fun food adventures in Lost Ark, go check out Where to find Perfect Sugar Sculpture in Lost Ark on Pro Game Guides!