Minecraft has been around for ages and receives numerous updates. These add new and exciting content, which may have you looking forward to The Wild Update in Minecraft. This may also leave you wondering what new biomes will be featured in Minecraft's The Wild Update.
What new Biomes are in the Minecraft The Wild Update?
What is the Mangrove Swamp? – Everything new in the Mangrove Swamp Biome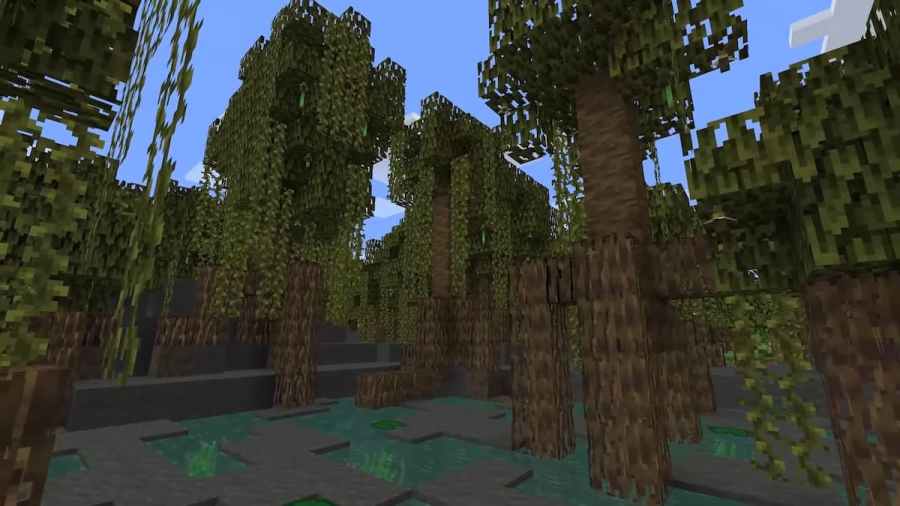 The Mangrove Swamp is a new overworld biome in The Wild Update for Minecraft. The most prominent addition to this biome is the new Mangrove Tree which has large majestic roots. They provide a new type of wood to build and craft various items and blocks.
Players can also craft a new block—Mud, with water and dirt. In addition to this, players can craft a boat with a chest that allows it to carry precious items on long voyages. Lastly, players will be able to find, interact with, and breed Frogs, Tadpoles, and Frogspawn.
Related: Minecraft Bedrock and Java editions are now combined on PC
What is the Deep Dark? – Everything new in the Deep Dark Biome
The Deep Dark is an unsettling new Minecraft biome found underground, far beneath the surface. As you dig underground, keep your ears open for the eerie silence of this new biome. With the Deep Dark comes many new additions.
A new block, called a Shrieker, will trigger if you get too close or make too much noise. While the scream can be frightening, a more terrifying mob will follow the sound—the Warden. This dangerous mob is no joke, and you should absolutely avoid it if you can.
Finally, a new block type, Sculk, permeates this biome and helps give it an unsettling dark and quiet atmosphere. Be careful when traveling in this biome lest you come face to face with a Warden.
For more information on Minecraft, check out Minecraft Woodland Mansion Seeds 1.18 (June 2022) and Best Minecraft Island Seeds for Java & Bedrock on Pro Game Guides.