Texture packs that don't add frill (or reduce it) have always been popular in Minecraft because some people like a simplistic look or to improve their FPS. We've put together the best texture packs that keep the resolution to 8x or 16x but still improve the look of your Minecraft experience. The texture packs we have listed below will make you truly understand the phrase less is more!
Many of the more advanced Minecraft texture packs require Optifine to be installed for them to work. We strongly recommend installing it to improve gameplay performance and visual effects if you want to use the resource packs listed below.
All the texture packs we have listed are updated to accommodate for Minecraft version 1.16 and above. If you'd like to see how to install a texture/resource pack for your game, be sure to check under the list for instructions.
The Shortlist
If you are using this page to check out a specific texture pack, you can use the links below to go directly to that part of the page. The download links go directly to the PlanetMinecraft page where you can download the file based on its resolution.
Do you have suggestions for texture packs you'd like to see added to the list? Leave a comment below with a link to the medieval texture pack you like, and we might feature it the next time we update our list. Remember, all featured texture packs must work for the most recently released version of Minecraft!
Related: Best Minecraft Adventure Maps 1.16
Best Minecraft Simple Texture Packs
Below you'll find a clearer description and previews of all the texture packs on our list. If there are any addons associated with the resource pack, we'll also mention them below.
Soft Bits
The main feature of Soft Bits is that it takes the normal Minecraft texture and makes them easier on the eyes. Instead of having the pixels blend together, you see clear, distinct edges. You can certainly compare this texture pack's art style to that of the first Super Mario Bros. or Legend of Zelda games. If you have shaders installed, this texture pack will show you how vibrant Minecraft can be.
InfiniteBits
InfiniteBits is the only texture pack we've seen that manages to be both simple and detailed at the same time. It is a low resolution (8x) texture pack that adds a perfect amount of detail to still make it pretty. The blocks have distinct edges, but not to the point that it's distracting. This texture pack brings you back to the era when minimalist art was popular and makes you want to stay there.
Download: 8x
Creator Page: Parsafari
Rodrigo's Pack
We don't know who Rodrigo is, but he did an incredible job making a low resolution texture pack. For those of you that want your textures to be sleek and clean, this texture pack will work well. This brightly tinted art style is reminiscent of farming simulators of the mid 90s. It is a perfect go-to option if you're the type of player to explore every mechanic Minecraft offers..
F8thful
F8thful is named as such because it's faithful to the Minecraft default texture pack, but portrays it in 8x resolution. We have to assume this was not an easy task, but they pull it off. If you want to run your Minecraft game with simpler resolution, but don't want to take away from the experience, this is the perfect texture pack. It works so well, it's a wonder why Mojang didn't make 8x the default resolution!
GridPixels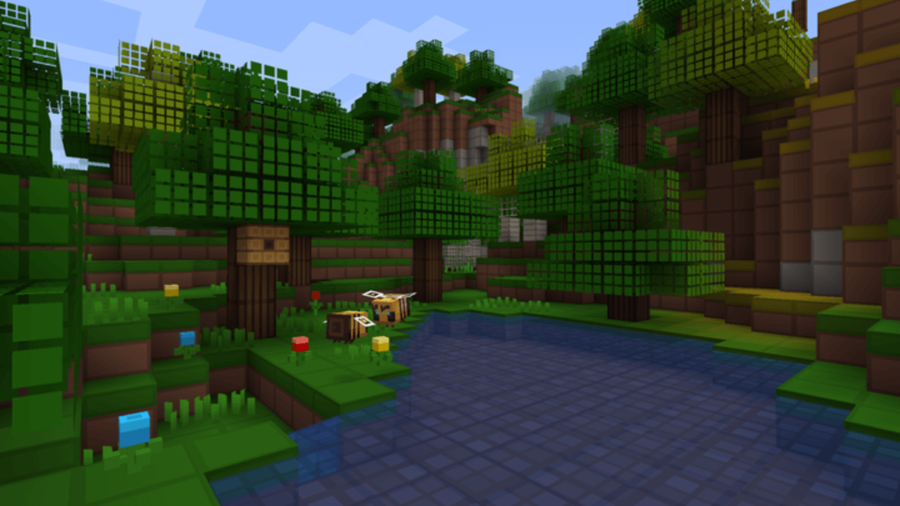 GridPixels is a peculiar texture pack that seems to over-simplify blocks, especially those with additional effects. Every block has a distinct edge. Blocks with animations or transparent space are reduced to squares that blend well with the surroundings. However, despite the over-simplification, this texture pack is still visually appealing. For Minecraft, it seems it's hip to be square!
Related: Best Minecraft Puzzle Maps 1.16
Additional Info
The examples above mostly feature these texture packs with shaders that improve the visuals of Minecraft. These improvements include things like proper lighting, water effects, and particle effects. While installing the texture packs will improve the look of your game, you also need to install OptiFine and a decent shader to get the full effect. Use the directions or links below to make the most of your Minecraft experience.
Installing OptiFine
For detailed instructions, use our guide on How to Install Minecraft OptiFine. Alternatively, you can follow the basic instructions below.
Make sure you have Java installed. If not, go to the Java Download Page and install it.
Go to the OptiFine Download Page and download the version of OptiFine made for your version of Minecraft.
Run the downloaded file to install OptiFine to your Minecraft source files. When given the option, click Install.
In the Minecraft Launcher, go to the Installations tab and make sure OptiFine is selected as the version of Minecraft you'd like to run.
Installing Resource Packs
For detailed instructions, use our guide on How to Install Texture Packs in Minecraft. Alternatively, you can follow the basic instructions below.
Use the links above to go to the download page for the Texture Pack you'd like to install.
Open your Resource Pack folder from the Minecraft Main Menu (not the Minecraft Launcher).
Open the folder containing your texture pack's folder (usually can be found in your browser's/computer's Downloads folder).
Drag the file for the texture pack from the current folder to your Resource Pack folder.
Select the Resource Pack from the Main Menu to use it.
Shaders
For detailed instructions, use our guide on How to Install BSL Shaders in Minecraft. Installing Shaders is a bit more complex than installing OptiFine and texture packs, so we recommend using the link above to see how to install shaders. If you have a different shader you'd like to install, you can follow the same process. The list below provides examples of a few of the best shaders.
That's it for now! Don't forget, you can easily switch between resource packs in the Minecraft Main Menu, so be sure to give all the textures packs in our list a shot!
Now that you know some of the best medieval texture packs, why not test them out on some of the best Creative maps? Use them on all the maps list on our Best Minecraft Survival Maps, Best Minecraft Challenge Maps, and Best Minecraft Parkour Maps!