In Minecraft Challenge Maps, you're typically pitted against other players in custom built game-modes that usually involve never-before-seen changes to the Minecraft mechanics or multiple mini-games. Not all of these maps require more than one player, but the more, the merrier! Do you think you can best your friends and net the most points in these challenging mini-games?
Best Minecraft Challenge Maps List
We've picked these maps based on important critical content such as Playability, Popularity, and Rating. All maps listed below work in version 1.16. More will be updated as time moves on, so be sure to check back here often for new challenge maps worth jumping!
The Shortlist
This is a summary of our current list of Challenge Maps. Be sure to check back for updates!
Snow Dodge
Map Creator: Dogery - User Rating: 3.9 / 5.0 - Download Page
Throw a snowball at the hiders in this crossover between hide-and-seek and dodgeball. The snowballs turn into snow blocks when you throw them, creating more of a challenge for people to dodge. This map is perfect for bringing in to a multiplayer server as a fun game to settle disputes between factions or just to play with a group of friends. Level up your play to purchase cosmetics and customize your game options to shake things up!
Related: Best Minecraft Parkour Maps 1.16 (February 2021) - Pro Game Guides
Super Steve Bros
Map Creator: TheBlueMan003 - User Rating: 3.8 / 5.0 - Download Page
If you want a single-player challenge, be sure to play this map! Tap into your memories of playing on an NES by playing Super Mario levels recreated in Minecraft. In this imaginative play on the game's view mechanics, you control Steve from a far distance to smash Goombas, kick Koopas, and reach the flag at the end of the level! This game contains over 30 levels and eight different worlds, so you'll have plenty of playtime. You can even grow your Steve to a Super Steve if you find the right items!
Super Voxel Party
Map Creator: Origin_MC - User Rating: 4.0 / 5.0 - Download Page
Grab three friends to play with you in this Minecraft version of Super Mario Party! This remake is faithful to the original and challenges you to obtain the most stars on a map while competing in several different first-person mini-game challenges. The mini-games are randomly chosen between a vast selection of 40 games of four different types. If you don't want to play through a whole game and instead just want to play mini-games, there is even a mode for that!
Sky Scapers

Map Creator: Team Scripted - User Rating: 4.1 / 5.0 - Download Page
Sky Scapers is an exciting tower defense-like game where you have to shoot Elytra-equipped players out of the sky! This map contains three different modes, including one for single player, so you aren't required to play with friends. We found the free-for-all game-mode to be the most challenging and rewarding, but Seekers vs. Scapers is perfect for target practice! With this game, the more players you have, the better. Try putting this game in your multiplayer server!
Pumpkin Party Remastered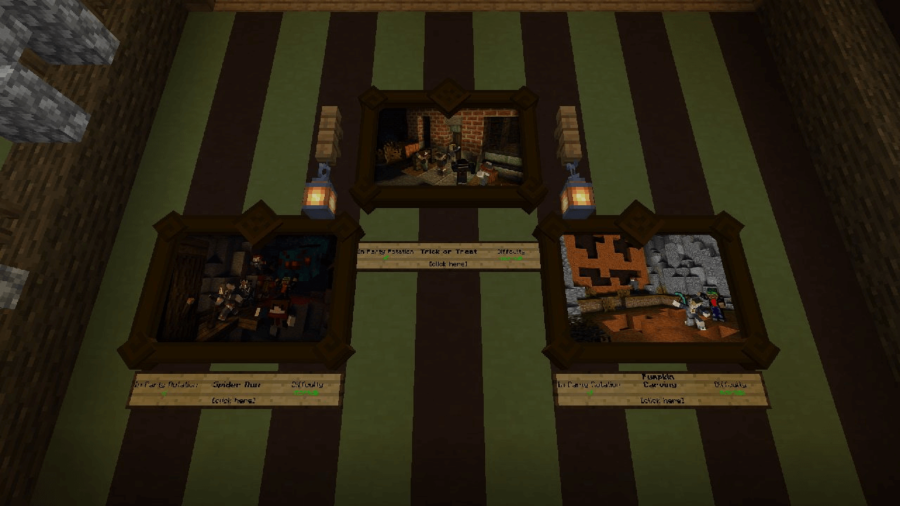 Map Creator: Plagiatus - User Rating: 4.2 / 5.0 - Download Page
Similar to Super Voxel Party, Pumpkin Party Remastered pits you against several other players in a selection of six mini-games. Although it was designed and released for Halloween, this challenge map is still fun to play! Every mini-game is designed, perfected, and largely improved from the original version. Whether you are challenged to be the best potion brewer, carve the best pumpkin, or shoot the most targets, you'll find this game provides hours of entertainment and plenty of re-playability!
Related: Best Minecraft Adventure Maps 1.16 (February 2021) - Pro Game Guides
Boom
Map Creator: Szinton - User Rating: 3.9 / 5.0 - Download Page
Boom. Is. AWESOME. You and your friends are all placed on different floating islands, and your challenge is to use your explosive inventory to knock them off the map. You can obtain different power-ups and items to fit your playstyle and change several different settings. Choose between 14 different maps or try every one of them since you'll keep wanting to play another round when you see how fun this game is!
Notes for playing Challenge Maps:
If you need help figuring out how to install mods and maps in Minecraft, please check out our guide to Install Mods!
Challenge Maps are almost always designed for multiple people. They are called Challenge maps because they usually implement a new game mode you haven't used before. However, these two facts aren't necessarily guaranteed, and you may find yourself a single-player map with a game mechanic you're very familiar with! The most important thing is to allow the game to run itself and have fun with it!
If you have additional maps that you'd like to see mentioned, please feel free to comment with a link to a video trailer!
Want to try some other great Creative Maps? Why not check out our list of Best Survival Maps to shake things up a bit!