Beacons in Minecraft are useful items that provide status effects to players. These buffs include Speed, Haste, Resistance, Jump Boost, and Strength. Beacons are especially useful for travelling around the settlement you have constructed, the place where you primarily spend most of your time. The larger you build your pyramid, the greater the range these status buffs remain in effect.
While it is a lengthy process to build and use a Beacon in Minecraft, it is totally doable! This guide will show you first how to build a beacon and then how to use a Beacon in Minecraft.
What You'll Need
To craft the Beacon, you will need these materials:
Note: The materials listed above are solely for building and using the beacon. They do not include additional materials, such as weapons, food, or additional obsidian for a Nether Portal.
To use the beacon, you will need these materials:
9x, 34x, or 83x Iron, Diamond, Gold, or Emerald Blocks
Note: The amount depends on what size Pyramid Tier you intend to build (See below). The type of Block between these 4 are for cosmetic purposes.
How to build a Beacon in Minecraft
To build a beacon, you will need access to 5x Glass, 3x Obsidian and 1x Nether. To craft glass, gather 5x blocks of sand and place it in a furnace. 1x Coal is enough for all of the sand.
Obsidian can be found in the Overworld at randomly generated broken Nether portals. It can also be found underground at spots where water naturally mixes with lava. If you do not have obsidian and need to make it yourself, find a spot with lava and gather 3x Lava Buckets. Then, find a body of water anywhere and pour the lava on 3 separate lava blocks. This will create Obsidian. Obsidian can only be mined with a Diamond Pickaxe.
Finally, you must have 1x Nether Star. This item is only available by spawning and beating the Wither, a boss mob. This is the most time-consuming process of building a beacon, so best to take time preparing to defeat this Wither boss.
Once all of your materials have been gathered, you are ready to build the Beacon. To build a Beacon in Minecraft, place the Nether Star in the middle slot of the Crafting Table. Place the 3x Obsidian along the bottom row of the Crafting Table. Place the 5x Glass in the remaining 5 slots of the Crafting Table. See picture above.
Now you have your Beacon!
How to use a Beacon in Minecraft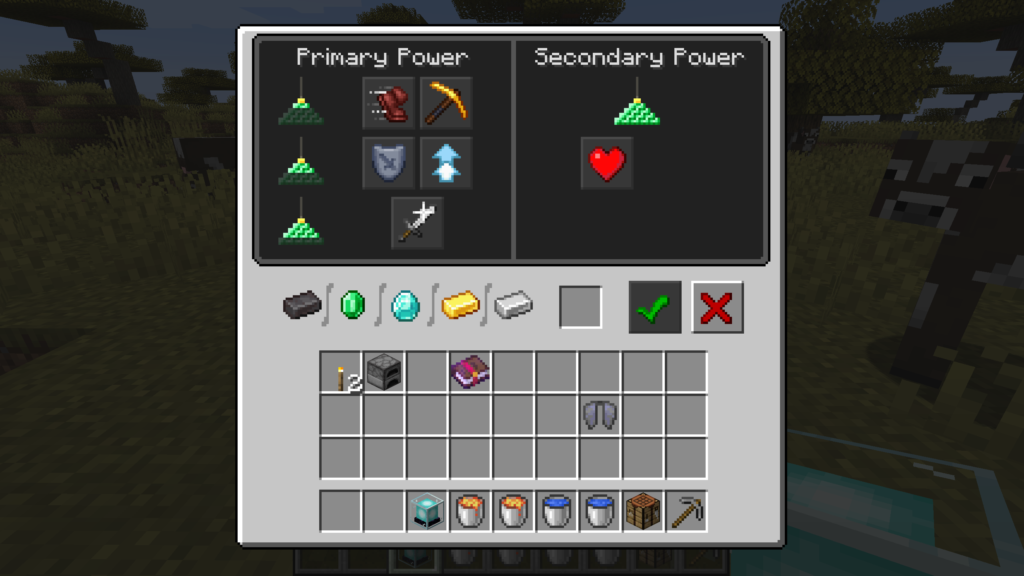 Now that you've built your Beacon, find a suitable spot to place it. However, don't expect it to work just yet. If you do, it won't do anything. To use a Beacon in Minecraft, you've gotta perform some extra steps. However, you should see the screen above when the Beacon is in use. This screen is how you control the status effects.
To activate the Beacon, you must place it atop an Iron Block Pyramid, Gold Block Pyramid, Emerald Block Pyradmid, or Diamond Block Pyramid. The type of block you use will not affect the status effects received - it is entirely a cosmetic choice on your part.
The larger the pyramid, the greater status effects you will receive. For each Tier, you unlock a status effect. One may only be activated at a time, along with the Regeneration buff. Increasing your Pyramid Tier will also increase the radius range of the status buffs.
The Pyramid Tiers are are as such:
9-Block Pyramid (Tier 1)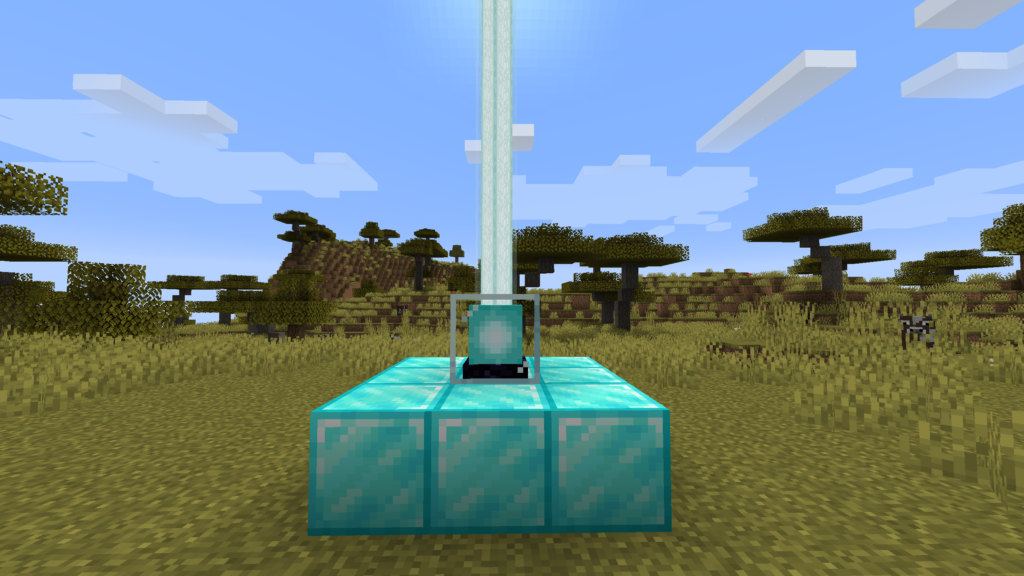 9-Block Pyramid (3 x 3)
Status Effects: Speed, Haste
32-Block Pyramid (Tier 2)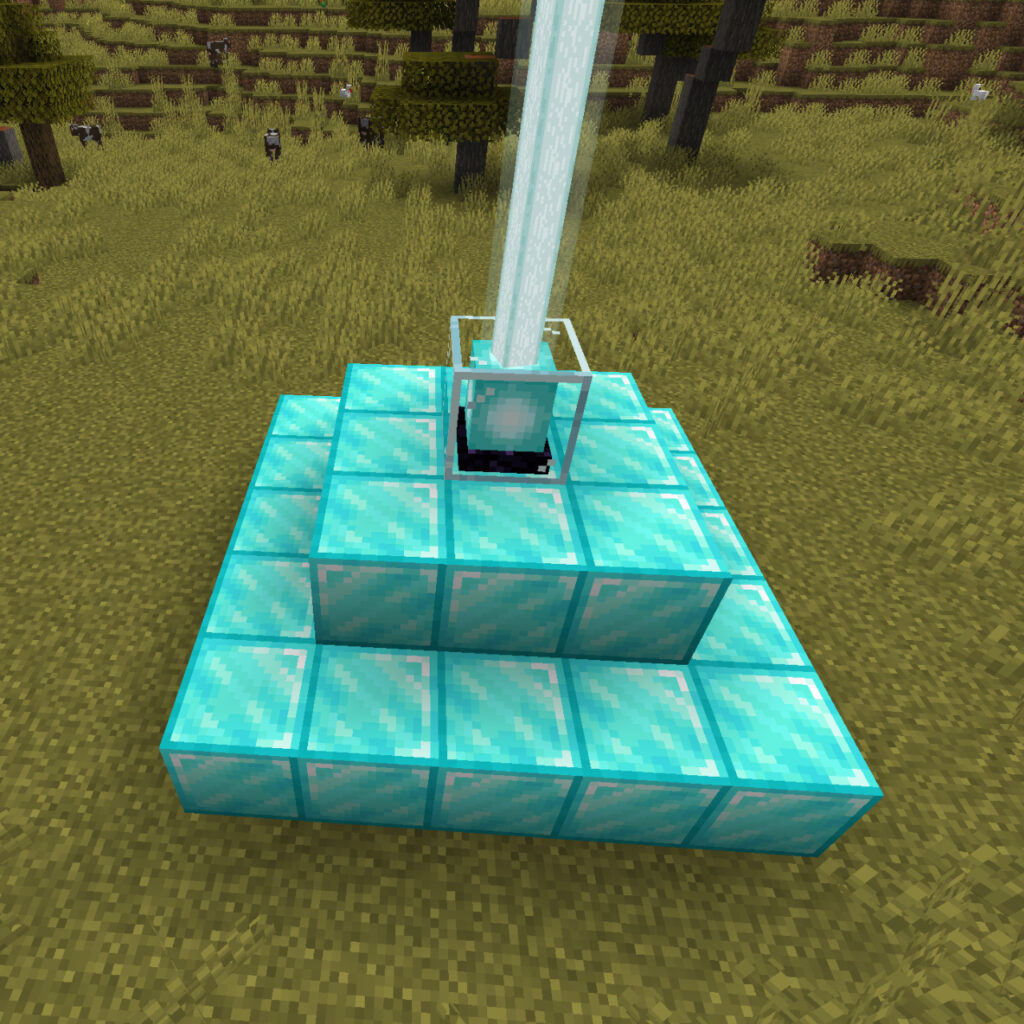 34-Block Pyramid (5 x 5, 3 x 3)
Status Effects: Resistance, Jump Boost
83-Block Pyramid (Tier 3)
83-Block Pyramid (7 x 7, 5 x 5, 3 x 3)
Status Effects: Strength
To activate the Status buffs, place an Ingot into the blank space, select your buffs, and click the green check mark. Your status buffs will now be active and you have successfully used the Beacon!