If you can't find any sugarcanes in Minecraft, a good alternative is bottled honey, but getting honey will require a few steps.
How to make Honey in Minecraft
To get honey in Minecraft, you will need bees and a beehive. However, to get a beehive you will need honeycombs, which must be obtained first from bee nests that spawn naturally in the following biomes.
Plains

SunFlower Plains

Flower Forest
Bee nests also have a small chance of spawning in the following biomes.
Forest

Birch Forest

Bitch Forest Hills

Tall Birch Forest

Tall Birch Hills

Wooded Hills
Once you locate a bee nest, you will then need to wait until the bees fill the hive up with honey. You will know when the hive is full of honey when it looks like the image below.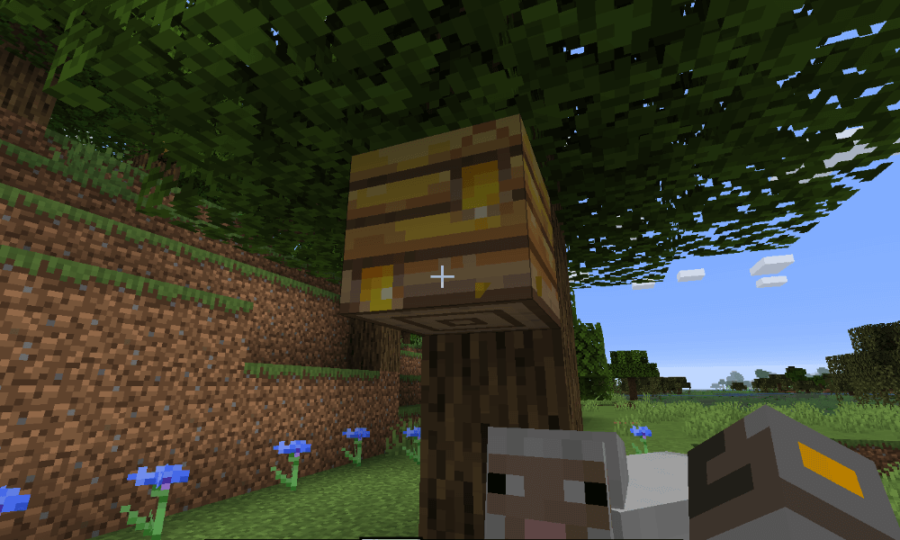 When the nest is full of honey, you can harvest it with shears that you can make with two iron ingots, or you can make and use glass bottles to get the honey. If you use bottles, you can then use the bottled honey you will get to make sugar by placing it anywhere inside a crafting table.
However, you should note that doing either will anger the bees and cause them to attack you. You can get around this by having a lit campfire underneath the hive, which will cause the bees not to attack you.
After dealing with the bees, you can then harvest honeycombs which can be later used to make a beehive with the following recipe pattern below.
When you get a beehive made, you can then use it as a continuous source of honey as long as you have bees to make honey. You can get bees for your beehives by luring them with flowers.
For more on Minecraft, we at PGG have you covered with awesome guides like How to make a Blast Furnace in Minecraft and How to make Barrels in Minecraft