The Big Dog program in MLB: The Show 22 features all three sets of Big Dog players to earn and challenges that require using Big Dog players. There are three Big Dog choice packs in the program, so you will be able to collect some great players for your lineup, but what are the best Big Dog players to use in MLB: The Show 22?
Best Set 1 Big Dog Players
The best Set 1 Big Dog players are P Corey Kluber and SS Anthony Volpe. They are the only 90+ OVR players in the set, but the chances of getting a choice of one of them are rare. Chances are, the Set 1 choice pack will contain the base players. In that case, the best player is 1B Todd Helton since first basemen are pretty rare, and his hitting is exceptional.
Related: How to complete the Big Dog Program in MLB The Show 22 Diamond Dynasty
Best Set 2 Big Dog Players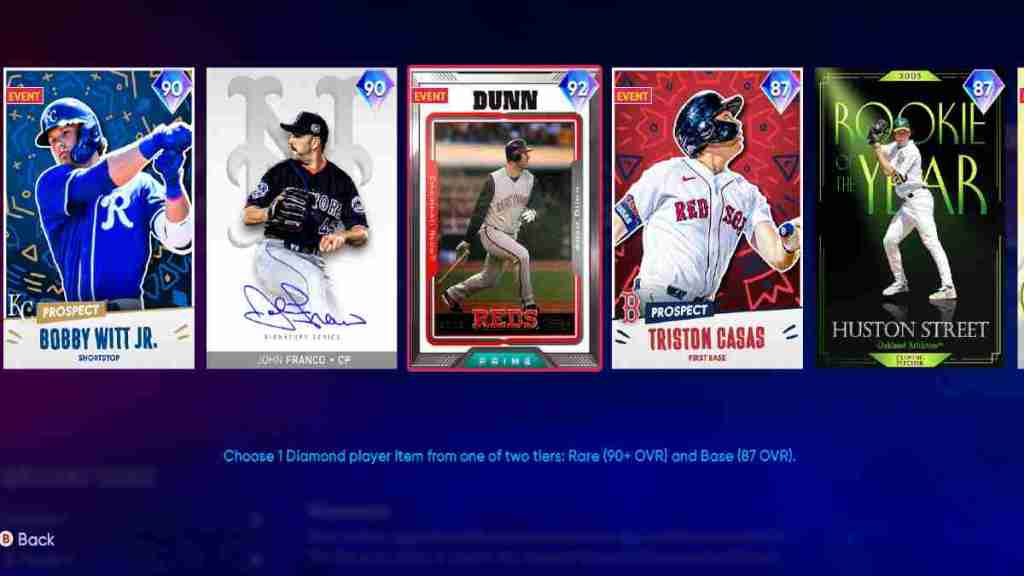 Set 2 features a lot of players with a good balance of attributes. This set depends more on your position needs, but if you can choose LF Adam Dunn or SS Bobby Witt Jr., they provide the best upside. However, like the other choice packs, you may only have a choice of the base players below 90 OVR. The other best player is 3B Minnie Minoso. His speed, contact, and vision make him a single or double threat always at the plate. He can also play any secondary position, so he is great to pick for any lineup.
Best Set 3 Big Dog Players
Set 3 is loaded with great hitters and hard-to-find position players. If you need a starting pitcher, David Price is the best player in the set, but if you are looking for great hitter or position player, OF Christian Yelich or C Francisco Alvarez are the best players to pick up. Yelich is an absolute unit while batting, and Alvarez provides rare hitting ability playing catcher.
The three sets of Big Dog players are filled with great players to add to your team. If you would like to try out Big Dog players before getting them, the Big Dog Showdown mode is a great option. The Showdown will give you stars for progress in the program so you can pick up more Big Dog rewards. The program also has a parallel XP challenge, so try to use Big Dog players in your lineup across all Diamond Dynasty game modes.
For more MLB: The Show 22 guides, check out How to get Lightning Jim Rice in MLB The Show 22 Diamond Dynasty on Pro Game Guides.