We're taking a quick look at how you can complete level 15 in Brain Out! If you're struggling with this one and are unsure of the answer, then this guide will get you onto the next one very quickly. Some of these are quite difficult and have you thinking outside of the box a bit too much, so let us help guide you on how to finish this up.
Level 15 Puzzle
The sad little duckling wants itself some water! This should be easy, but as usual... things are not what they seem.
Hint: Maybe we can coax the duckling to the water...
Level 15 Answer
This puzzle is about distracting you with a lot of options. You've got a bottle of water, pool of water, and a rock. So, you'd think you could just drag the water over to the duck, but how would the duckling drink it? Well, what about throwing the rock in the pool of water and splashing it... Well, that's not it either. So, the solution to this puzzle is to tap and hold on the duckling and bring it up to the pool of water!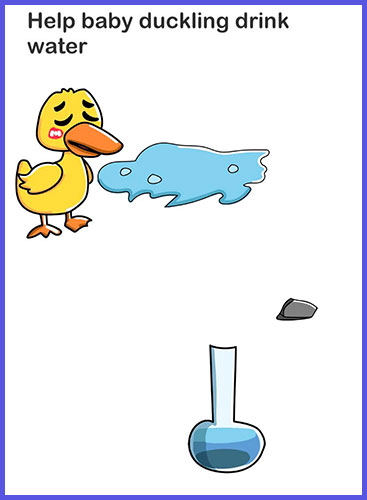 That's everything you need to know to solve Brain Out Level 15! We'll be posting more solutions for a lot of the other levels soon.