At some point, you will be given a request to take a picture of a rock lizard, and upon doing so, you will be rewarded with more great wire bugs. Here's where you can find the rock lizards in Monster Hunter Rise.
How to get a picture of a rock lizard in Monster Hunter Rise
To find a rock lizard and take a picture of it, you will need to locate the lizards in the spots marked by the blue dots below in the Shrine ruins. You can find rock lizards usually sitting top rocks or cliffs at these locations, so be sure to look around carefully using the wire bug.
You should also note that the rock lizards won't spawn all at once, so you will need to check all of these locations until you track one down. But, once you find a rock lizard, you will be able to take a picture using the camera option in-game. To use the camera, move the left D-pad until you find the option that says the camera, and then use the D-pad to operate the camera.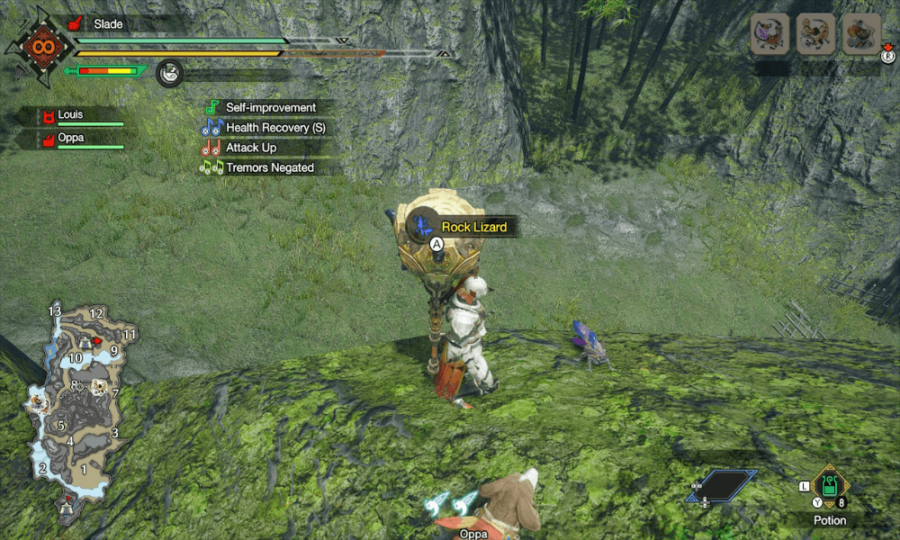 When you take a picture of the rock lizard, you will then be able to turn the request in to gain six more great wire bugs. However, this shouldn't be the end of your involvement with these rock lizards; as you see, there is more to them than pictures.
Related: How to play and download the Monster Hunter Rise Demo
In short, rock lizards can give you armor spheres, so we recommend kicking them when you find them, as they come in handy for upgrading armor. As a side note, you can also find rock lizards on other maps such as sandy plains and the flooded forest; we will add their locations to this guide later.
For more on Monster Hunter Rise, we at PGG have you covered with guides like How to equip Layered Armor in Monster Hunter Rise and How to play Multiplayer Co-op in Monster Hunter Rise.