Mortal Kombat 11 supports cross play on only certain platforms. PlayStation 4, PlayStation 5, Xbox One, and Xbox Series X/S players can play together online, however, PC and Nintendo Switch players do not have access to cross play.
With the release of Mortal Kombat 11 Ultimate, cross-platform progression is supported and in-game purchases carry over between consoles of the same ecosystem. As long as you are signed in to the same profile on either PlayStation or Xbox consoles, progression will be saved.
How to Enable Crossplay
To enable online cross play, go to the Kasual Modes section of online fights. At the top right-hand corner, there will be a tab to enable or disable cross play. To enable or disable cross play, press the select button. Players can also scroll to the bottom of the online fights screen to the "Rooms" section to join or create a custom lobby for versus or King of the Hill matches. For consoles of different ecosystems, the Rooms section is the only place to create custom games with cross play.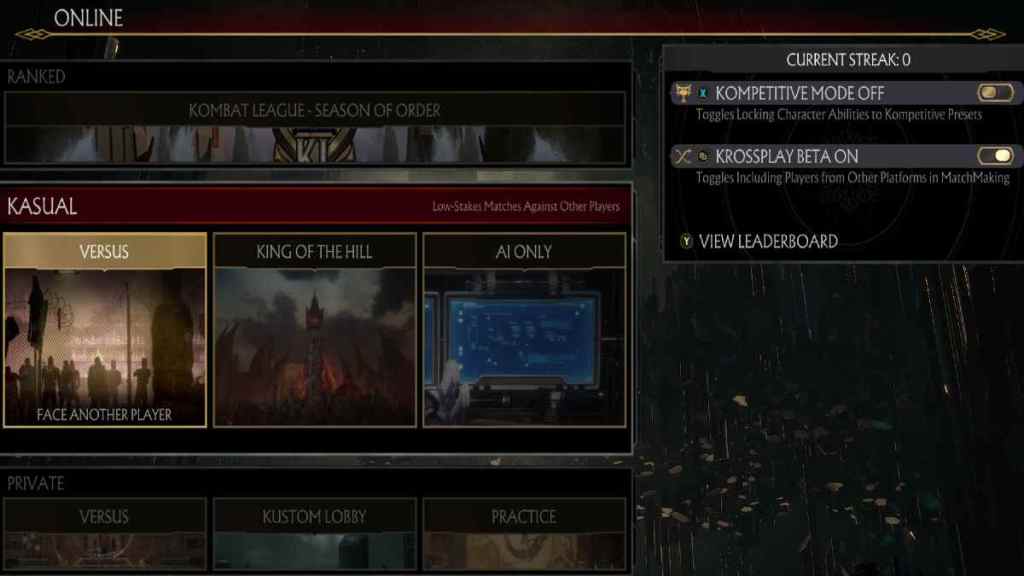 For Nintendo Switch and PC players, it does not seem like Mortal Kombat 11 supports cross play, but players can hope for full cross play in Mortal Kombat 12, but for now, only PlayStation and Xbox players can play together.
For more Mortal Kombat 11 guides, check out How to perform all fatalities in Mortal Kombat 11 on Pro Game Guides.