Requesting a trade is a little more difficult in NBA 2K22 than in previous years. In NBA 2K22, requesting a trade is built into the storyline and requires a few cutscenes and games to complete. To request a trade, players must become a starter on their team, play a few games, and then select the option to pursue a trade during a cutscene.
Once the trade is requested, the option to talk to the agent will eventually become available after a few games. During this cutscene, players can select the team they would like to go to. This will include the player's potential salary and team interest. Players must consider which teams need their position or skillset, which will be reflected in team interest.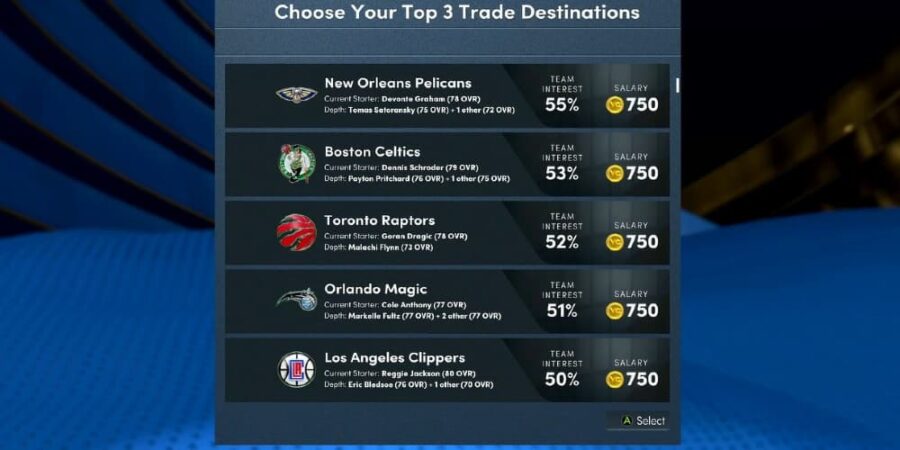 Once players select the teams they would like to go to, they must play a few more games. Soon, there will be a notification that the trade is complete. There is not a set amount of games that must be played to complete the trade and can differ from player to player.
Since requesting a trade is intertwined in the story, it can be difficult to trigger each cutscene required to go through with the trade. The starting point of requesting a trade is a cutscene in which Kendrick Perkins goes on a rant about the player, which will trigger a question from a friend asking if the player wants to request a trade. If the player chooses to stay, they cannot make the trade until the story progresses.
After the first season, players can request a trade by going to the MyPlayer tab and pressing "Request a Trade," which will prompt the player to select teams they are interested in. The trade can be completed if the team would like to add the player.
For more NBA 2K22 guides, check out How to get No Shirt in NBA 2K22 on Pro Game Guides.