Overlook Bay is coming to beta soon, so you're likely wondering how you can get money in the game! Well, we're going to go through all the known ways to do that in this guide. The main currency is gems, and there's a variety of different options you can take part in to collect them. These gems will be used to purchase pets, furniture, vehicle, and everything else in Overlook Bay.
How to Make Money in Overlook Bay
There are multiple different ways you can collect gems in Overlook Bay. Here's a full list of all we know right now! We'll have additional information as more is revealed. We've also got a guide about everything known about Overlook Bay's Pets!
Login Bonus
Each day you log into the game you will receive a reward of some kind! I imagine if you chain days in a row you'll receive increased rewards, but this system hasn't been shown fully yet.
Needs
If you've played Adopt Me, then you'll be familiar with the needs system. Every once in a while you'll receive needs for your character. They might be bored, so you can head to the beach to fulfill that need. If you do so, you will be rewarded with a gem reward. There's other things like fulfilling hunger by eating muffins or pizza! These various food items can be purchased in the restaurants across the city.
Tasks
Every 24 hours a new set of 10 or so tasks will be added to the game for you to complete. These include things like collecting fruit, claiming tickets, ordering foot, catching fish, and a whole lot more. For each one of these you complete you will be given a gem reward. The totals range from 5 - 10 based on what is known now, but there could be higher gem tasks that we don't know about yet.
Wishing Well
The Wishing Well is a location on the map that you can interact with every 16 hours. You will get a randomly selected prize, which includes gems and some pet tickets. Here's a break out of the chances you'll have on receiving certain amount of gems or higher tier tickets:
40% Chance: 25 Gems
35% Chance: 50 Gems
10% Chance: 100 Gems
5% Chance: 150 Gems
4% Chance: Bronze Ticket
3% Chance: Silver Ticket
2% Chance: Gold Ticket
1% Chance: Diamond Ticket
Once you've received your reward, the cooldown period of 16 hours will startup until you get another free wish. You can also purchase additional wishes for 50 Robux each.
Buried Treasure
Travel to the beach and look for X-marks in the area. Once you find one, equip your shovel and interact with the spot. You will get an artifact each time you do some digging at one of these spots. You can take these to the scientist who lives at the lighthouse to sell them! He is only awake at night, so you can't sell to him during the day.
The scientist also sells cool looking shovels which you can buy from him if you want to look stylish while you dig!
Collect Seashells & Starfish
While you're hunting down buried treasure, you can also find yourself some seashells on the beach! On a small island in the ocean area is the fishing and shell shop. You can sell your fish and seashells to old Marlin Barnacle, who will give you some gems for your troubles.
Fishing & Selling Fish
Get yourself a fishing rod and then head out to an area with water. You can equip the rod and then cast your line into the water! Once a fish has nibble on the hook, you'll see a small mini-game where you'll need to get the yellow ball as close to the middle as possible.

Fish can be sold in the same place as shells and starfish, which is in the ocean at a small island! You can also buy fishing bait, and different looking fishing rods if you'd like to change it up while you are doing some fishing. The fishing bait will give you a better chance to catch Legendary and Ultra-Rare fish!
Fruit Trees & Selling Fruit
In Overlook Bay you will come across pink trees scattered around the map. There's 12 in total and they can all be shaken for fruit! You will want to do this because it can complete tasks, but also you can sell the fruit to a certain vendor.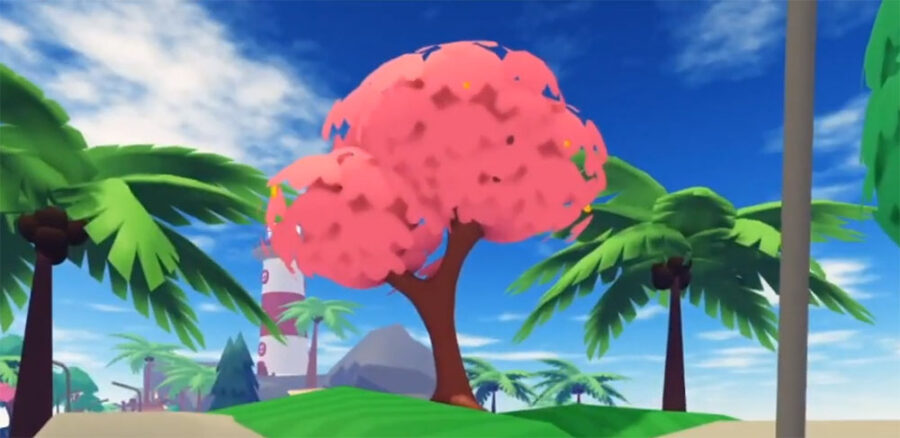 When you shake the tree, look all around the area around the tree. You should hopefully see a piece of fruit that has fallen and be able to collect it. Each tree will drop 1 - 3 fruit, so you can get 36 fruit all together if you're extremely lucky. Once you've gotten your fruit, you can head over to the Organic Fruit Farmer who is in the parking lot of the grocery store. You can sell all of your fruit to him! The trees regenerate every 12 hours, so try to shake them twice a day!
If you want even more access to fruit trees, you can purchase seeds from Clyde Organic and plant four of them in your backyard. You can also purchase a Gamepass that will allow you to plant four more. This will make your fruit collecting a whole lot easier.
Pets
When you take care of your pets you will earn experience and a second currency called Paw Badges. You can use the badges to spin the wheel that you can find at the Pet Shop. This wheel has a chance to give you a variety of gems, pet tickets, or even ultra-rare pets! Each time you complete a task for your pet, you will earn 5 Paw Badges. These are triggered every two and a half minutes. If you level a pet up, you will gain an amount of Paw Badges based on its rarity.
Be sure to check out the following video to see all of the information from this guide in the game: