Being the direct sequel to the hit team first-person shooter Overwatch, Overwatch 2 shares plenty of similarities with its predecessor. However, there are also plenty of differences, such as Overwatch 2's 5-versus-5 gameplay as opposed to the original's 6v6 style, and new heroes and heroes missing from the sequel. Some of these differences can be seen in the game's competitive side through its ranks, ranking system, and how it handles groups.
How to play ranked matches in Overwatch 2
Before understanding the various ranks and the competitive matchmaking system, here's how to play the ranked game mode in Overwatch 2. To play competitive ranked matches in Overwatch 2, you must acquire 50 wins in the unranked mode, quick play (role queue), or quick play (any role).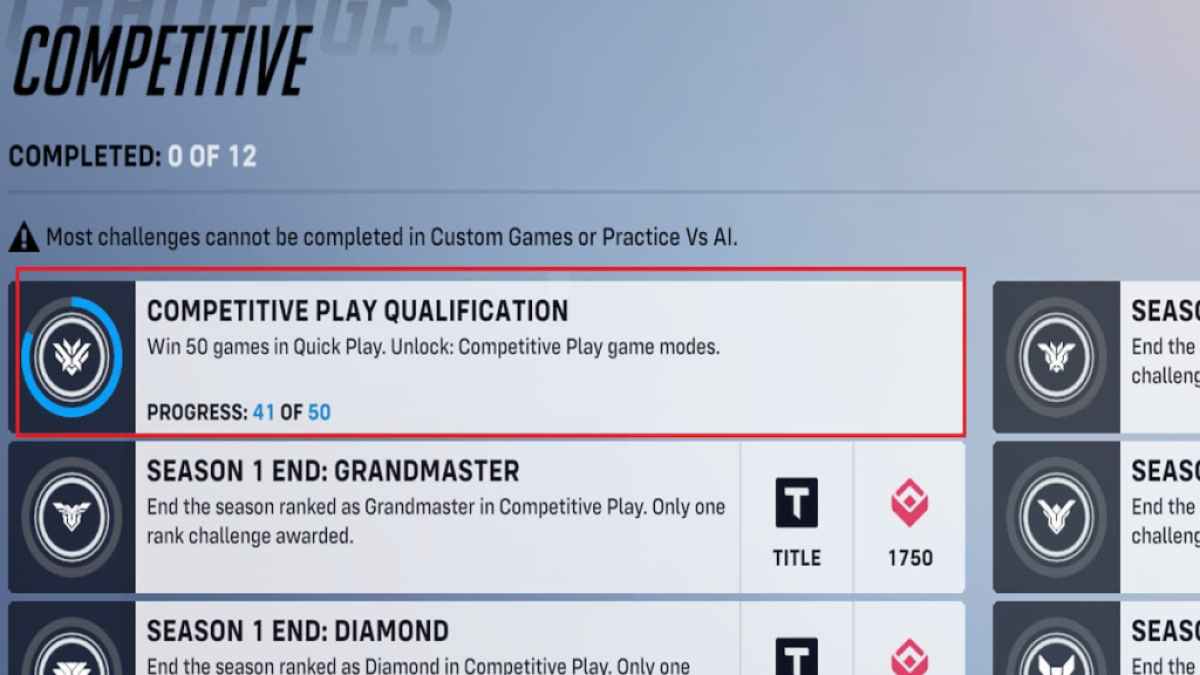 You can track your total number of wins from the challenges section under the competitive tab. After getting 50 wins, you can access the ranked mode to play your initial placement matches.
Overwatch 2 ranks, ranking system, and grouping system
All Overwatch 2 ranks
In Overwatch 2, there are eight separate ranks. Within seven of these ranks, five divisions are numbering between one and five, with five being the lowest and one being the highest. The ranks in order of skill level are as follows:
Bronze
Silver
Gold
Platinum
Diamond
Master
Grandmaster
Top 500
Each rank from Bronze to Grandmaster has the five aforementioned divisions, but the Top 500 breaks this mold because it is simply the 500 highest-ranking players in its respective region.
Ranking up in Overwatch 2 explained
In Overwatch, players' ranks were calculated on the fly, meaning they could rank up or down fairly frequently. This changes completely in Overwatch 2, which introduces a new system based on either seven wins or 20 losses/ties and role-based rankings. The new system recalculates players' ranks every time they reach seven wins or 20 losses/ties with a certain role (tank, damage, support). When one of these numbers is reached, the game will automatically shift the player up or down in rank based on their performance.
For example, if a player wins seven games with no losses, they will most likely jump much higher in rank, whereas 20 losses or ties will drastically lower their rank instead. These wins and losses/ties are exclusive to each player's role, so wins as a damaged character will not go towards ranking up as a tank or support.
Related: Best Overwatch 2 DPS Heroes, Ranked
Grouping in Overwatch 2 competitive
Like in Overwatch, where players could only play with friends close in rank to them, Overwatch 2 is quite similar. With the new division system, players can play with friends within two ranks of their current one. This is quite lenient for players, as a player ranked Bronze 5 can play with friends as high as Gold 1 in rank. However, this changes starting in Master rank, as only friends in Diamond or within the first three tiers of Grandmaster rank can play with Master rank.
The limitation becomes further restricting in Grandmaster, where players can only play with friends within three divisions of themselves. This means a Grandmaster 1 player cannot play with a Grandmaster 5 player. Lastly, the Top 500 ranked players can only play against one another.
Looking for more information on Overwatch 2? Check out Best Overwatch 2 Support Heroes, Ranked and Worst Heroes in Overwatch 2, Ranked from Pro Game Guides!