Taking place 16 years after the events of Resident Evil Village, Shadows of Rose takes players on an emotional journey as baby Rose retraces her late father's footsteps. It's a short story-driven piece that channels everything about the main game into a condensed version. But is it worth the price of admission?
Narrative
Rose has grown up without her father, Ethan, and it is implied that she had a strained relationship with her mother, Mia. Seemingly under the care of Chris Redfield and his team, Rose has grown up ostracized due to the way the mold from her rebirth in Village has affected her. Seeking a way to rid herself of her biology and the powers that come with it, Rose agrees to commune with a piece of the Megamycete.
During this communion, Rose is transported back to the Village and must work her way through the environments of Castle Dimitrescu, House Beneviento, and finally, the village itself. Along the way, she is guided by a mysterious presence, Michael, who seeks to aid her. This brief, two-and-a-half-hour story takes players through a whirlwind of emotions from horror to bittersweet sadness and spine-chilling psychological terror to empowerment.
The plot itself ties in nicely with the events of Village and is believable enough as to why the player needs to revisit these set pieces from the main game. The story becomes a little predictable, which is unfortunate, but it ultimately makes sense. Certain tiresome characters return, which gives the feeling that Shadows of Rose is a rehash of major beats from Village.
Without giving away spoilers, it succinctly wraps up the Winters family storyline, much like Capcom had promised it would. It serves as a strong endcap for one of the greatest games of all time.
Score: 4.5/5
Related: How to escape the Doll basement in Resident Evil Shadows of Rose
Visuals and Performance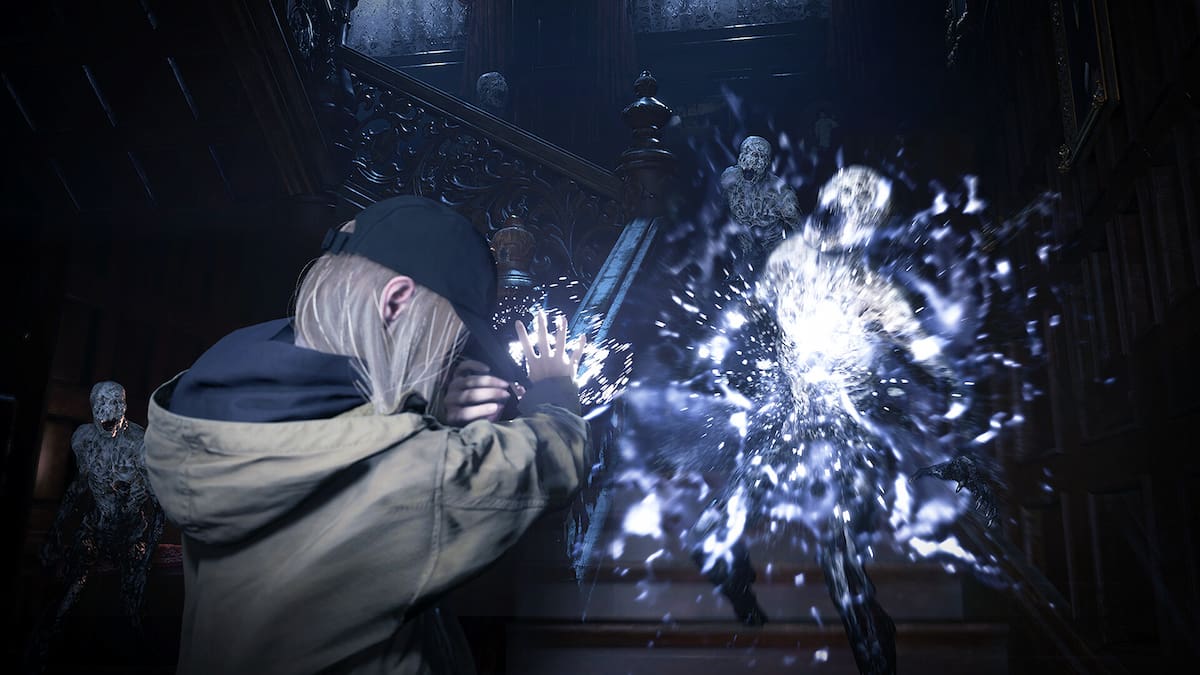 Shadows of Rose is a visual delight. Despite transporting players back to familiar locations, each has been repurposed, redesigned, and packed with a host of new details to pour over. Mold monsters populate Castle Dimitrescu, and its halls are decorated with the corpses of alternate versions of Rose. House Beneviento is a twisted nightmare of Rose's childhood traumas. Each setting faithfully channels the energy of the original while adding something new.
Built using the always-inspiring RE Engine, Shadows of Rose looks as phenomenal as Village while maintaining top-tier performance. Even when maxing out the settings on the PC and going beyond the "recommended" settings, Shadows of Rose ran without a hitch, bug, or incident that negatively impacted the experience. Simply put, it is a stunning visual treat for the eyes that runs flawlessly.
Score: 5/5
Gameplay
No matter how pretty a game is or how well it runs, it must be enjoyable. Shadows of Rose uses similar mechanics as Village but adds a twist with the usage of Rose's powers. Using the mold in her body, she can interact with the mold spread worldwide. This plays in heavily with solving puzzles and acts as a defense mechanism against the new abominations she must face.
That being said, Rose isn't the powerhouse that Ethan was. She can't go in, guns blazing, and simply mow down the competition. Equipped with only a pistol, a shotgun, and limited usage of her powers, players must play it smart and safe to escape the horrors of this dreamscape. Even playing on easier difficulties can prove challenging.
It's a great way of adding another layer of terror. This was something we noticed during our trip to House Beneviento in Village, Capcom is toying more with elements of terror outside of zombies and monsters. It's letting the horror breathe and take its time. It lets it fester inside the player's mind and pulls the trigger at the perfect moment. Shadows of Rose only builds on that with a physically, emotionally, and mentally vulnerable character.
Score: 5/5
Related: How to beat Eveline in Resident Evil Shadows of Rose DLC
Puzzles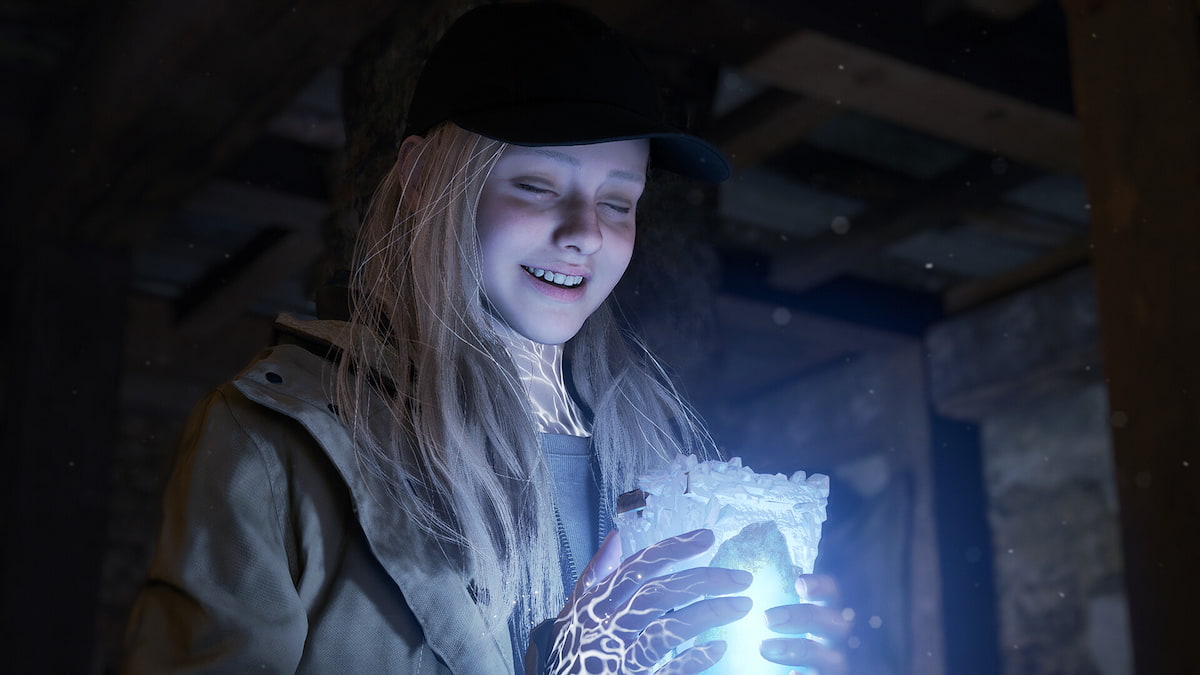 As mentioned earlier, Rose can interact with the mold in the environment thanks to her powers. This typically takes finding mold buds that must be disintegrated to allow passage. There is no limit to how often you can use this power as it's necessary to progress the game. That said, this is the only way Rose applies her powers to the world around her. It would have been interesting to see it used in other aspects, but here we are.
Once the concept of using Rose's powers to eliminate the buds is made evident, it quickly becomes a mechanic where the player must locate them while under attack or some other time pressure. It's an arbitrary difficulty that becomes more akin to memorizing a route than solving a puzzle.
Otherwise, Shadows of Rose dives heavily into classic Resident Evil puzzles. But again, what is here is largely rehashed from the main game. If you've played through it, you'll know what to expect, as the concepts are copied and pasted into the DLC. This includes the masks from Castle Dimitrescu and surviving without weapons in House Beneviento. It's not awful by any stretch of the imagination, but once you know how a puzzle works, completing it is more of a chore than a journey of discovery.
It would have been nice to get entirely new puzzles that use this unique dreamscape Rose finds herself in or that play on her unique powers. Something akin to pulling back the veil of manipulation she's experiencing would have been brilliant, for example. As it stands, the puzzles do little more than serve as barriers to the flow of the narrative.
Score: 3/5
Verdict - A bittersweet farewell
Resident Evil Village just might be my favorite game of all time. Sure, I play and write a lot about Destiny 2, but for a self-contained experience, I don't know that there is beating what Capcom did in its 2021 outing. So, I wasn't necessarily worried about the quality of Shadows of Rose as much as I was anxious to see what the developer would do next.
What Capcom did was put me on an emotional roller coaster. I was legitimately terrified at moments, having to set the game down and return to it after a breather. Other moments had me literally crying from the emotional gut punch that had been delivered. Towards the end, I felt profound empowerment that had me cheering Rose on. Finally, I felt extreme joy as I got the most satisfying conclusion to what I feel is the pinnacle of the Resident Evil universe.
I was filled with these emotions over the short course of a few hours and then drained of them in a way that left me feeling cleansed. I was pure, whole. For anyone that has gotten into Resident Evil thanks to the revival that the seventh entry brought about or has any sort of investment in the Winters family, the Shadows of Rose expansion is a must-play. This bizarre little trilogy of VII, Village, and Shadows of Rose will win anyone over if they're willing to give it a shot.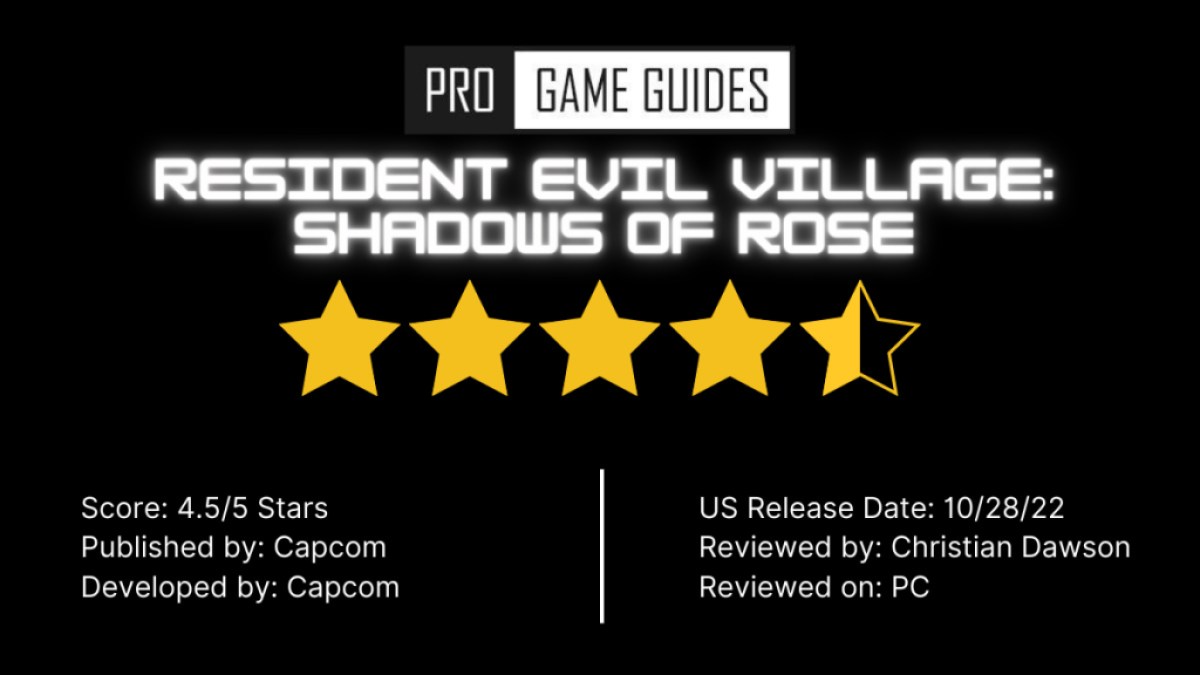 For more Resident Evil goodies, check out How to beat Mother Miranda Resident Evil Shadows of Rose on Pro Game Guides.