Kits are avatar bundles in Roblox BedWars that essentially serve as different classes. Every kit is themed around a different character and with its own set of unique perks and abilities. Using the kit to its own strength, along with the player's skills and mastery of the game, can provide a much larger advantage during BedWars matches against other players. Here's a look at this week's rotation of free kits, along with all of the kits available in the game.
All Kits in Roblox BedWars
Here's a look at all of the kits in Roblox BedWars. Each kit comes fully loaded with its own unique perks that could make or break a victory during a match across all of the game modes. At the end of the day, the "best" kit is really designed around your own gameplay style and moveset preferences.
Kit
Description
Player
Opt out of using a kit and play as yourself!
Aery
Increase the damage of your sword attacks up to x3 times by collecting the spirit butterflies from fallen enemies.
Alchemist
He can make special spells like Bomb, Heal, Poison, Shield, and Sleep. You can use the spells or give them to teammates.
Archer
+15% projectile damage and access to the Tactical Crossbow in Item Shop.
Ares
Can buy a spear from the item store. The spear deals an AOE type damage to enemies in a small radius along with some knockback.
Axolotl Amy
She has small pets called Axolotl that help you and your allies to gain more Shield, Damage, Health generation, or Break speed for a limited duration of time.
Baker
Gain access to health-gain apples and speed-boost cakes.
Barbarian
Build rage by damaging enemies. Instead of buying swords, your sword is upgraded upon reaching max rage. You lose half your rage upon death. Emerald Sword is replaced by the Rageblade.
Beekeeper Beatrix
Catch bees around the map to upgrade your Bee Hive. Upgrading your Bee Hive will return additional iron and emeralds.
Bounty Hunter
Get assigned bounties for killing certain players in the match. Competing for a bounty reward a random amount of resources.
Builder
Fortify blocks using the Builder's hammer. Purchase the Hammer from the Item Shop.
Conqueror
Buy three different, unique banners like defense, heal and fire from the shop. The banners will provide special buffs to your allies.
Crocowolf
If your enemies destroy your bed, you will transform into a majestical beast with a lot of HP, movement speed, and knockback capabilities.
Cyber
Deploy and use the drone to collect resources around the map. They can also be used to drop TNT on enemies.
Eldertree
Increases Max HP and size by collecting Tree Orbs. Armor cannot be purchased.
Ember
Buy a unique Infernal Saber for 4 emeralds from the game store. The sword will deal 36 damage per hit and has a cooldown of 0.3 seconds.
Farmer Cletus
As a master of the farmland, Cletus grows crops that yield diamonds and emeralds.
Fisherman
Use the exclusive fishing rod to acquire rare items.
Freiya
Her passive ability allows her to slow down enemies after performing a hit on them. The passive only works after filling the frost meter. She can also
buy a special Ice Sword that can slow enemies and inflict 40 damage per hit.
Frosty
Frosty can throw special frosted snowballs at enemies causing more damage than a normal snowball. It can also slow enemies for 1 second.
Gingerbread Man
Use the Gumdrop special item to avoid any fall damage and gain a defensive shield.
Gompy
Uses Vaccum to collect and launch ghosts at enemies. Each ghost inflicts 60 damage, 40% armor penetration, and 6 blocks of knockback
Grim Reaper
Health regenerates movement speed increases and becomes invulnerable for 2 upon consuming enemy souls. Combat disabled while consuming.
Infernal Shielder
Spawn with a massive shield that can deflect damage + projectile knockback.
Jack
Can buy the exclusive Oil Blob. Enemies walking on the Oil Blob will take 9 damage per second and make their movement erratic.
Jade
Knock people up with your giant hammer.
Lassy
Lassy has a lasso that can pull in enemies.
Lumen
Buy a unique light sword for 4 emeralds from the game store. The sword will deal 42 damage per hit and has a cooldown of 0.3 seconds.
Melody
Melody uses a guitar and the power of music to heal nearby teammates.
Metal Detector
Find treasures using your Metal Detector spread around the map. The treasure chest will contain iron, diamonds, and emeralds.
Miner
Killing enemies will turn them into stone. The stones can further be mined to get valuable resources/items.
Nyx
Activate the unique Midnight Darkness ability and deal extra damage up to 50% to both armors and health.
Pirate Davey
Use a TNT Cannon to bombard your enemies.
Pyro
Use your flamethrower to spray fire, making enemies brittle and taking more damage from attacks. Killing brittle enemies gives ember which you can use to upgrade your flamethrower.
Raven
Buy ravens and fly at enemies to deliver deadly doses of poison.
Santa
Throw TNT on the opponent's base using the Santa Strafe.
Spirit Catcher
Purchase spirits from the Item Shop and place them around the map. Spirits will chase down and explode nearby enemies.
Smoke
Buy the exclusive Smoke grenade from the item store. Consume the Smoke grenade to go completely invisible for a certain period of time.
Sheep Herder
Tame sheeps spread around the map. Each sheep will amplify your damage by a certain percentage.
Trapper
Can Stun enemy using his Snap Trap and stunned enemies receive 40% more damage.
Trinity
Upon reaching three kills, choose between a Light and Void transformation. As the Light Angel, heal nearby teammates when damaging enemies. As the Void Angel, attacks will life steal.
Vanessa
Shen can supercharge your Crossbow or Bow. When supercharged she can fire three arrows at the same time.
Void Regent
Can buy an exclusive Void Axe from the store. Use the Axe to leap 10 blocks forward and deal 15 damage to any enemies in the vicinity of your attack. You can also heal up to 60% of the damage inflicted.
Vulcan
Controls camera turrets around the map using a tablet.
Wizard
Conjure lightning strikes and electricity orbs with a magical staff.
Warrior
Armor is slightly cheaper and you can buy powerful Warrior Armor.
Yeti
Roar and freeze any blocks. Frozen blocks can be destroyed much faster.
Yuzi
Special Dao Swords deals 15-28 damage and lunges enemies forward.
Related: All maps in Roblox BedWars
Roblox BedWars Kits (Gallery)
Check out all of the Kit designs in Roblox Bedwars. So far all of the Kits are Archer, Baker, Barbarian, Builder, Farmer Cleetus, Infernal Shielder, Melody, and Pirate Davey. If there are any missing images below (such as Pirate Davey), we'll have them up as soon as we are able. Let us know in the comments if we are missing any and we'll try to get them uploaded ASAP. Press on each image be taken to a new page that will let you save them for your own collection!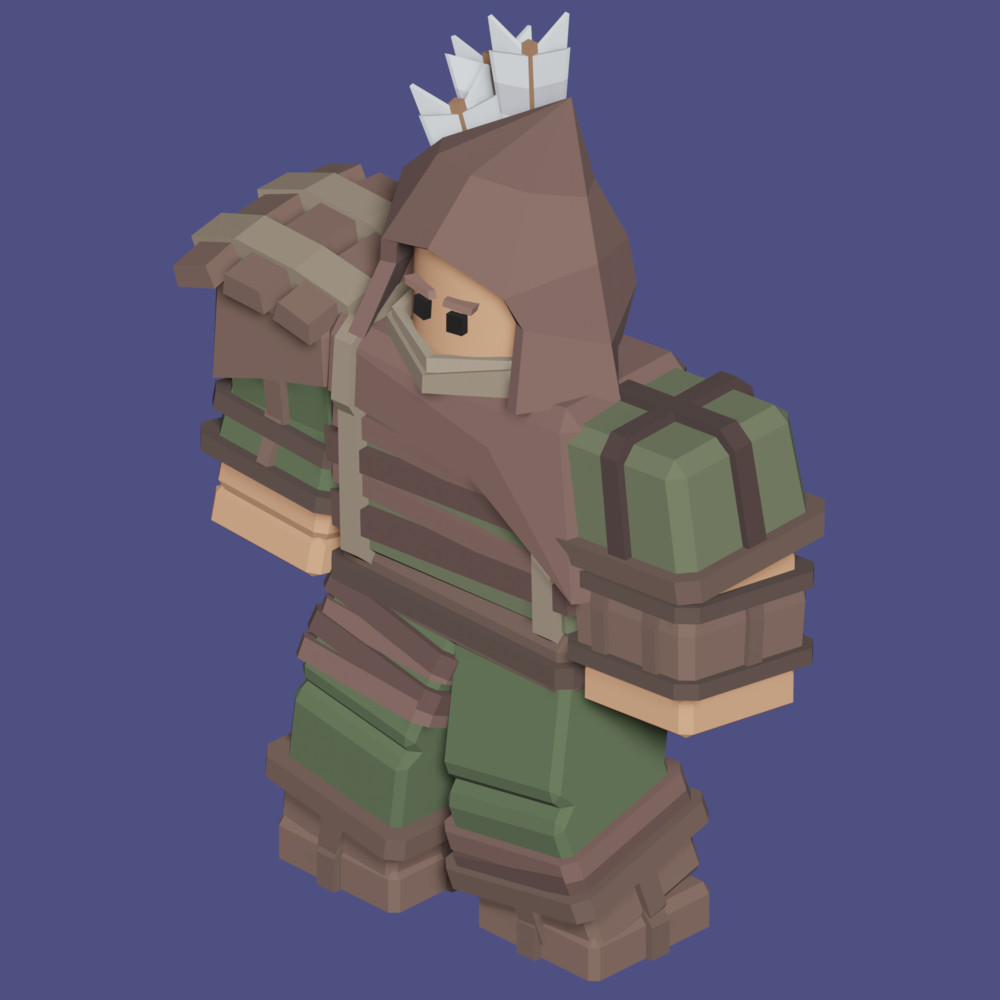 For more Roblox guides, check out How to Set Up an Elevator in Roblox Welcome to Bloxburg and How to level up quickly in Roblox Demonfall on Pro Game Guides.