Updated September 25, 2023

Added a new code!
Be prepared for many scares, as Roblox Apeiropobia will test your nerves while you try to stay alive in this survival horror game. Each level has specific problems you must face if you want to escape. If you're still unsure what the game is about, it is enough to know that apeirophobia is the fear of infinity and causes discomfort. As that's not enough, you stand no chance against monsters.
As this is a horror survival game, there is not much you can do to solve problems with dangerous monsters. Fear of them will hold you at the edge of your seat. The only thing Apeirophobia codes can do for you (for now at least) gives you special tags. You can wear them as a badge of honor, so everyone can see how great you are at staying alive.
Horror games can test your limits, so sometimes, you'll need help. Check out excellent guides like Roblox Nanny [HORROR] Codes, Roblox Tapping Horror Codes, Roblox Monkey Kills Codes, Roblox Dog! Codes, and Roblox Escape the Darkness Codes on Pro Game Guides.
All Apeirophobia Codes List
Working Apeirophobia Codes (Active)
ApeirophobiaChapter2—Redeem for in-game rewards (New)
Expired Apeirophobia Codes
100kfavorites—Redeem for a new in-game title tag.
Apeirophobia Codes FAQ
Here's everything you need to know about Apeirophobia codes.
How to redeem Apeirophobia Codes
Redeeming codes for free awards in Apeirophobia is easy; follow the steps below: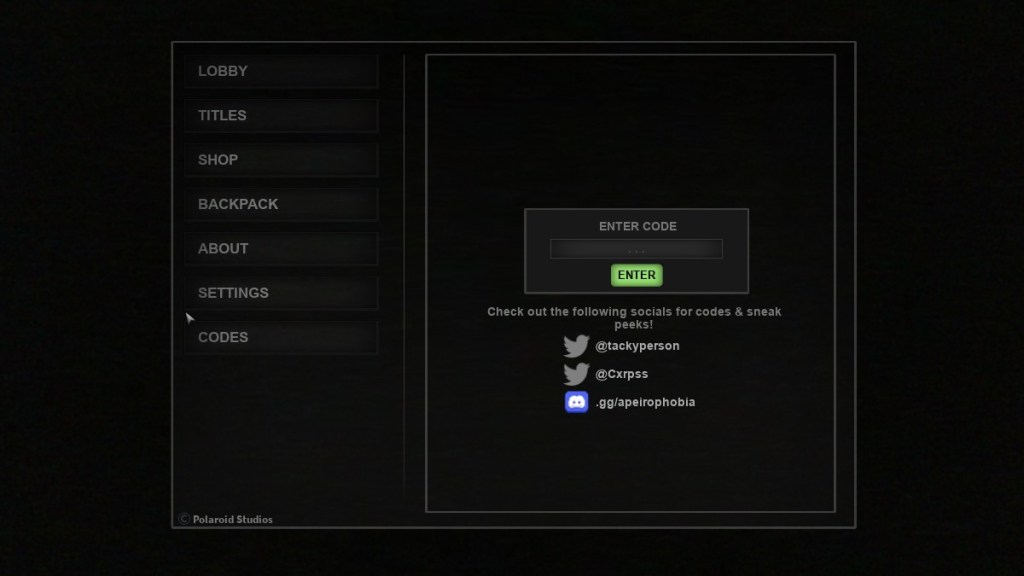 In the main menu, press the Codes button on the left side of the screen.
In the text box, enter the code exactly as it appears in the list above.
Confirm the selection by pressing the Enter button to claim the reward!
How to get more Apeirophobia Codes
Be informed about all new Apeirophobia codes by visiting this page often. Bookmark it, and we'll update this article as soon as new codes arrive. You can also check the developer's official Discord and Twitter pages for updates regarding the game.
Why aren't my Apeirophobia Codes working?
Most Roblox codes expire after some time, and Apeirophobia is no exception. To avoid missing out on valuable rewards, redeem codes as soon as possible. Another reason for codes not working can be a simple typing mistake. To avoid this error, copy and paste codes from our active list into the text box. If you notice a code that no longer works, let us know so we can remove it.
Is Apeirophobia scary?
Apeirophobia can be very scary sometimes, so if you have a problem with your health or feel too stressed, think twice before you launch this game. But remember, this is still just a game, so if you're up to it, feel free to test your reflexes and resolve!
What is Apeirophobia?
Apeirophobia is a Roblox survival horror game where you'll test your skills in dark and seemingly infinite corridors. As that's not enough, monsters are also trying to catch you. The game is inspired by real phobia, as apeirophobia is the fear of infinity that may cause a feeling of deformed reality.
If you're looking for codes for other games, we have many of them in our Roblox Game Codes post! You can also get a bunch of free stuff via our Roblox Promo Codes page.