In the real world, dog might be man's best friend, but Dog! is not. In this survival horror Roblox game, your only option is to run and hide from the vicious attacks of a bipedal (but still, strangely, four-legged) and fuzzy monster. For those of you that are confused and feel you've seen this game before, this is the same game as Ben!, but with a new name.
All the codes of the previous game are still there and still serve the same purpose. You can use them to obtain coins for the in-game shop or for exclusive cosmetics. In a survive-the-killer game, this means you get to slay or be slain in extravagant style!
While you're using the codes below, don't forget to check out our huge list of codes for other similar survive-the-killer games! We have the latest codes for great games like Banana Eats, Survive The Killer, and Nanny [HORROR]. Or, if you want to find more Roblox horror games, check out our list of best Scary games on Roblox!
All Dog! Codes List
Updated May 13, 2022

Added new code
Dog! Codes (Working)
200kmembers—Redeem for 100 Coins (New)
150kmembers—Redeem for 100 Coins (New)
100klikes—Redeem for special rewards (New)
distom—Redeem for the Tompus skin
flamingo—Redeem for the Cleetus skin
discord0101—Redeem for Coins
danzlua—Redeem for 100 Coins
Dog! Codes (Expired)
These codes are no longer valid.
5klikes—Redeem for 100 Coins
10klikes—Redeem for 100 Coins
15klikes—Redeem for 100 Coins
25klikes—Redeem for 100 Coins
100kmembers—Redeem for 100 Coins
50klikes—Redeem for 100 Coins
35klikes—Redeem for Coins
release—Redeem for 100 Coins
How to Redeem Dog! Codes
It's easy to redeem codes for free rewards in Dog!. To do so, follow the instructions below.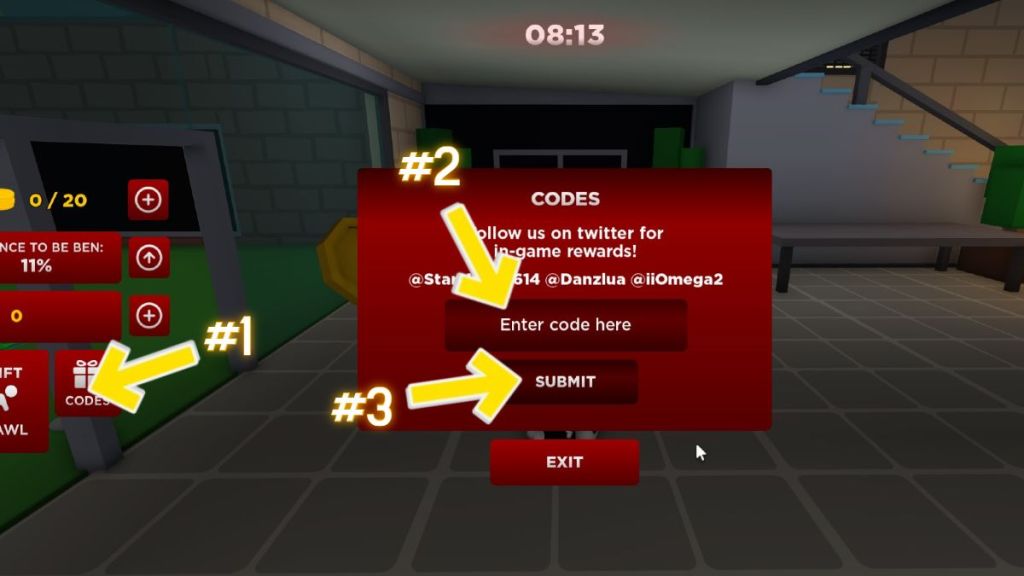 In the game, press the Gift/Codes icon on the left side of the screen.
In the box that says 'Enter code here', enter the code exactly as it appears in the list above.
Press SUBMIT to claim your reward!
What are coins in Dog!, and how do I use them?
Coins are the main form of currency in the game. You can use them to purchase special cosmetics from the Shop to dress up your character, whether you're the killer or a survivor. To use your coins in the Shop, press the button on the right side of the screen that says Shop. In the window that opens, you can navigate between the tabs to choose which cosmetic you'd like to buy. When you have chosen, press Purchase!
Why aren't my Dog! codes working?
The most common cause of invalid codes is that they are entered incorrectly. Dog! codes are not case-sensitive, which makes it less likely for a code to be entered incorrectly. Still, the game specifically states if a code is expired. If you have entered the code and it doesn't inform you it's expired, then there is a different issue.
To avoid typos, copy and paste the code from the list above into the game. If you are sure you have entered the code correctly and it doesn't say it is expired, then you have most likely already used the code.
What is Dog!?
Roblox Dog! is the renamed version of the game Ben!. It is an asymmetric game where you either play as the hunter (the dog), trying to slay all other players, or as a character on the run from a terrifying killer with harrowing eyes. Turns out, this is the only dog that is not a VERY GOOD BOY. As you play, you collect coins, which are used to purchase cosmetics and special skins for knives, characters, and killers. Can you survive as a player, or will you bite the hand that feeds you as Dog?
If you're looking for codes for other games, we have a ton of them in our Roblox Game Codes post! You can also get a bunch of free stuff via our Roblox Promo Codes page.