Do you like bees, honey, or other sweet treats? Then Beekeepers! is the game for you. This Roblox title features the delightful art of beekeeping. You will maintain your hive while exploring the world for valuable resources to bring back to your hive.
Codes in Beekeepers! will give you various Honey, Jelly, and more, so keep an eye on them. These will also have expiration dates, so you must use the codes before they expire. We have compiled a list of available codes so you can earn gems and more in Beekeepers!.
If you're looking for more Roblox content, check out Roblox SCP Tower Defense Codes, Roblox Doodle World Codes, Roblox Aimblox Codes, Roblox Sonic Speed Simulator Codes, and more on Pro Game Guides. These Roblox code pages will certainly help you out.
All Beekeepers! Codes List
Updated April 10, 2022

Added a new code.
All Beekeepers! Codes List (Working)
eastereaster—Redeem for 3 White Iced Treats (New)
voidling—Redeem for All Boosts
merryxmas—Redeem for a Cactus Field Boost, Forest Field Boost, and a Fungus Field Boost (New)
567—Redeem for a 7x Glow Fungus Field Boost, 6x Cactus Field Boost, 5x Forest Field Boost
spookytime—Redeem for 3 Glow Fungus Stew, 1 Yellow Iced Treat, 1 Infused Royal Jelly, and a Forest Field Boost
exoticoopsie—Redeem for 1 Mystical Royal Jelly (Note: Must have at least two days of play time to claim)
jellyjellyjelly—Redeem for 3 Royal Jellies and 1 Infused Royal Jelly

mysticalmadness—Redeem for 1 Mystical Jelly
absolutelyinsane1m—Redeem for Treats and Boosts
sorryfortheshutdown—Redeem for 1 Yellow Iced Treat and 2 Daffodil Field Boosts
250kvisits—Redeem for a 24 hour Party Boost, 3 White Iced Treats, and a Legendary Royal Jelly!
noway100k—1 Infused Royal Jelly, 1000 Honey
thnxsausages—Free Rewards
buzzybakery—1 Red Iced Treat, 1 White Iced Treat, 1 Blue Iced Treat.
oink—1 Royal Jelly
onge—10 Orange
convertercode—1 Royal Jelly, 1 Pocket Converter, 400 Honey
brick—1,337 Honey
538213—1 Infused Royal Jelly
All Beekeepers! Codes List (Expired)
No expired codes at the moment!
Roblox Beekeepers! Codes FAQ
Here's everything you need to know about Roblox Beekeepers! codes.
How to redeem codes in Beekeepers!
Codes in Beekeepers! are useful for getting resources and rewards quickly. Here is how to redeem codes in Beekeepers!.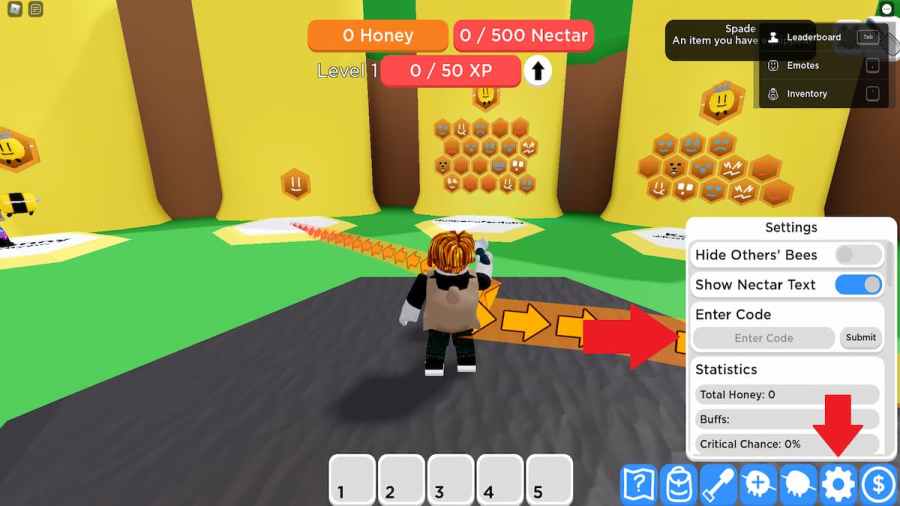 Click on the cog symbol in the bottom right of the screen.
Select the Code box.
Enter the code and redeem.
How to get more Beekeepers! Codes
The best way to get more codes is to join the Beekeepers! Discord Server. This is the best way to get more codes for Beekeepers!. You can also check back at this page for more codes as they get released!
Why aren't my Beekeepers! Codes working?
The developer controls codes for Beekeepers! and determines how long they are active. Some codes may expire quicker than others, and some may not work with others. If a code does not work for you, double-check if there is a spelling error, the code isn't active yet, or it has already expired. To help solve that issue, bookmark this page and come back often to see if Beekeepers! has added new codes or if some are expired.
What is a Beekeepers! game?
Beekeepers! is all about the wonderful world of bees. Create your hive and explore the world to find butterflies, caterpillars, and more. Use honey and jelly to upgrade your equipment and hive, and become the world's best beekeeper. Don't forget to treat yourself to some refreshing snacks along the way.
For more information on Roblox, check out How to unlock Buffoon in Roblox Hours and Roblox Naruto Defense Simulator Codes on Pro Game Guides.