I dusted off my old red polo shirt and a baseball cap because it was about time I returned to pouring fuel in Gas Station Tycoon! This lovely Roblox experience gave me an upgrade this time, as I was able to build my Gas Station from the ground up, literally. I started off with only a single pump and a plot of land. In no time at all, I was serving multiple customers and making big money.
The codes for Gas Station Tycoon proved invaluable as they provided me with Cash, Fuel, and Storage, all of which are important in-game resources vital for progression in this game. These boosts will benefit new players, in particular, by giving them an easier start in the beginning. For more Roblox experiences like this, have a look at Gas Station Simulator Codes.
All Gas Station Tycoon Codes List
Gas Station Tycoon Codes (Working)
These are all the working Gas Station Tycoon codes.
11KLIKES—Redeem for 2,000 Cash, 500 Fuel (New)
2MV—Redeem for 7,000 Cash, 150 Fuel, 150 Storage
FREE—Redeem for 10,000 Cash
Gas Station Tycoon Codes (Expired)
These are expired codes for Gas Station Tycoon.
There are currently no expired Gas Station Tycoon codes.
How to redeem codes in Gas Station Tycoon
Follow the instructions below to redeem codes in Gas Station Tycoon.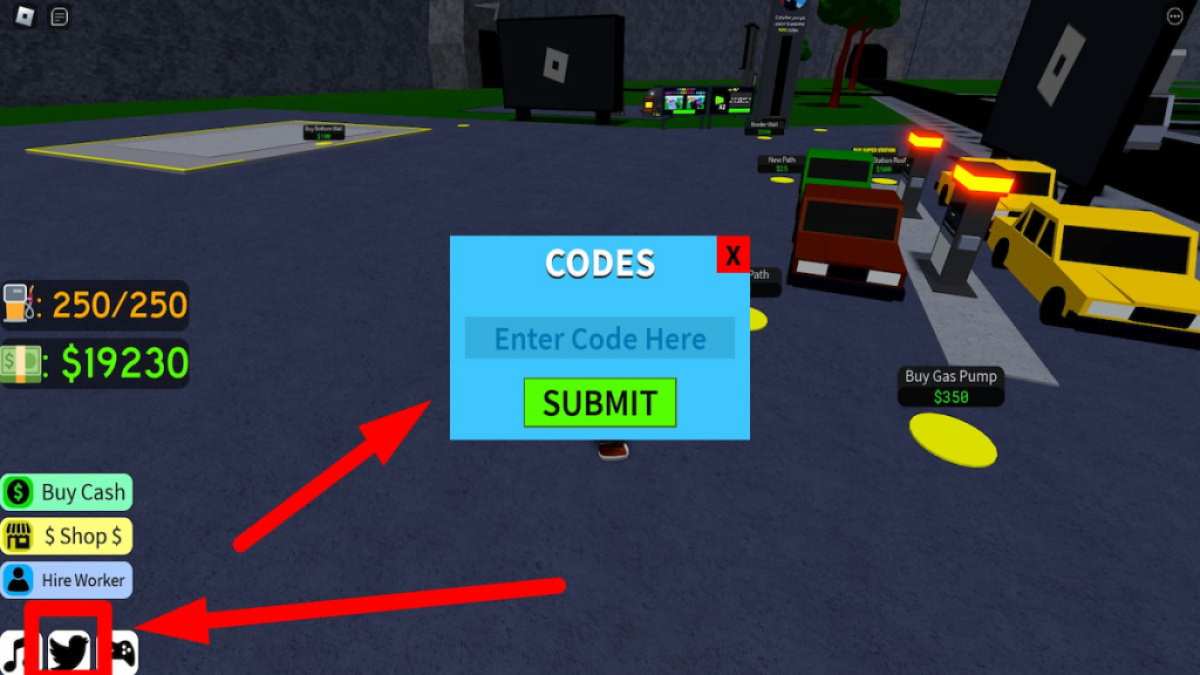 Launch Gas Station Tycoon on Roblox.
Click on the Codes button on the bottom left of the screen to open the Enter Code Here text box.
Enter working codes into the Enter Code Here text box.
Click on the Submit code button to claim your free reward.
How can you get more Gas Station Tycoon codes?
To get more of the latest Gas Station Tycoon codes, be sure to follow the game's developer, Lightbulb x SL Studios, on their Twitter page @_Lytics. Also, be sure to press Ctrl+D on your keyboard to bookmark this page if you want to have all the latest code updates in one place. We at Pro Game Guides update our code articles regularly, and we will make sure to refresh this page with any latest codes that may come out.
Why are my Gas Station Tycoon codes not working?
There could be a couple of reasons why your Gas Station Tycoon codes might not be working. The codes could be misspelled or have a missing character or an extra space. Sometimes mistakes can happen when you enter the codes manually. We always recommend you copy the codes from the Pro Game Guides webpage list and paste them directly into the game. That way, you will always ensure you enter error-free codes, saving you time and stress.
The codes could be expired. Sometimes the developers release codes during holidays or to celebrate hitting set milestones, like gaining a certain number of likes or visits. Such codes have a limited time to be redeemed and don't last forever. Always be sure to redeem your codes as soon as possible and never again miss out on any free rewards!
Other ways to get free rewards in Gas Station Tycoon
If you're looking for other ways to get more freebies in Gas Station Tycoon, the best way to look for them is to follow the developers on their Twitter page @_Lytics. Sometimes, the developers will organize giveaways and free competitions for prizes to the most loyal fans, so keeping an eye out and being active in the community usually pays off.
What is Gas Station Tycoon?
Gas Station Tycoon is a Roblox simulation experience that allows players to build up their own gas stations from scratch. Players begin by serving cars with a single pump and progressively build their budget to purchase the station inventory, slowly building it up. During the progress, I could hire cashiers and fillers, earning more money by the minute while making further purchases.

If you're looking for codes for other games, we have a ton of them in our Roblox Game Codes post! You can also get a bunch of free stuff via our Roblox Promo Codes page. And in the meantime, take a look at the latest news to stay up-to-date on all things entertainment.