I always wondered what it would feel like if I weighed like a celestial body, and Get Heavy Simulator gave me that particular wish, if not odd. This incredible experience for Roblox let me get heavier by gathering weights around the map and falling through multiple levels. When I gathered enough wins, I could progress through another area and repeat the process.
The codes for Get Heavy Simulator granted me Wins, which is a crucial resource vital to the in-game progression. These codes will be useful, especially to new players just starting out with this game, as it will give them a starting push. For more experiences like this, check out Roblox Get Huge Simulator Codes.
All Get Heavy Simulator Codes List
Get Heavy Simulator Codes (Working)
These are all the working Get Heavy Simulator codes.
1000Likes—Redeem for 500 Wins (New)
Get Heavy Simulator Codes (Expired)
These are expired codes for Get Heavy Simulator.
There are no expired Get Heavy Simulator codes.
Related: Mining Simulator Codes
How to redeem codes in Get Heavy Simulator
Follow the instructions below to redeem codes in Get Heavy Simulator.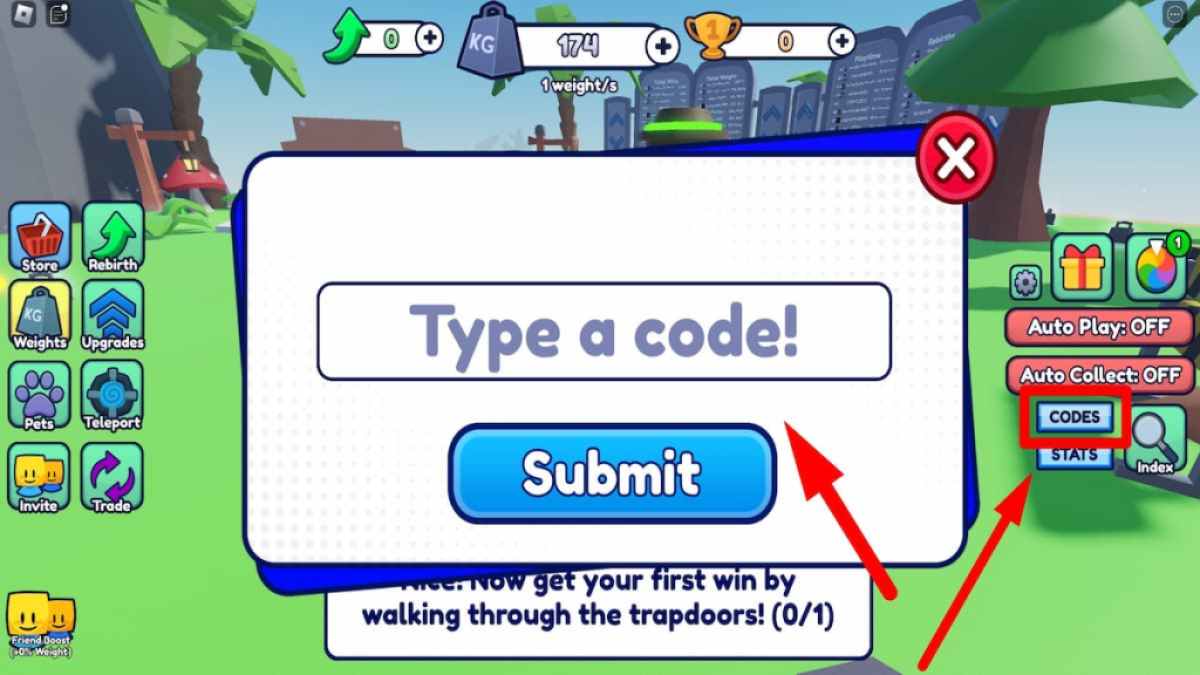 Launch Get Heavy Simulator on Roblox.
Click on the Codes button to open the Enter Code Here text box.
Enter working codes into the Type a code! text box.
Click on the Submit code button to claim your free reward.
How can you get more Get Heavy Simulator codes?
To get more of the latest Get Heavy Simulator codes, follow the game's developer on their @HyperDjano Twitter page and join their official Get Heavy Simulator Discord Server. Also, be sure to press Ctrl+D on your keyboard to bookmark this page if you want to have all the latest code updates in one place. We at Pro Game Guides update our code articles regularly, and we will make sure to refresh this page with any latest codes that may come out.
Why are my Get Heavy Simulator codes not working?
There could be a couple of reasons why your Get Heavy Simulator codes might not be working. The codes could be expired. Sometimes the developers release codes during holidays or to celebrate hitting set milestones, like gaining a certain number of likes or visits. Such codes have a limited time to be redeemed and don't last forever. Always be sure to redeem your codes as soon as possible and never again miss out on any free rewards!
The codes could be misspelled or have a missing character or an extra space. Sometimes mistakes can happen when you enter the codes manually. We always recommend you copy the codes from the Pro Game Guides webpage list and paste them directly into the game. That way, you will always ensure you enter error-free codes, saving you time and stress.
Other ways to get free rewards in Get Heavy Simulator
Claiming more free rewards in the Get Heavy Simulator is simple. Just follow the steps below:
Launch Get Heavy Simulator on Roblox.
Once you're on the server, click the Claim Gift! button on the right-hand side.
Click all gifts that say Claim! to gain bonuses and other gifts.
What is Get Heavy Simulator?
Get Heavy Simulator is a Roblox experience with a primary goal of getting your character as heavy as possible by collecting weights around the map. Players then must proceed to the horizontal trap doors that collapse when a certain weight is applied, and if your character doesn't weigh enough, the doors won't open. I had fun using Roblox pets to accompany me on my weight harvests as they multiplied my gains by a certain amount.

If you're looking for codes for other games, we have a ton of them in our Roblox Game Codes post! You can also get a bunch of free stuff via our Roblox Promo Codes page. And in the meantime, take a look at the latest news to stay up-to-date on all things entertainment.