It's all-out warfare in Gun Simulator. Master your shooting skills and become the king of Gun City. Fire your gun to earn bullets and sell those for bigger and better weapons, vehicles, pets, and more. Explore a huge map that includes the infamous Gun City and the surrounding area.
Gun Simulator codes will grant Coins. These codes tend to have expiration dates, so it is important to use them when they are revealed. You can find a list of active codes for Gun Simulator below—use them to get free stuff and get a head start in-game.
If you're looking for other Roblox content, check out Commander Simulator Codes, Roblox Custom Minigames Codes, and Master Pirate Codes on Pro Game Guides. We have many other Roblox Code guides on our site, so feel free to search and check out other Roblox titles.
All Gun Simulator Codes Codes List
Updated October 31, 2022
Added a new code.
All Gun Simulator Codes List (Working)
Here are all active codes in Gun Simulator.
SPOOKY—Redeem for a 4x Coins Boost and a 4x Stars Boost (New)
THXFOR20M—Redeem for Coins, Stars, a 4x Star Boost, and a 4x Coin Boost
PHOENIX—Redeem for a 4x Star Boost and 4x Coin Boost
DARKMATTER—200,000 Coins
ILOVEGUNS

–200,000 Coins

LookMomATwitter–100,000 Coins
JoinedDevvGames–100,000 Coins
THXFOR30000–300,000 Coins
All Gun Simulator Codes List (Expired)
Here are all expired codes in Gun Simulator.
DEMONGUNS—200,000 Coins
HAPPY4th
tofuu
iamacoinlover
WOAHNEWPETS
Roblox Gun Simulator Codes FAQ
Here's everything you need to know about Roblox Gun Simulator codes.
How to redeem codes in Gun Simulator
Codes may be used to earn all manner of cool prizes in Gun Simulator. Using codes and getting free stuff is super easy, and we will keep this code list updated when new ones are added. Here is how to enter codes in Gun Simulator.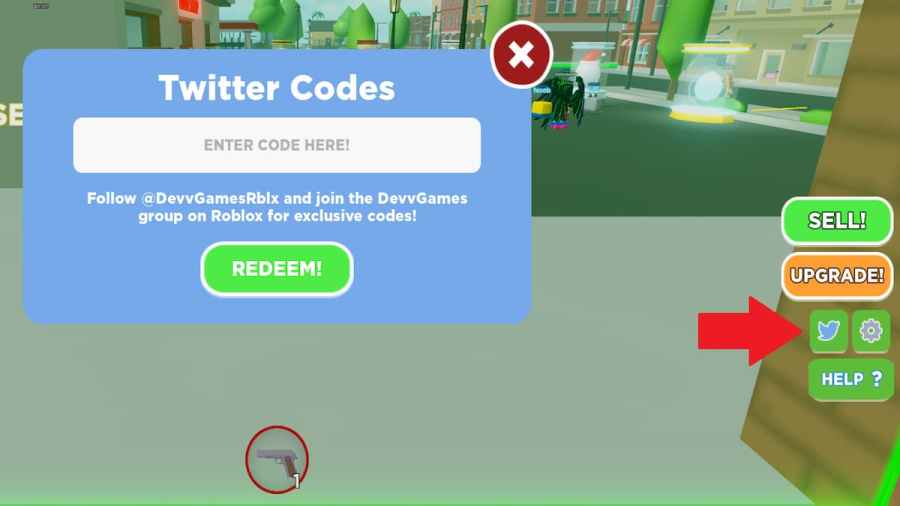 Click the Twitter icon on the right side of the screen
Select the ENTER CODE HERE! box
Input the code and hit Redeem
How to get more Gun Simulator Codes
Follow the official Gun Simulator Twitter account or join Discord for codes and to interact with both the developer and other players. As new codes are added, we will update this list and ensure the codes are up to date. Bookmark this page to stay updated and get free stuff from codes, if they're added.
Why aren't my Gun Simulator Codes working?
When codes are added to Gun Simulator, the developer determines their effect and duration. Each code may expire at different times, so be sure to use them quickly when they go live. If a code no longer works, check its expiration date, spelling, and whether it is active yet. Check back at this page to see if any new codes have been added or have expired. If you notice that a code no longer works, please let us know so we can verify and update this list accordingly.
What is Gun Simulator?
Anyone can fire a gun, but do you have what it takes to become the king of Gun City's streets? Earn coins to purchase better weapons, unlock various zones, capture hardpoints, and dominate the battlefield as the best shooter. You can also team up with your friends to take on dangerous bosses, or double-cross them to get all the loot and reputation.
For more information on Roblox, check out Roblox Hunter x Athena Codes and Escape the Darkness Codes – Roblox on Pro Game Guides.