Unhappy with your Roblox username? Well, you can fix that with a Display Name, an alternative name that decides how other players recognize you in Roblox. Display Names are available on worldwide on Roblox. To change your Roblox Display Name on PC, follow these steps below.
How to Change Display Name in Roblox
Step One: Log on to Roblox using a web browser.
Step Two: Click the Gear button located at the top-right corner of the page. Then click Settings.
Step Three: Within Settings, stay on the Account Info page. Beneath the Account Info header should be Display Name (listed above Username).
Step Four: Click the Pencil/Edit button to the right to change the Display Name. A new window will pop up where you can change your Display Name so long as it follows the criteria listed below. Press Save to confirm your new Display Name.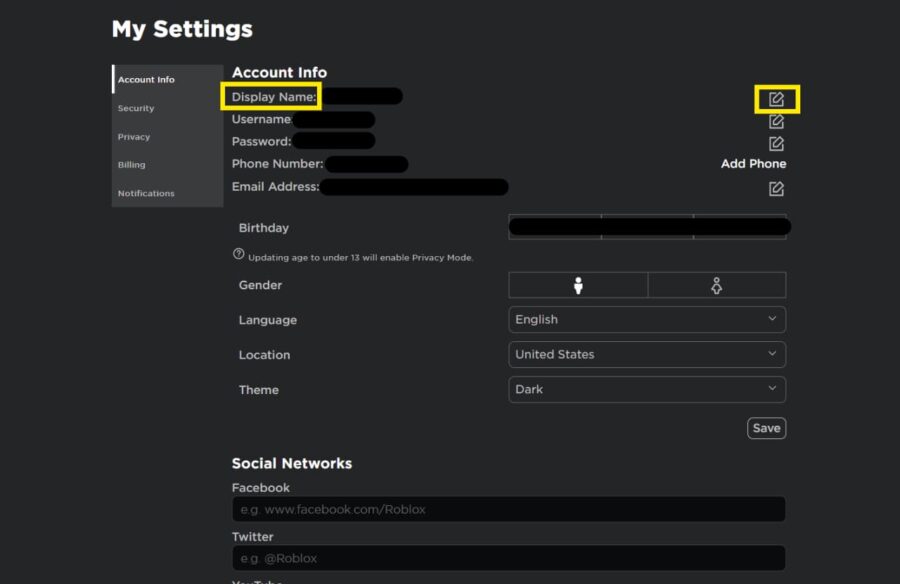 Display Names vs. Usernames - What's the Difference?
A username is the unique name all players assign themselves when first signing up for Roblox. Usernames are what players use to log in to the platform. Once created, usernames cost 1,000 Robux to change.
Going forward, a display name is the name that will appear in chat, player lists, or above your in-game character's head. Essentially, display names are your social name, the name that you prefer all players to recognize as your Roblox character. Consider display names as a personal expression for your online persona.
As described in the Developer Forum:
Gone are the days of being CoolRobloxFan43732 - now, you can simply be CoolRobloxFan!
Even better, all those pesky numbers attached to your Roblox username will no longer be visible if you choose to make a display name!
Related: Can I have a guest on Roblox? Guests removed from Roblox
Display Names Requirements/Need to Know
Display names are totally free! They will not cost any Robux, however, there are still specific guidelines that display names must follow. Display names must:
Be between 3-20 characters.
Only be changed once every 7 days.
Must be verified by Roblox filters (aka display names must be appropriate for all ages).
---
If you're looking for codes for other games, we have a ton of them in our Roblox Game Codes post! You can also get a bunch of free stuff via our Roblox Promo Codes page.