Every Roblox player starts with a default avatar, but did you know about all of the customization options? From Body Type to clothes and accessories, players can exist exactly how they want to be seen across all games on the platform.
How to customize your Roblox Avatar
On PC: All your Roblox avatar customization can be performed the Avatar Editor. To access this section of Roblox, click Menu (three-lines button) at the top-left of the screen. A drop-down menu will appear where you should click Avatar. This will take you to the Avatar Editor, which displays your Avatar and all of the items owned on your account.
On Mobile: Open the Roblox app on your iOS/Android device and press the Avatar button located bottom-center of the screen. From there, press Customize to change your Avatar's appearance.
How to use the Avatar Editor
Overall, the Avatar Editor is rather straightforward. Just click on an item to equip it to your Avatar and preview how it looks. If you're not satisfied with the item, click on it again to unequip from your Avatar. Be careful not to equip two items that are attached to the same body part. Unless that is your intention, of course.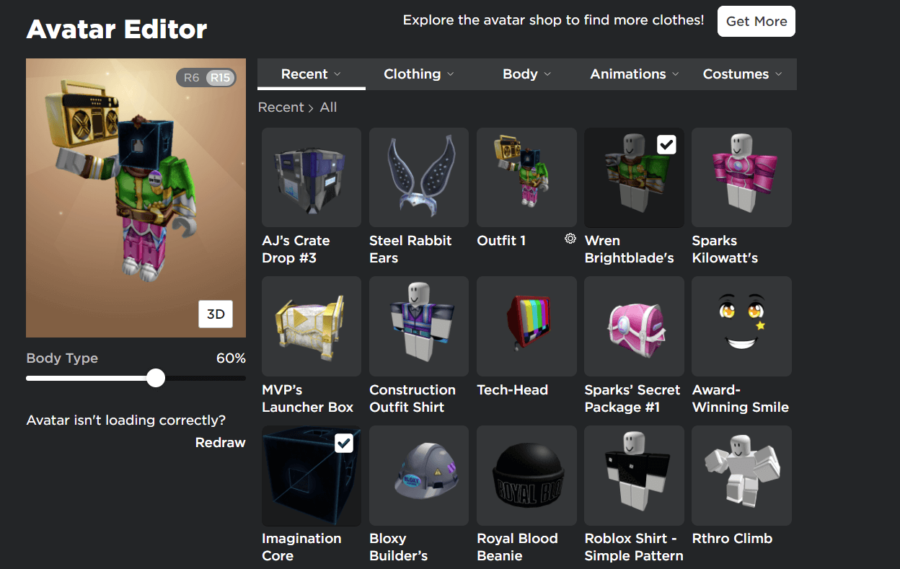 When first entering the page you will see all of your items assorted into one list. This can be overwhelming, so Roblox created drop-down menus designated by Clothing, Body, Animations, and Costumes.
Clothing: Change all aspects of your clothing from Hair, Shirt, Back,, and additional Gear.
Body: Want your right arm wearing something different than your left arm? You can change specific parts of your body within this section. Remember: customization is entirely your choice. Your Roblox avatar does not need to appear uniform.
Animations: You can equip many emotes under this tab, to express various applauds, shrugs, dances, and more.
Costumes: Love what you're wearing, but want to try something new? Have no fear, you can save your current outfit as a Costume. Once saved, this outfit will always be available as a preset option, just a click of a button away. This option saves so much time than redressing your Roblox avatar from the ground up.
How to get free Avatar Items
Most of what's available on the Avatar Catalog requires Robux to unlock, but Roblox often releases free Avatar items on the Avatar Catalog or through secret Promo Codes. These secret freebies are only available for a limited time, so it's important to redeem them as soon as possible.
Check out our full list of Roblox Promo Codes for all of the most up-to-date codes and free Avatar items. In just a handful of minutes, your Roblox avatar will be customized with lots of cool swag!
Looking for more Roblox freebies? We have a ton of free secret game codes in our Roblox Game Codes post!