Captain Jack Black has entered the Roblox Metaverse! If you're a fan of Pet Simulator X (and free avatar items!), you're going to want to check out his out-of-this-world experience, Solarpunk Simulator. In this experience, players can collect tons of fun pets, use these pets to earn currency, and then use said currency to explore the galaxy! While you adventure, you can even earn a handful of free avatar items—continue reading below to learn more.
How to unlock all free items in Solarpunk Simulator
The list below briefly details all of the UGC items that have ever been available inside Solarpunk Simulator and how they can be obtained. For more direct help on earning each item, continue reading past this list.
READY TO LAUNCH SOLARPUNK SIMULATOR
The READY TO LAUNCH SOLARPUNK SIMULATOR is automatically unlocked after purchasing the first area in the Solarpunk Simulator experience. To purchase this area, we need to collect a whopping 2,000 Solar Beans; to earn Solar Beans, we need to claim a pet and then use said pet to destroy junk piles. If you don't have enough Solar Beans to purchase a pet yet, that's ok—you'll earn some by completing the experience's tutorial and by claiming your Tier 1 bonus from the Battle Pass menu!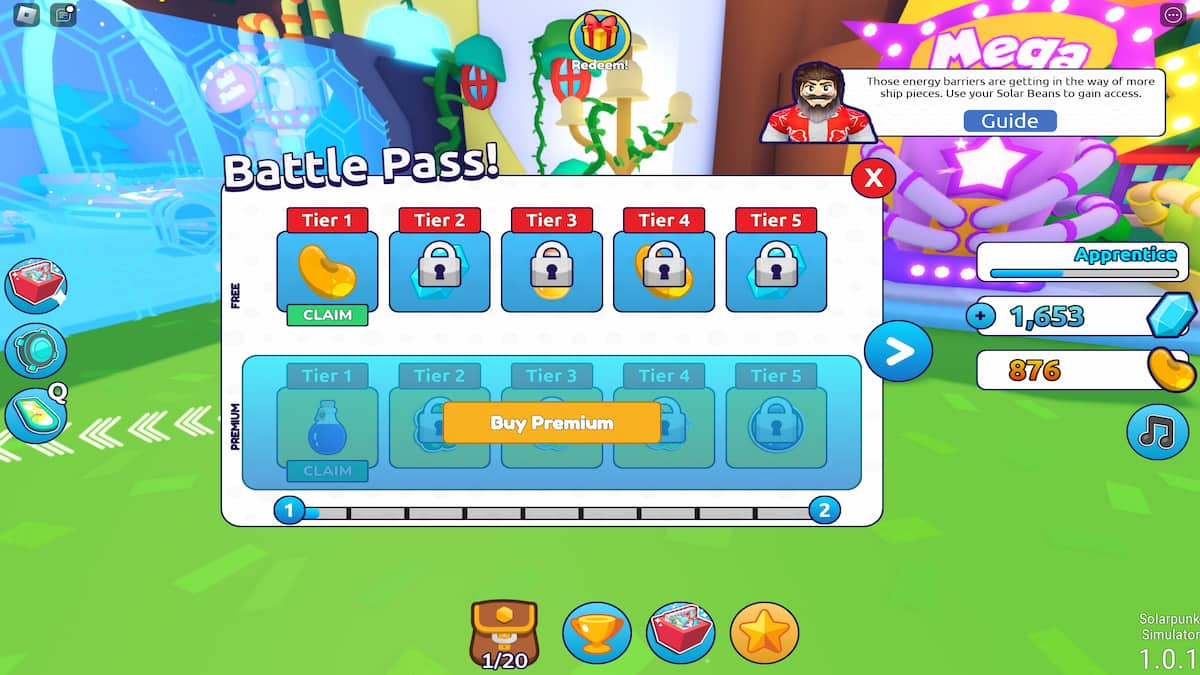 Once you have at least 100 Solar Beans, head to the machines pictured below and interact with the Basic level one.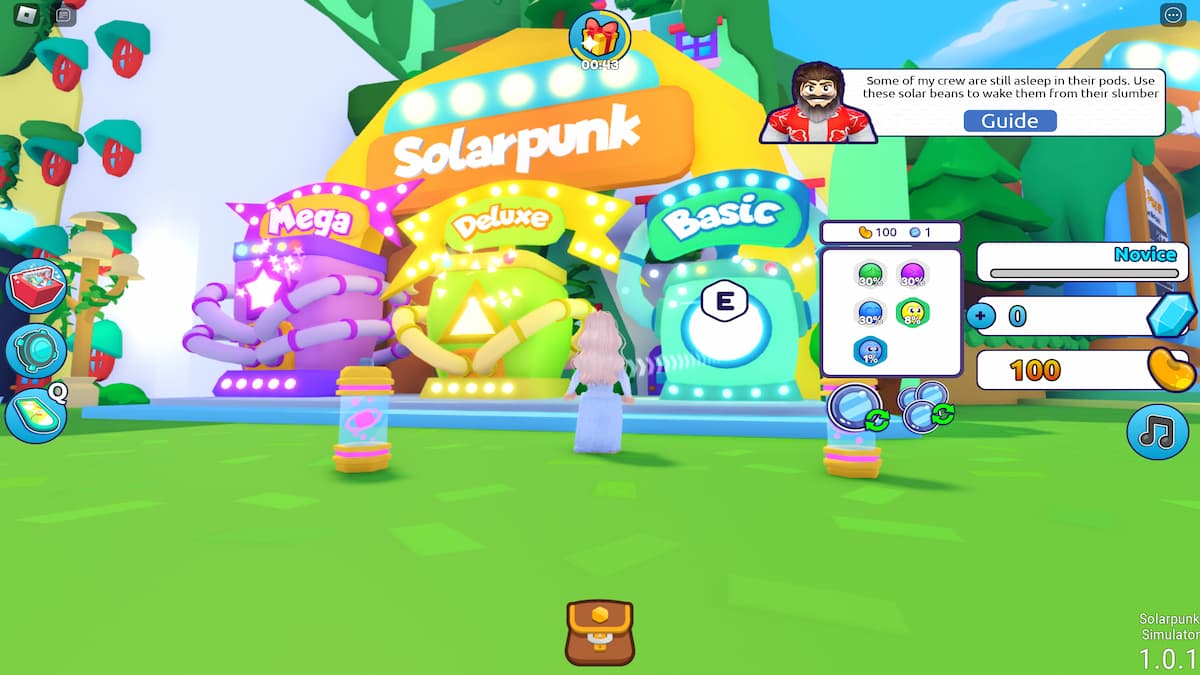 Related: Roblox Promo Codes (March 2023) – Free items and current Roblox events!
Upon doing so, you'll receive one of five pets; you can now use your pet to destroy junk piles and earn more Solar Beans!
Once you acquire enough Solar Beans, approach the transparent wall pictured below and press E to unlock it.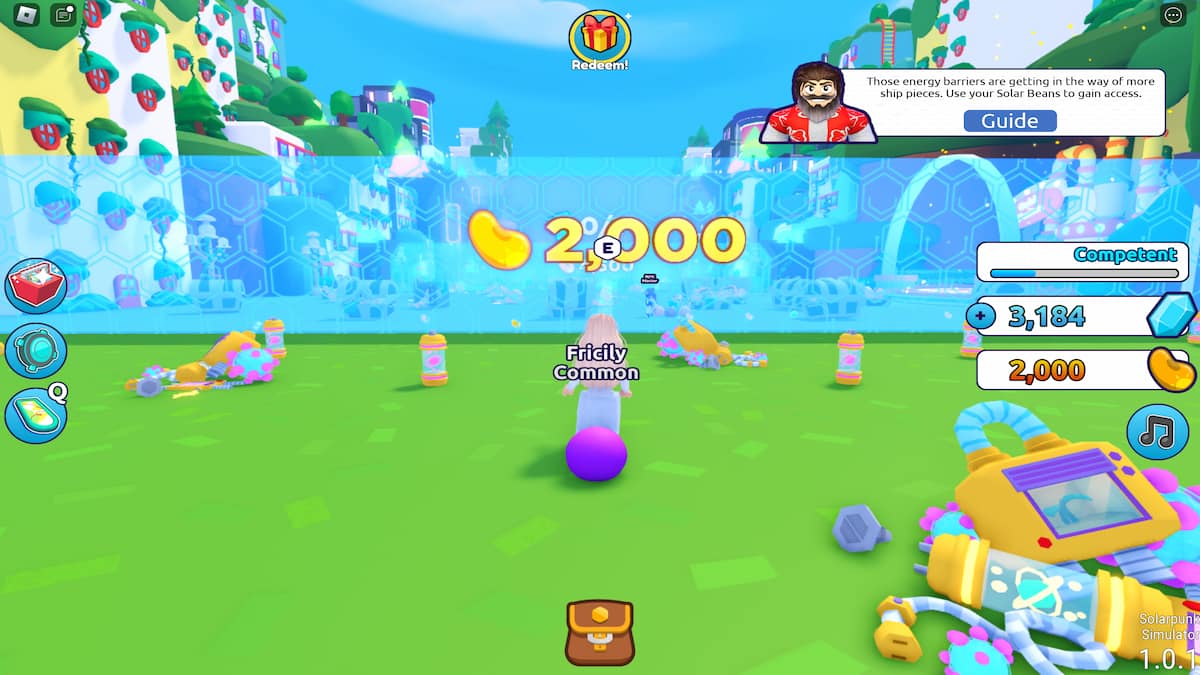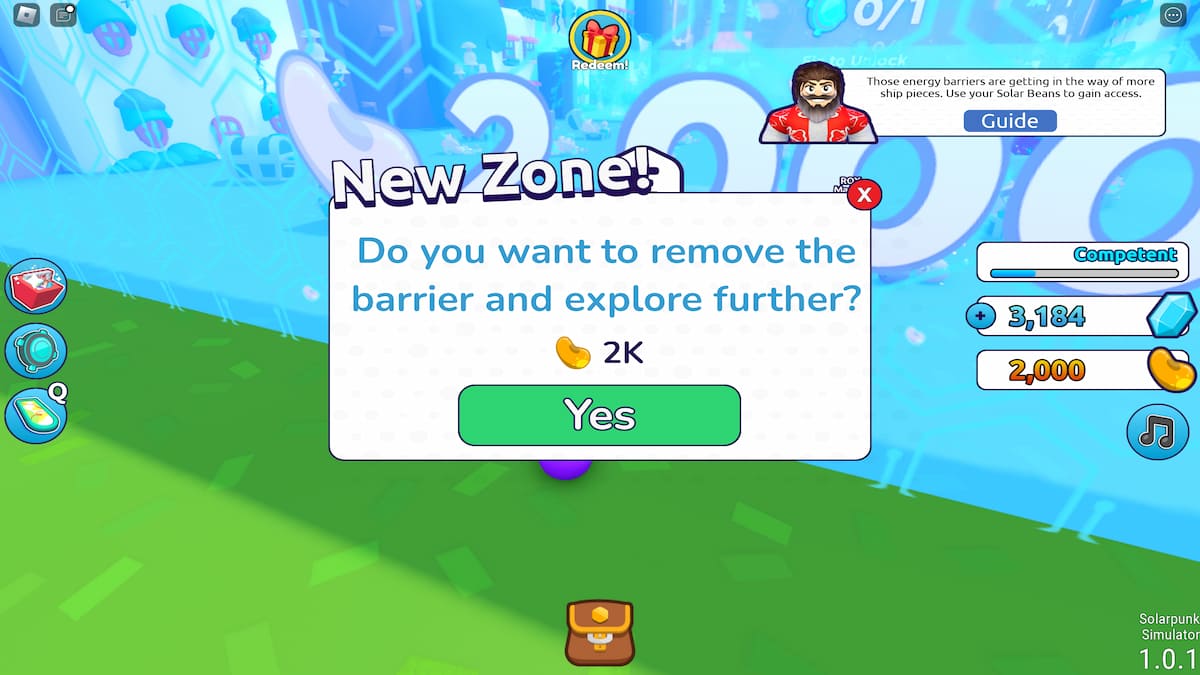 As soon as you do, you'll receive the READY TO LAUNCH SOLARPUNK SIMULATOR item and its corresponding badge.
Planet Head
To unlock the Planet Head item, you'll need to purchase the Solarpunk area, which is unlocked for 4,500 Solar Beans, and then fix the spaceship that's crashlanded in the area for 500 Diamonds.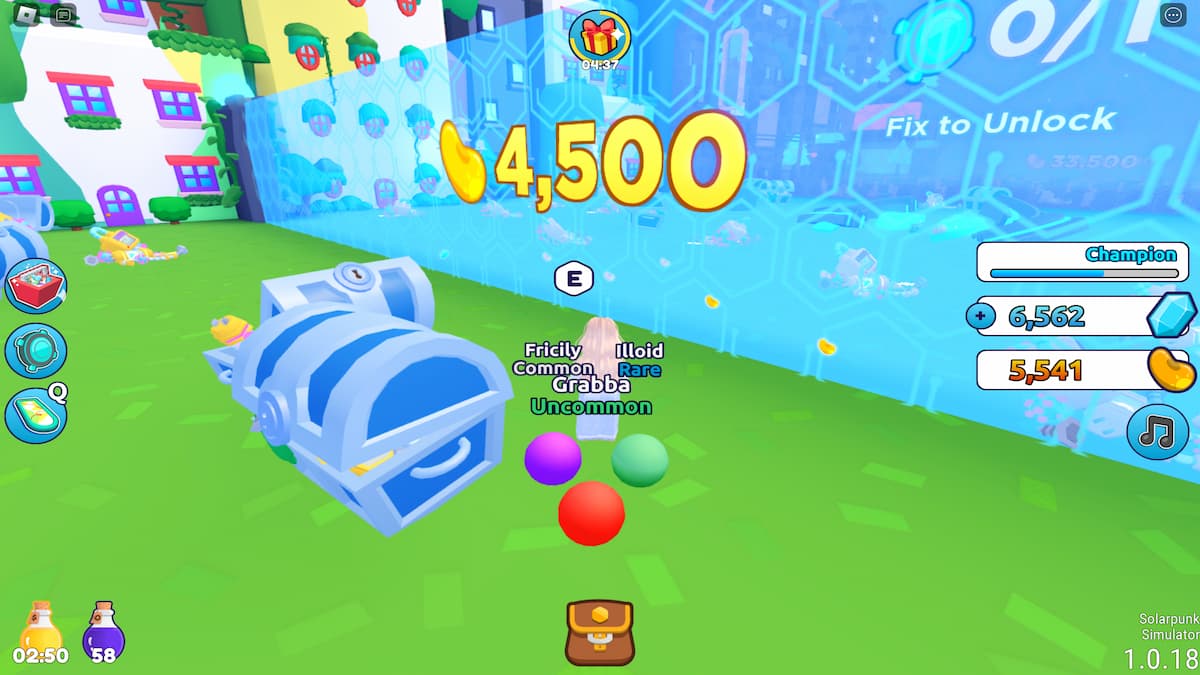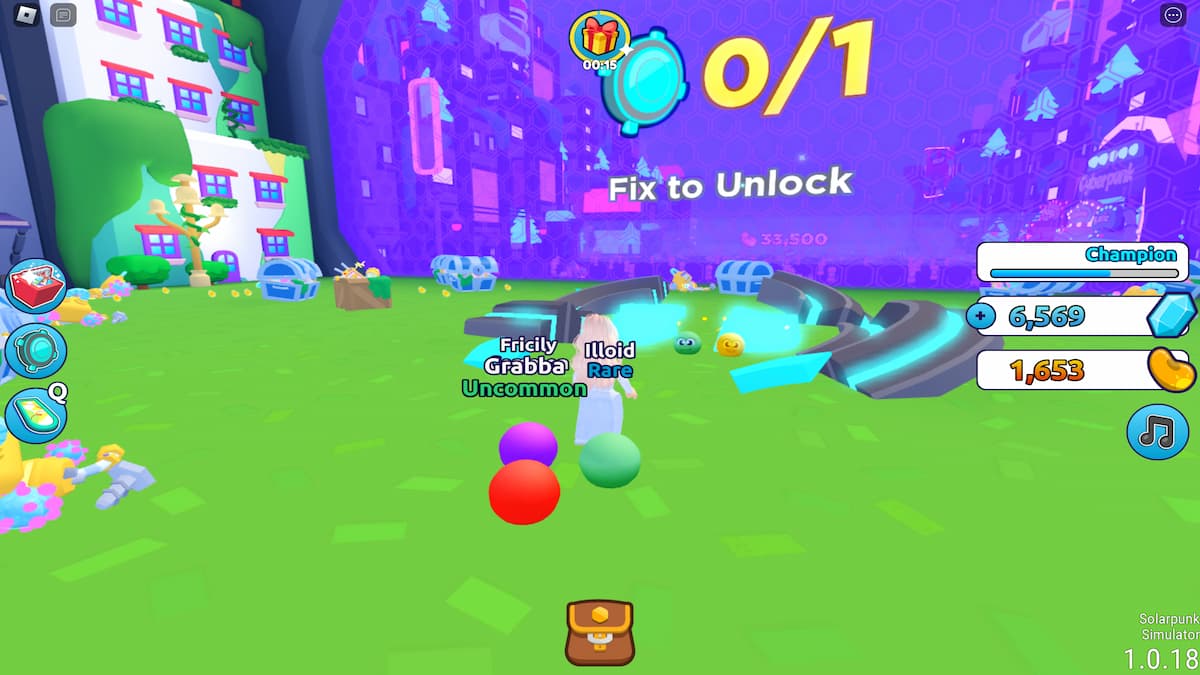 With the space ship fixed, you'll be able to enter the next part of the Solarpunk area and access the next door. Behind this door is the Enchantment Machine; to earn the Planet Head, you must purchase the door for 33,500 Solar Beans and then the Enchantment Machine to raise one of your skills to max level.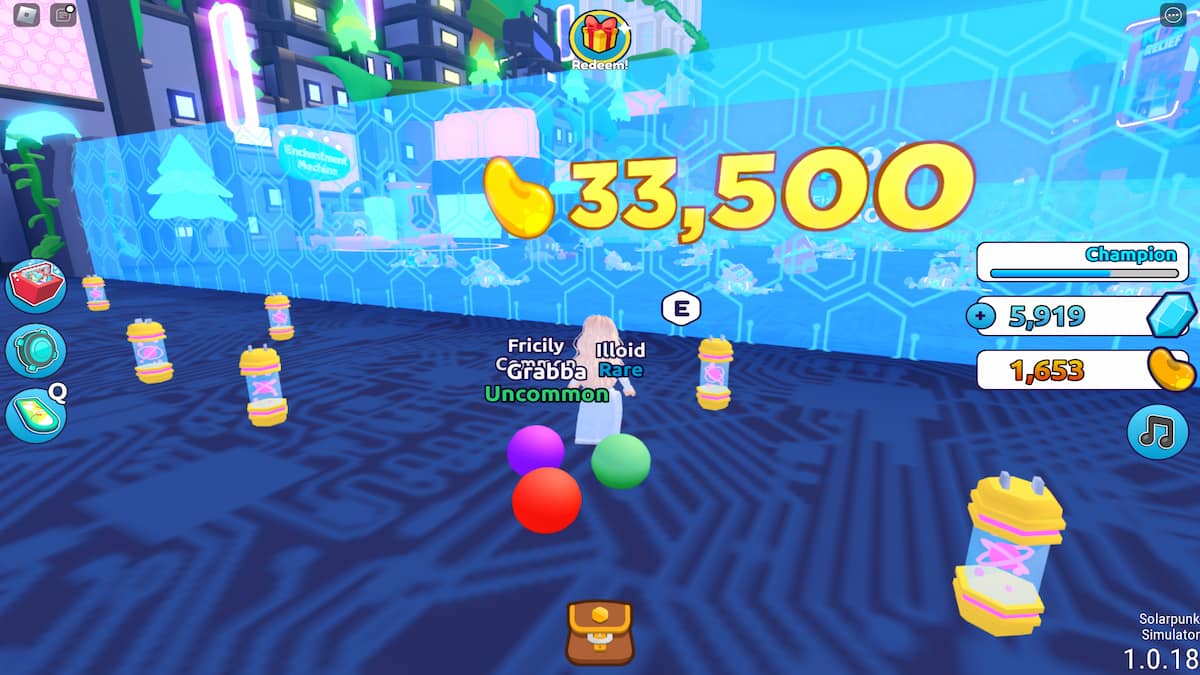 Forbidden Treasure
The Forbidden Treasure item is unlocked after completing all of the steps mentioned above, and then purchasing the rest of the doors/areas in the experience. Doing this will require a LOT of grinding, so pat yourself on the back if you manage to unlock it!
BoyWithUke Head
The BoyWithUke Head was available for a limited time during the BoyWithUke concert event. When it was active, it could be obtained by participating in the concert and collecting golden ukaleles. The video below from Conor3D showcases how this was done.
24K Digito Buddy
The 24K Digito Buddy can only be obtained by those who correctly voted for Digito to win while the in-game voting was open. If you guessed incorrectly, or you didn't submit a guess at all, this item cannot be earned. If you did submit a guess, and guessed correctly, you will unlock the item the next time you join the experience.
End
That's it for our guide on how to earn all free items in Solarpunk Simulator. If/when more items are added to this experience, we'll update this guide accordingly, so be sure to check back here soon!
Looking for more Roblox content, including free items? Check out our recent guides on How to get all free items in ShimmerVille – Roblox or How to get all free items in TWICE Square – Roblox here on Pro Game Guides!