If you're playing a lot of Royale High then you know you're going to need quite a few diamonds to dress up your character in the newest clothing! These can take a long time to get, so we're taking a look at the fastest ways to get diamonds in the game!
Diamond Farming Methods
To get diamonds fast in Royale High, you can purchase diamond multipliers, login daily, sleep to level up, and collect diamonds via the art studio! I go into much more details in the listings below.
Purchase the Diamond Multipliers
Unfortunately, one of the best ways to really accelerate your diamond collecting is to use Robux to purchase diamond multipliers! If you go to the Gamepass Shop under shopping you will find a Double x2 Diamonds and a Quadruple x4 Diamonds option. The double option can be purchase for 749 and the quadruple option can be purchased for 1,649. If you purchase both of these they will stack together and give you x6 diamond each time you level up and pick up diamonds around the map. This is going to be one of the best ways to really help you get diamonds fast in Royale High!
Login Daily
One of the easiest and free ways to get diamonds easily is to login to the game each day. You get more diamonds each day you login in a row up to ten days. If you can login all ten days in a row you will get 12,000 diamonds in total! You also don't need to have the diamond multipliers to get max value out of these because they don't work with the login diamonds.
Sleeping & Leveling Up
Another pretty easy way to get diamonds is to sleep and level up. When you're in game you will slowly reduce the energy of your character. You can check this in your cellphone under the missions menu. Sleeping in your apartment bed with bring the energy back up. Each time you gain more energy you will gain experience towards your level. If you can recover 160% energy from sleeping you will get a level up. Each level up will get you 300 diamonds, or 1,800 diamonds if you have the x6 multiplier! So, make sure when you're playing that you go sleep to recover energy and level up your character as much as possible for the free diamonds!
Glitching the Art Studio Window
The best way to get diamonds is to collect them via the Art Studio at Royale High. You want to go to the new campus and head over to the Art Studio which is on the second floor to the right if you enter it from where you spawn. Go to the right side of the area and get up to the window that looks like this: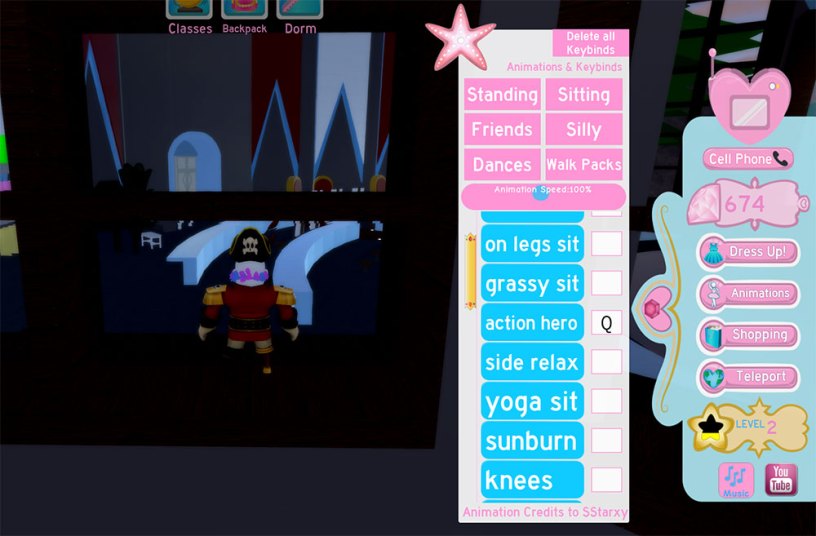 The easiest method I have found is to go under animations and select Sitting. Find the "action hero" animation and give it a keybind like Q. Once you have that hit the shift key to put you in the shift lock mode. Zoom in with your mouse all the way so you can just see the window and not your character. Hold W to keep moving forward and press Q and jump over and over! If you do this enough you will eventually glitch through the glass.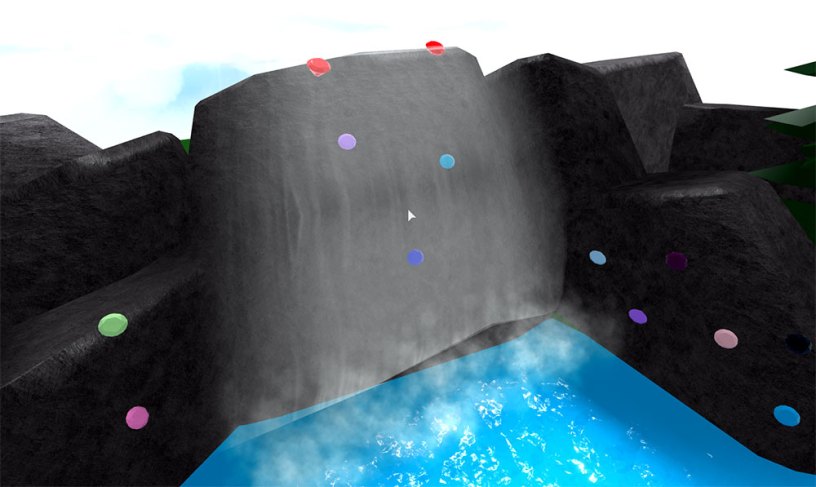 Once you've glitched through the glass, go fly over to the waterfall area where you can collect a bunch of diamonds! There's even two red ones that will give you 20 diamonds each without multipliers and 120 diamonds if you have multipliers! Once you've collected all of those diamonds, you can close out of the game and open it up again repeat the process! If you're on mobile, the glitch is similar but a bit more difficult. Here's a link to someone doing it on mobile.
Make sure not to walk on the water or you will fall through the world and you might not be able to get back into the area. If you're stuck you can just teleport or restart the game!
That's all the methods we know of for getting diamonds in Royale High at the moment! Let us know in the comments if you've got some better strategies and we will take a look and maybe include them in the post.