Added with Pet Simulator X's Auctions update, the Diamond Hoverboard has been grabbing many Robloxians' attention since its debut, and rightfully so! In classic Pet Simulator X fashion, this sparkly (and certainly expensive) hoverboard can only be obtained by the richest of the rich and will likely become one of the rarest hoverboards in the entire experience because of it. So, how do you unlock it? Continue reading our brief guide below to find out.
How to unlock the Diamond Hoverboard in Pet Simulator X
As highlighted in its in-game description, the Diamond Hoverboard can only be unlocked by those who reach max Diamonds, or 10 trillion Diamonds in total. Once you've managed to collect 10 trillion, you should automatically unlock the Diamond Hoverboard. Super simple, right?...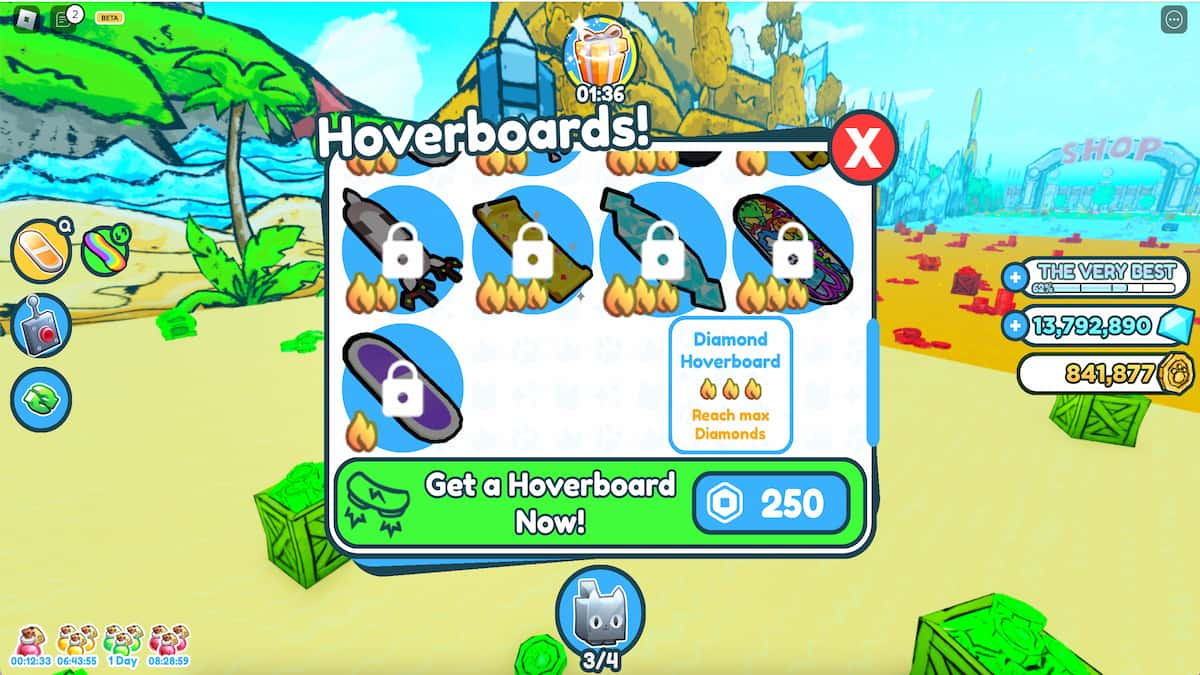 Related: BIG Games introduces 'Secret Club' Discord channel for Pet Simulator X super fans
How to get Diamonds fast in Pet Simulator X
The fastest way to collect Diamonds is by harvesting diamond piles—for every pile you harvest, depending on which area you're in, you'll likely collect a few thousand Diamonds at least. These piles spawn everywhere and all the time, so finding them shouldn't be a problem. The hard part is destroying enough to earn 10 trillion!
For those disinterested in the process of grinding, Diamonds can also be obtained by trading with other players, or selling pets at auctions. Players can give Diamonds away for free, so if you find a rich enough player, it could be your lucky day! Or, if you have some rare pets and think people might be interested in buying them, you can list them in an auction and sell them for some Diamonds as well.
Looking for more Pet Simulator X content? Check out our recent guides on How to get the Pet Simulator X booth in PLS DONATE – Roblox or How to get the Doodle Dolphin in Roblox Pet Simulator X – Secret Barn Doodle Egg Location here on Pro Game Guides!