Run, run, as fast as you can. Look out behind you, it's the Gingerbread Man! The Giant Event has arrived in Wacky Wizards, and with it comes an attack from an over-sized, and angry, gingerbread cookie. Help Oz defend the Wacky Wizards castle from the attacker and earn the shield ingredient by following along with the brief guide below.
How to unlock the Shield ingredient in Wacky Wizards
Once you've spawned into Wacky Wizards, head toward the castle and check out its countdown timer. If you have trouble finding it, think back to where we found the Ethereum Crystal.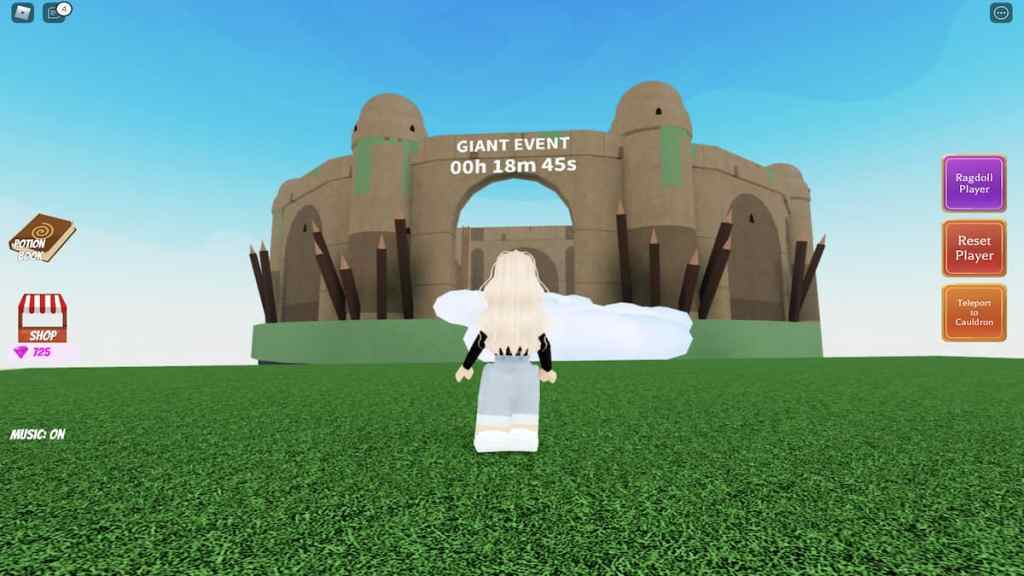 When this countdown, labeled Giant Event, reaches 00h 00m 00s, hurry and enter the castle's courtyard! Upon doing so, Oz will warn you of the Gingerbread Man's presence and advise you to grab a sword to defend yourself. Do this by walking up to the sword rack that's located next to the castle portal and pressing E.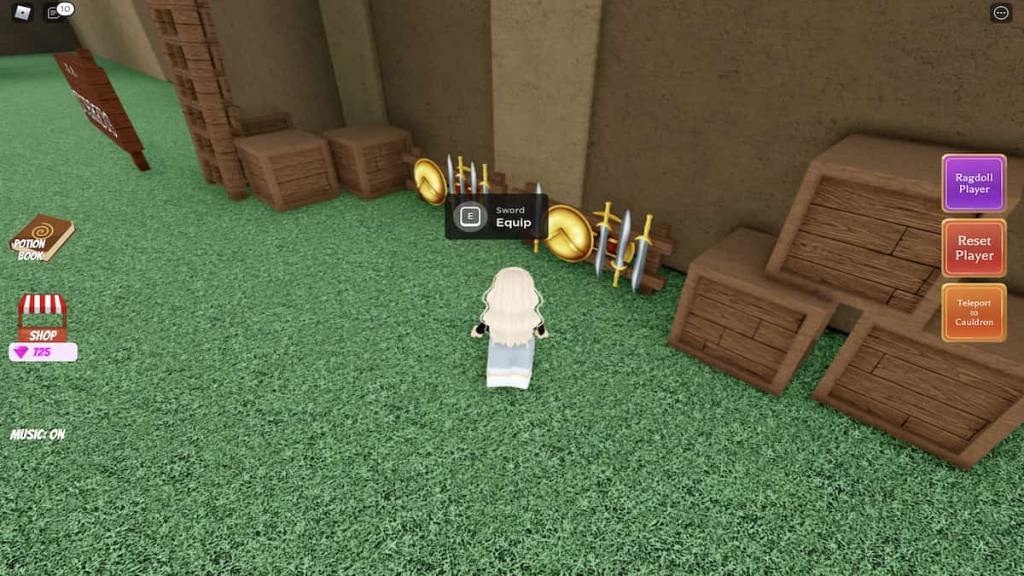 After a few seconds, one of the castle walls will be ripped off—revealing the angry Gingerbread Man!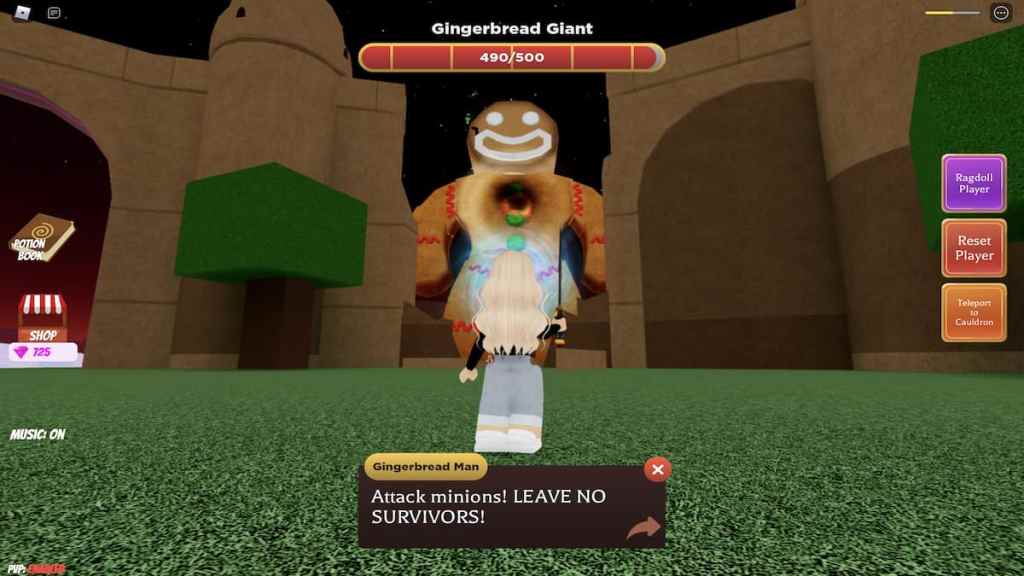 To lower the Gingerbread Man's health, you'll need to climb to the top of the castle and mount any available harpoon/turret gun.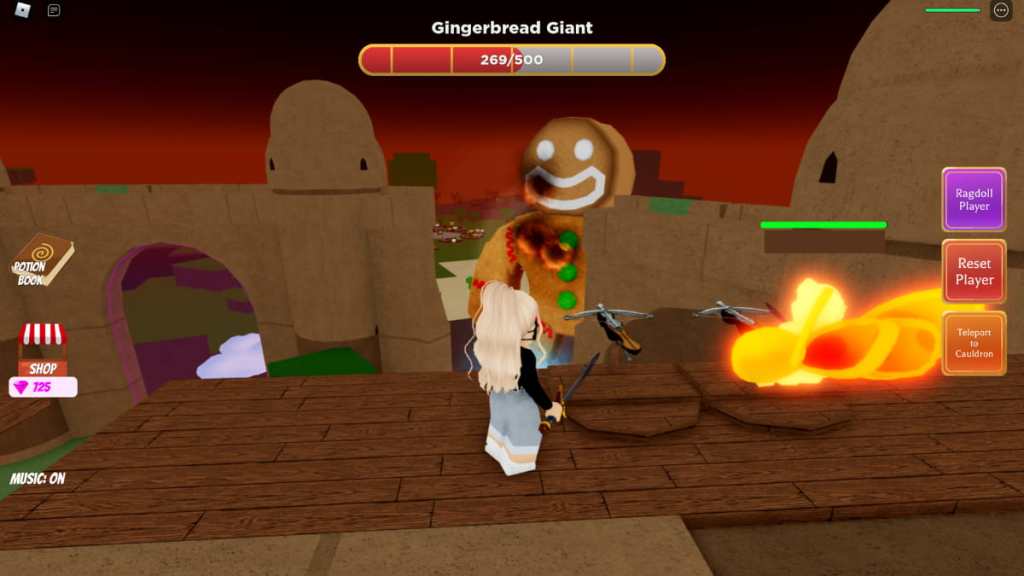 You'll automatically mount the gun by standing close to it. To shoot, click your left mouse button.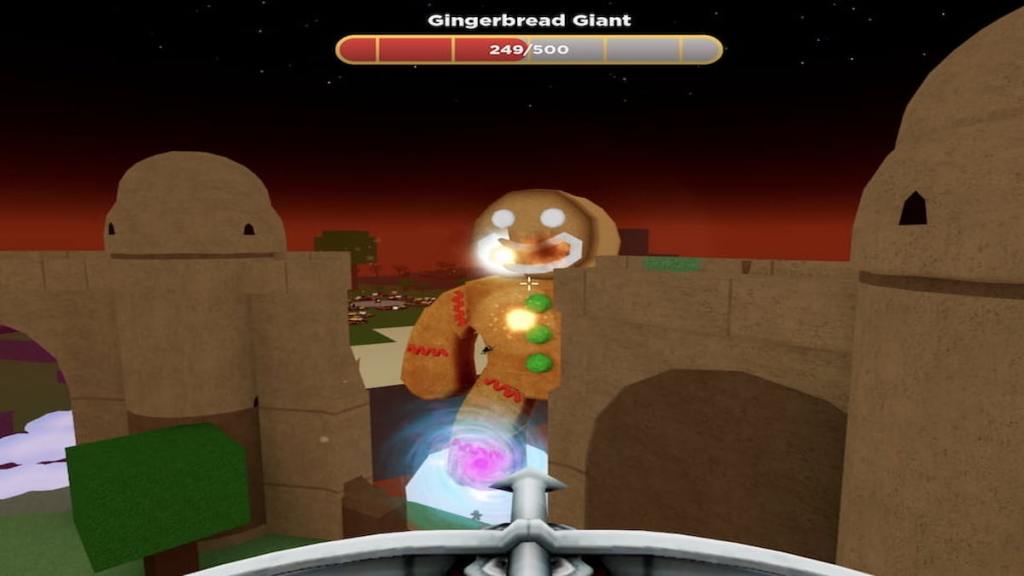 Related: All potions and recipes in Wacky Wizards | Roblox Wacky Wizards Full Potions List
Once the Gingerbread Man's health falls below 100 HP, he'll teleport from one side of the castle to the other—be sure to switch turrets if you can't reach him from your current location!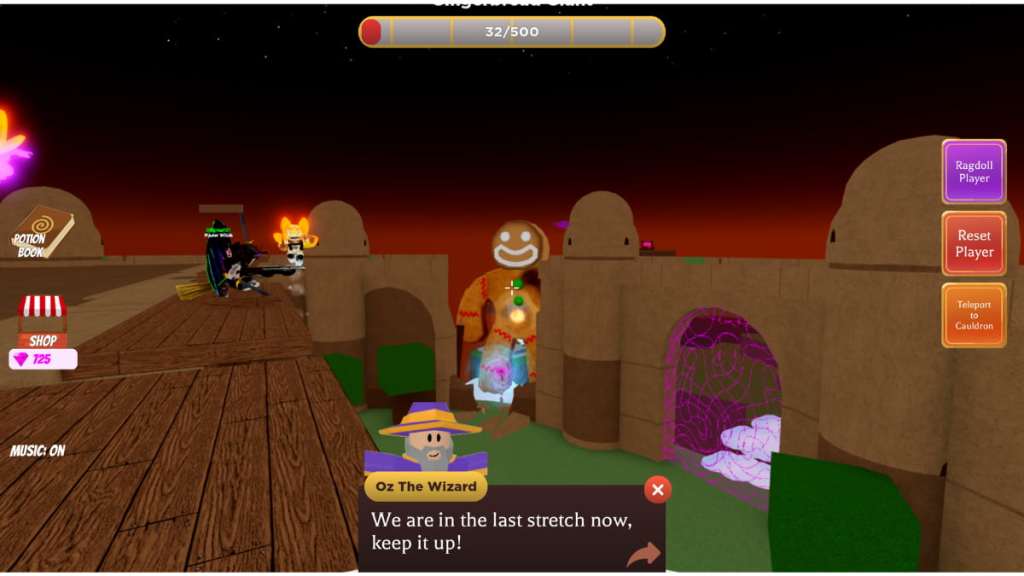 Once the Gingerbread Man's health reaches zero, he will disappear from the castle and the event will end. Oz will then award you with the Shield ingredient for all of your help.
To add the Shield to your collection, simply teleport back to your cauldron, toss the ingredient inside, and press the Spawn button to begin brewing. After just a few seconds, the Shield potion should appear.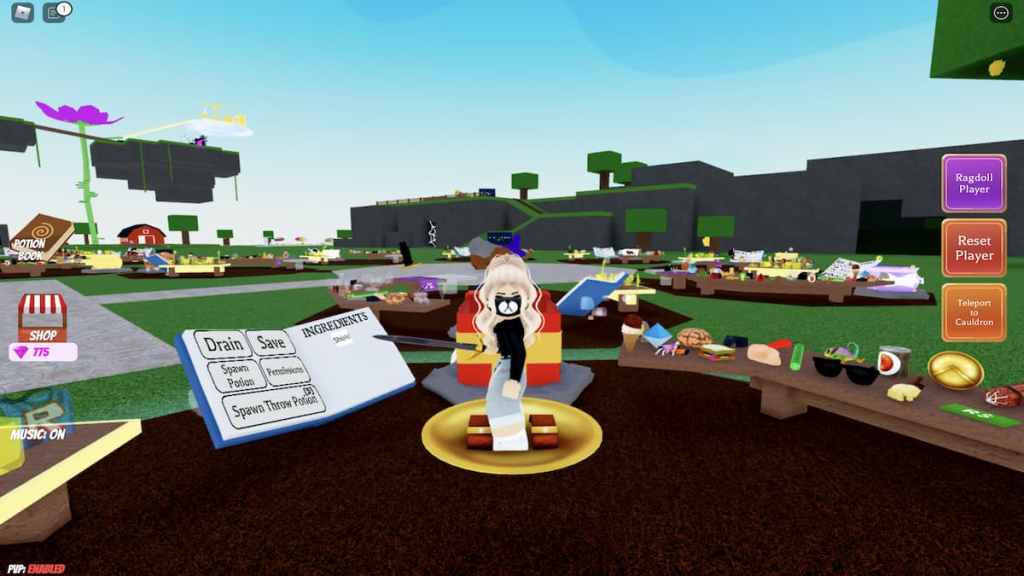 Shield potions list
The list below features all of the currently known Shield potions.
| | | | |
| --- | --- | --- | --- |
| 594 | Shield | Shield | Get a hover shield! |
| 595 | Crossbow | Shield + Gun | Get a crossbow! |
| 596 | Ginger-minion | Shield + Fairy | Gingerbread minion! |
| 597 | Gumdrop-bomb | Shield + Dynamite | Gumdrop bomb! |
| 598 | Gumdrop-poo | Shield + Rotten Sandwich | Gumdrop poo! |
| 599 | Shield-arms | Shield + Pool Noodle | Shield Arms! |
| 600 | Sword-shield | Shield + Brain | Sword + shield! |
| 601 | Throwable-shield | Shield + Monkey's Paw | Throwable shield! |
Looking for more Wacky Wizards content? Check out our recent guides on How to get the Shark Tooth ingredient in Roblox Wacky Wizards or How to get the Monkey's Paw ingredient in Roblox Wacky Wizards here on Pro Game Guides!