Wren Brightblade has left us some treasure in Legends of Speed during Week 2 of Metaverse Champions. Find out how to get Wren Brightblade's Treasure Chest (available April 21 to April 30) below.
How to get Wren Brightblade's Treasure Chest Legends of Speed
In Legends of Speed, you start off as a slow-moving character that must walk, run, and sprint your way to faster speeds. To complete the quest and receive Wren's Treasure Chest, you must increase your character to level 25 and complete the parkour challenge.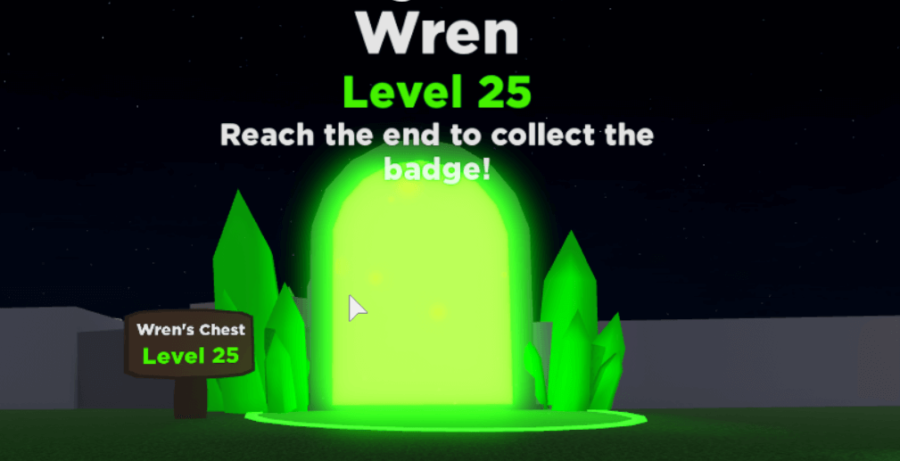 Once you have reached level 25, you can enter Wren's Parkour Challenge, shown in the image above. This is a simple parkour map that requires you to jump from platform to platform to reach the end.
If you are already at least level 25 in this game, this quest should be relatively simple. If you are starting off at level one, here are a few tips that will help you increase your level quickly.
Related: How to get Wren Brightblade's Treasure Chest in Deathrun
Use our codes! We have codes that can help you purchase items or give you a small boost in the earlier levels. You can find our complete list with the follow link: Legends of Speed Roblox Codes.
Collect the golden orbs. When you are in levels 1 through 5, be sure to collect the orbs on the ground, especially the Golden Orbs. The other colors are helpful and provide you additional steps, but the Golden Orbs give you added XP, which shortens the time until you reach the next level.
Use the Floating Rings. Once you get higher in levels, you'll find your speed allows you to burst high enough to get the extra steps from the floating rings. Use them as often as you can to quickly gain more levels.
Use the Purple Ring. Once you reach level 15, you should have enough speed to burst onto the roof of the buildings and jump across them to the purple floating right. You can repeatedly jump into it from the roof, which causes your character to level up extremely fast.
Get to level 30. We recommend using the technique above to get to level 30. This makes Wren's Parkour Challenge far easier to complete.
Once you have reached level 25 and completed Wren's Parkour Challenge, you have completed the quest! You can walk up to Wren to receive the reward, which is a badge and Treasure Chest added to your Roblox inventory.
For all Metaverse Champions Mission Guides, be sure to check back with Pro Game Guides. If you're looking for codes for other games, we have a ton of them in our Roblox Game Codes post! You can also get a bunch of free stuff via our Roblox Promo Codes page.