The famous Kellogg's cereal brand has made its Metaverse debut with Froot Loops World, an experience designed with fun in mind! Froot Loops World is one of the best brand crossovers we've seen so far—with impressive animations, challenging and interesting obbys, unique in-game avatar items, and even an appearance from Toucan Sam himself. Froot Loops World delivers and executes a completed idea that towers above many similar experiences that have come before it.
Introduction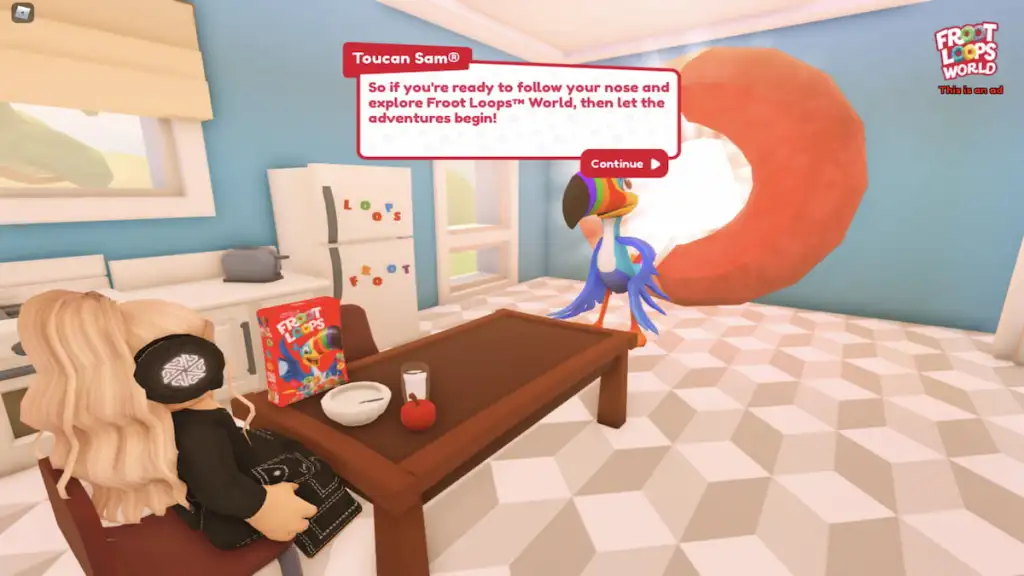 This experience begins in your Robloxian's kitchen—with much dismay, you sit at your dining table to pour yourself a bowl of cereal just to find out that your box is empty. Not long after, Toucan Sam teleports through a Froot Loop portal and says that he needs your help—all of the world's Froot Loops have gone missing and he needs you to travel with him to Froot Loop World. After agreeing to help him, you follow Toucan Sam into his portal and your adventure begins!
Froot Loops World features
Obstacle courses
The main objective of Fruit Loops World is to collect as many red Froot Loops as possible, as they're the ones that have disappeared from everyone's balanced breakfast! To do this, Toucan Sam will ask you to complete 10 different obstacle courses, all with their own difficulties and lengths. Red Froot Loops can be collected by following the path of the obby and running over labeled checkpoints on the ground.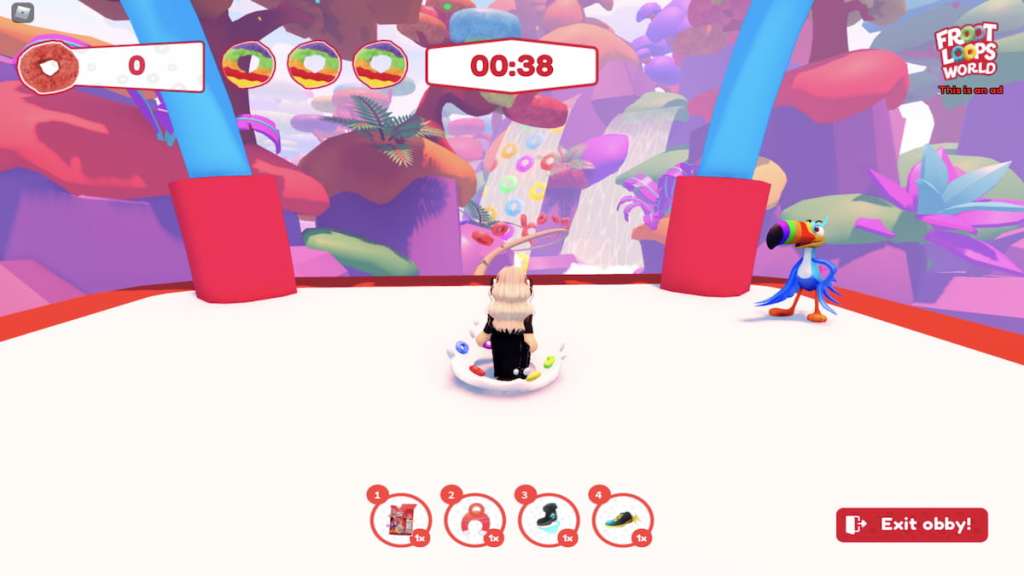 Related: How to get the Nike Cookie Earmuffs in Roblox Nikeland?
Most of these obbys are rather straightforward and easy to complete, however, there are a few that require a bit more patience and thought. For example, the obstacle pictured below features varying parts and patterns that players must memorize—the tan platforms in this section can be stood on indefinitely, whereas the solid red platforms can be jumped on only once before they fall, and the broken red platforms will fall as soon as your character touches them. The timer at the top of the screen won't ever penalize you, so take your time when you need to!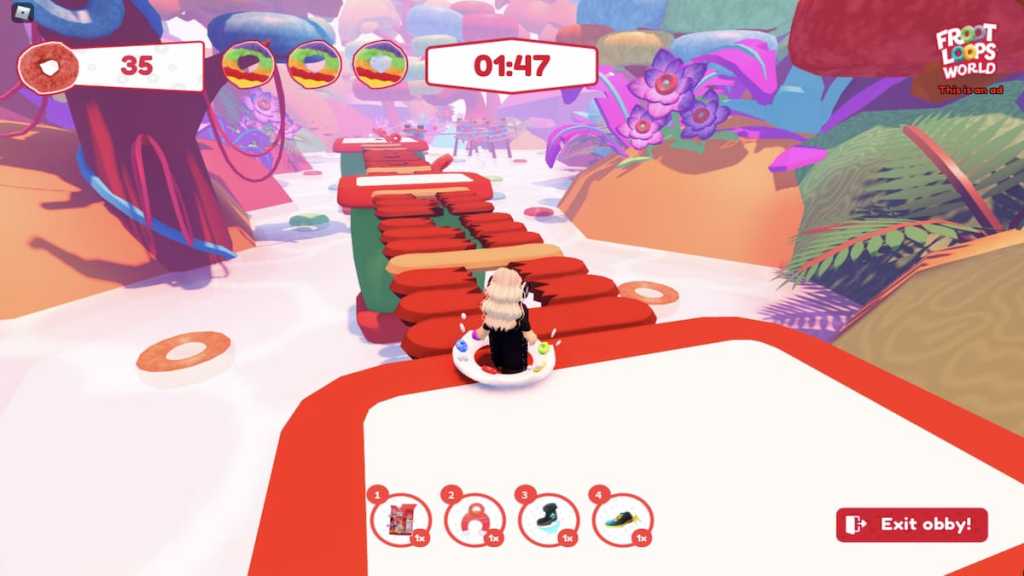 Map exploration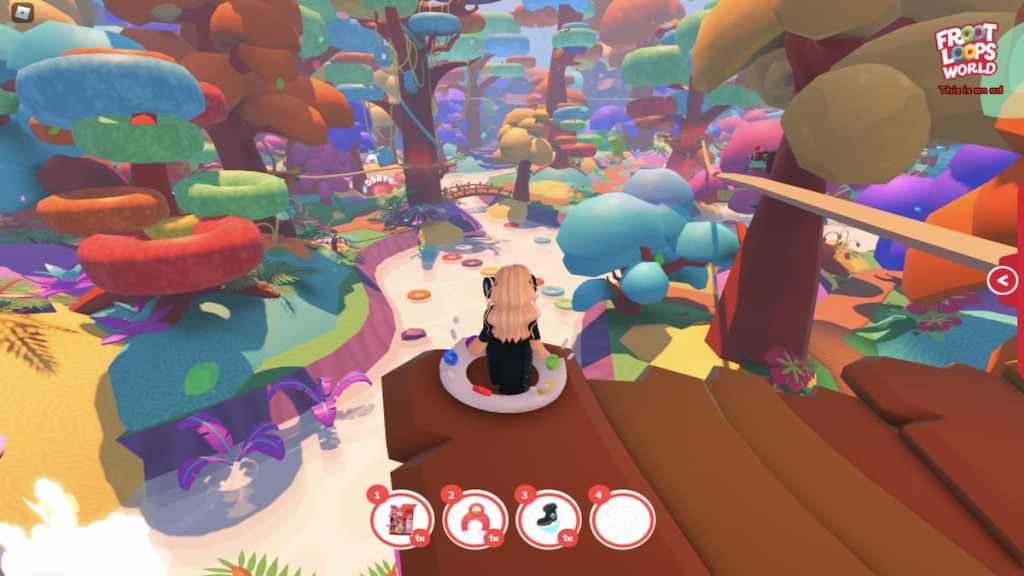 Swim in a milk and cereal river, slide across tree top vines, bounce from spoon flower to spoon flower—Fruit Loops World has so much to explore! From a Froot Loops water....er, milkfall, to Froot Loops clouds, the developers clearly thought of everything to keep this experience as fun, colorful, and on-brand as possible!
In-game merchandise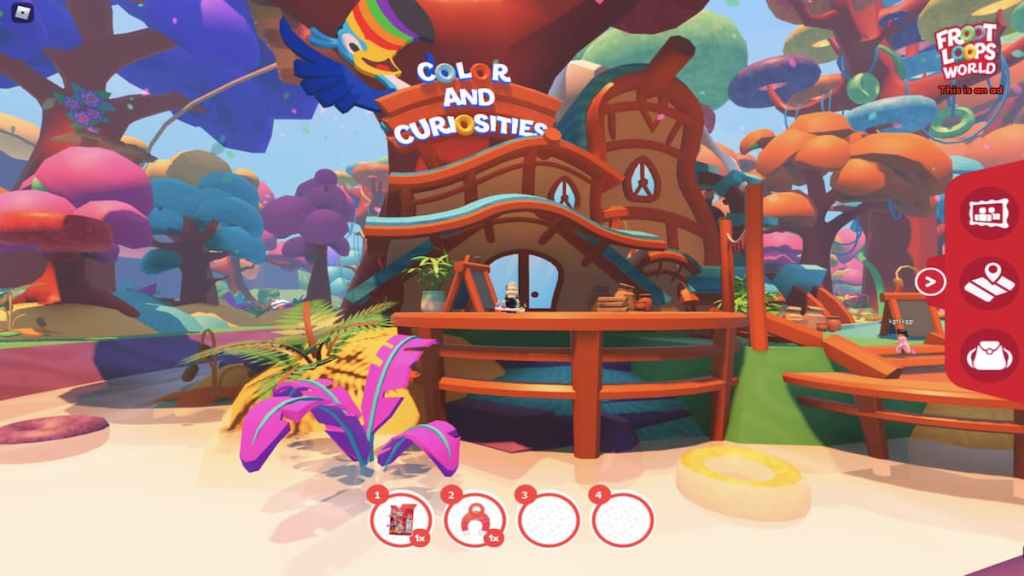 Looking to dress your character up in some Kellogg's branded merch? Avatar clothes and accessories can be purchased with Froot Loops from the Color and Curiosities store! At the moment these items can only be worn in-game, however as the experience continues to grow in popularity, there may be more limited items added that players can purchase with Robux later on.
On the hunt for more Roblox content? Be sure to check back with the Roblox section of Pro Game Guides often for the most up to date guides, code lists, and news articles like this one!