King of Sea is a Roblox game inspired by the incredibly popular anime/manga One Piece. Players can explore and fight as pirates, marines, or bounty hunters as they craft their own narratives. Collect Devil Fruit to unlock powerful abilities, or stick to the sword and showcase your weapon skills.
Codes are used to redeem free gifts and rewards in King of Sea. These can give you various things such as Beli, resets, and even Devil Fruit. Be sure to check out more Roblox content like Legend Piece Codes on Pro Game Guides.
All King of Sea Codes List
King of Sea Codes (Working)
Here are all active King of Sea codes.
HappyEaster2—Redeem to get 10,000 Beli (New)
UPDATE2—Redeem to get 3,000 Beli
Sorry—Redeem to get 3,000 Beli
Sorry1—Redeem to get 10,000 Beli
Reset—Redeem to Reset Stats
Reset2—Redeem to Reset Stats
ResetUpdate2—Redeem to Reset Stats
FreeFruit—Redeem to get 3,000 Beli and Devil Fruits
King of Sea Codes (Expired)
Here are all expired King of Sea codes.
HappyEaster
HappyEaster1
SubToTigreTV
Related: A Piece Codes
How to redeem codes in King of Sea
The Roblox game King of Sea makes redeeming codes an easy process. This makes codes the fastest way to get rewards and get ahead of the competition. Here is how to redeem codes in King of Sea.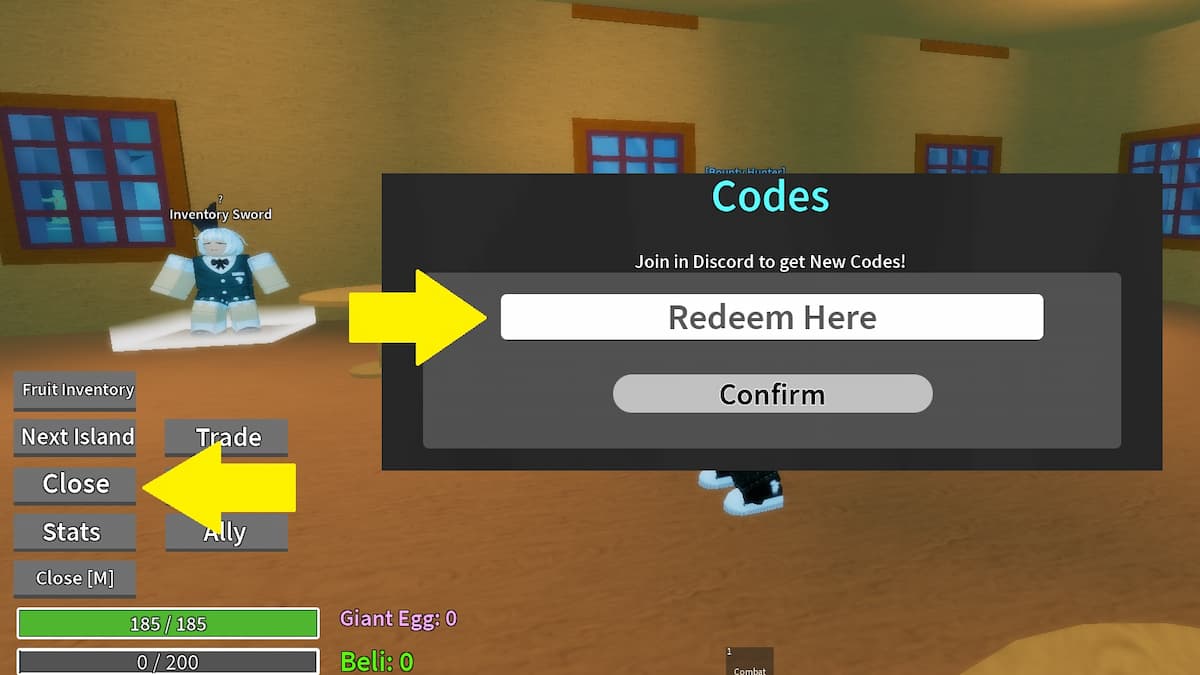 Click the Settings button.
Select Codes.
Input the code.
Click the Confirm button.
How can you get more King of Sea codes?
You can follow or join the creator's social accounts to get more codes for King of Sea. This includes the King of Sea, Ghost-hr7ys, and @kauan123ro on Roblox. We will update this list as new codes are added, so ensure you bookmark this page to stay updated.
Why are my King of Sea codes not working?
The developer creates and controls all codes for King of Sea. This is who determines the rewards they provide and their expiration date. If you attempt to use a code past its expiration, it will no longer work. Other reasons a code does not work include the code not being active yet or misspellings, so verify the expiration date and correct spelling of a code before trying to redeem it. You can prevent this issue by bookmarking this page and checking back often to see if King of Sea has added new codes or if some have expired. If you notice that a code no longer works, let us know! We'll update the list accordingly once we verify.
Should you spawn as a Pirate, Bounty Hunter, or Marine in King of Sea?
Ultimately the choice is yours, as each of the three teams is balanced. We recommend choosing whichever you want to roleplay as. But if you are playing with friends, picking the same team as them could be more fun. You can change your spawn type later, so don't sweat this choice too much.
What is King of Sea?
King of Sea is a popular Roblox game using One Piece as inspiration. This game takes from the popular anime and manga and lets players live out their seafaring dreams. Choose to be a pirate, marine, or bounty hunter and travel the vast world. Make sure you pick up and eat a Devil Fruit if you want a cool power.
We have tons of codes for other Roblox games, so check out our Roblox Game Codes post! You can also get loads of free stuff via our Roblox Promo Codes page. Don't forget to check out the latest news on all things gaming.