The Hasbro/Roblox partnership continues with the new Roblox Nerf Strike game coming soon to the Roblox platform. The first beta of this multiplayer first-person shooter is available to play from today until Sunday, May 2 at 3am CT.
Roblox Nerf Strike is a Nerf-themed FPS where two teams duke it out in a classic Team Deathmatch game mode. Players use familiar Nerf blasters to tag opponents for eliminations. Whichever team earns the most tags wins the match.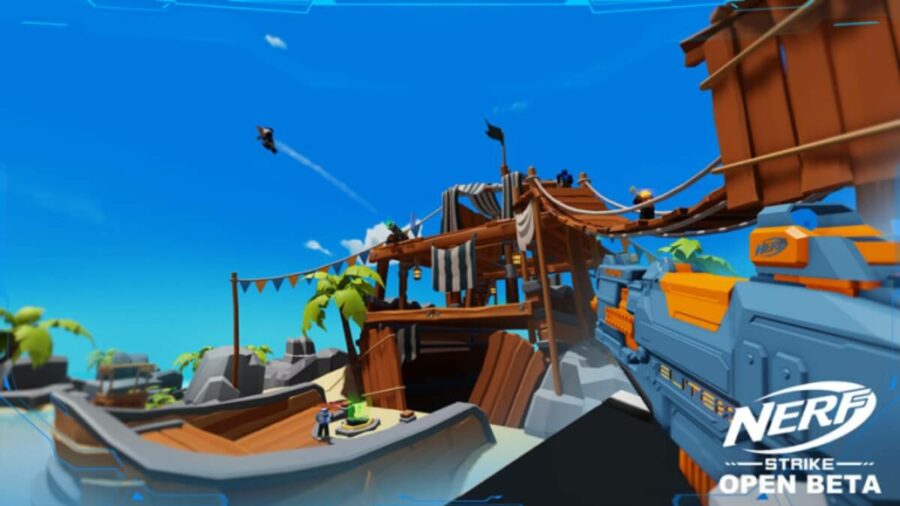 Three Nerf blasters are available during the first beta: the Elite Warden, the Elite Commander, and the Elite Turbine. The Elite Warden is an explosive shotgun blaster while the Commander is a rotating drum blaster. More premium is the Elite Turbine, which costs 3.50K Nerf Tokens. All Nerf blasters have varying stats across range, rate of fire, accuracy, and clip size.
During a match, players are equipped with two abilities and cosmetic armor. The abilities in the demo are the Dart Device (a Nerf grenade) and the Turret. All players wear the Elite Vest and Elite Mask, two common items that are customizable by color and texture appearance.
We played two maps during the Nerf Strike beta: Port (a pirate island filled with ships and forts) and Space (a small spaceship arena with lots of cover). It is unknown if more maps will feature during future beta tests.
The Nerf Strike beta is the latest partnership between Hasbro and Roblox. From Jailbreak to Adopt Me, a collection of physical Roblox-themed Nerf blasters were announced in early April, and also a Roblox Monopoly board game. All toys mentioned are available for preorder with releases slated later this year.
Don't get too attached to your Nerf Strike stats. When the first beta closes on May 2, all progression will be wiped. More beta tests are planned until the game launches as a complete game.
Looking for free Roblox rewards? Pro Game Guides has you covered with our list of Roblox Game Codes and our Roblox Promo Codes post.