Lead your favorite anime heroes into battle in Roblox clicker Anime Power Simulator! Equip your warriors, then send them into battle as you compliment their skills with your devastating special skills. Spend the coins you earn defeating enemies on new warriors until you earn enough to move to the next more challenging area. Can you rise to the top of the leaderboards?
Anime Power Simulator codes can either reward you with items or coins. Items will appear in your Item Bag and can be used to boost your gacha luck or XP for a limited amount of time. Coins are used for spins at the various Units machines, giving you new troops to lead into battle! If you like simulator-style progressive combat, also check out Nuke Simulator.
All Anime Power Simulator Codes List
Anime Power Simulator Codes (Working)
These are all the working Anime Power Simulator codes.
5kLIKES!—Redeem for Yen Boost (New)
REWORK!—Redeem for 1x EXP Boost item
2.5kLIKES!—Redeem for 1x Luck Boost item
RELEASE!—Redeem for 250 Coins
Anime Power Simulator Codes (Expired)
These are expired codes for Anime Power Simulator.
1kLIKES!—This code has expired
250kVISITS!—This code has expired
GAWRGURA!—This code has expired
Related: One Punch Simulator Codes
How to redeem codes in Anime Power Simulator
Follow the instructions below to redeem codes in Anime Power Simulator.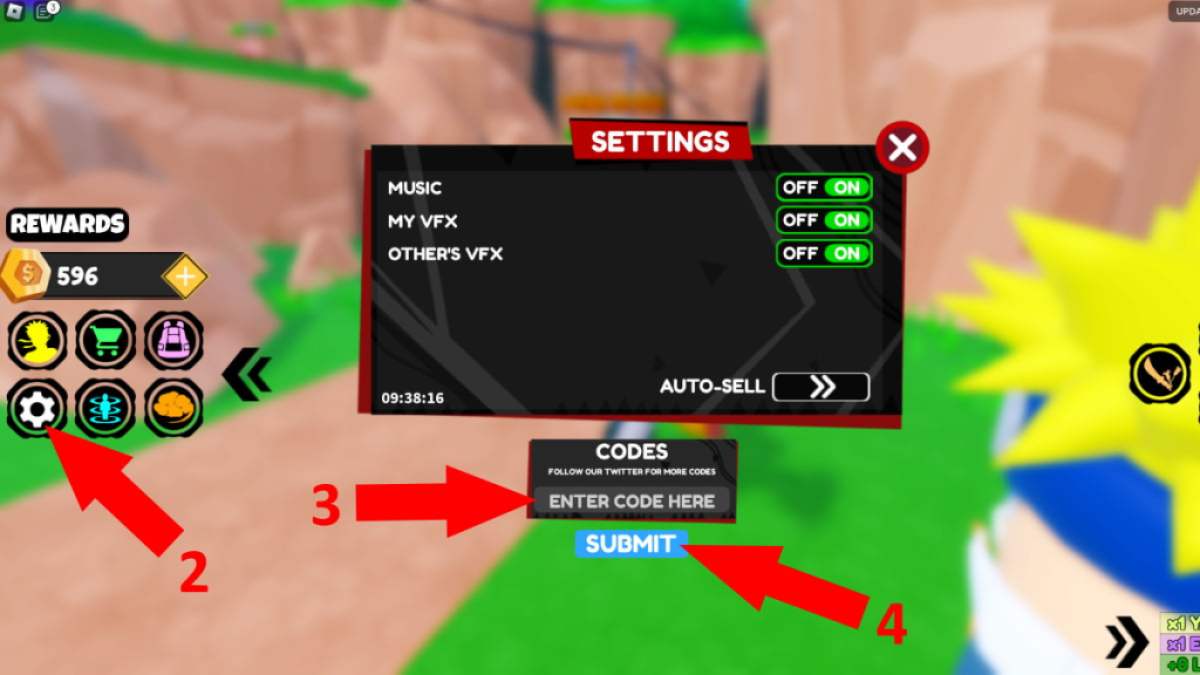 Launch Anime Power Simulator on Roblox.
Press the white Settings cog on the middle left of the screen.
In the popup, enter the code where it says ENTER CODE HERE exactly as it appears in the list above.
Press the blue SUBMIT button underneath to claim your reward!
How to get more codes from the Anime Power Simulator Discord and Twitter
If you're hunting for more Anime Power Simulator info, including new codes, a good place to start is the (NRPG) Dragon Roblox Group. You can follow @benther123 on Twitter where you'll often see code announcements, and become part of the DIB Studios Discord Server which has a useful Updates channel. There is also the Infernothedub YouTube Channel to follow.
Why are my Anime Power Simulator codes not working?
Like most Roblox codes, Anime Power Simulator codes can be quite fickle. You need to get all the capitalization correct and make sure not to mistake any numbers for letters, as a single error can make a code invalid. If you know the code is right (we suggest cutting and pasting) but it isn't working, it may have expired. This means it will no longer work, so you'll have to try another code. Check back soon if you've run out, as we'll add new codes here as soon as we find them.
How to get more free rewards in Anime Power Simulator
If you want exclusive codes for Anime Power Simulator, head over and subscribe to YouTuber @redtrite on YouTube. You'll need both the Channel ID and the code to use them, when available. Then, head up the first ramp in-game to the black and purple character that says SUBSCRIBER REWARDS above it. Enter the details to claim your free rewards!
What is Anime Power Simulator?
Anime Power Simulator is a pet-style Roblox clicker game. Equip your best units, then send them off to do battle with the various mobs you'll find on the map. Each victory will earn you Coins, which you can spend gacha-style to gain new units to equip. By defeating particular bosses multiple times you can also learn new skills, and eventually open up new areas to explore and battle in.
If you're looking for codes for other games, we have a ton of them in our Roblox Game Codes post! You can also get a bunch of free stuff via our Roblox Promo Codes page. And in the meantime, take a look at the latest news to stay up-to-date on all things entertainment.