Live your life as part of an anime world! In this Dragon Ball Z-inspired anime Roblox game, initially called DBZ Adventures, level up to become more powerful while also increasing your mastery by using your special moves to learn more! Complete quests to earn Zeni to buy equipment and specializations from Bulma. You'll see many manga inspirations in Anime Rift, as the latest update focused heavily on the anime Fairy Tail!
Level up quickly with our codes for Anime Rifts, as each one will give you a boost to double your Experience gains, or maybe double all the stats at once! Leveling up is essential as you need to defeat stronger foes to complete challenging quests. Whether you're just starting or playing Anime Rifts for a long time, these Anime Rift codes can give you a significant boost!
If you're after more anime-inspired adventures on the Roblox platform, check out our other code lists for Anime Fighters Simulator, Anime Warriors Simulator, Anime Mania, Anime Journey, and Anime Dimensions.
All codes for Anime Rifts Codes List
Updated May 19

Updated page, checked working codes, and moved some to expired.
Anime Rifts Codes (Working)
Here's a look at all the working Anime Rifts codes.
almostback—Redeem for 3 hours of 2x XP (New)
fairytailmonth—Redeem for 1 hour of 2x XP (New)
SubToTaklaman—Redeem for 6 hours of Double Everything
Anime Rifts Codes (Expired)
These codes are no longer valid.
oldbeerusisback—Redeem for 1 hour of Double Everything
keepyourultrainstinctkakarot—Redeem for 1 hour of Double Everything
whydisrespectthegreenman—Redeem for 30 minutes of Double Everything
demonslayersoon—Redeem for a free Boost
gasstationworker—Redeem for 30 minutes of Double
Everythingmoredemonslayersoonmaybe—Redeem for 1 hour of Double Everything
yami2out—Redeem for 1 hour of Double Everything
piety—Redeem code for 30 Minutes of Double Everything
ssj44vegeta—Redeem code for 50,000 Zeni
takingitslow—Redeem code for 30 Minutes of Double Everything
release—Redeem code for 60 Minutes of Double Everything
Anime Rifts FAQ, Answered
How to redeem Anime Rifts codes
It's easy to redeem codes for free rewards in Anime Rifts. To do so, follow the instructions below.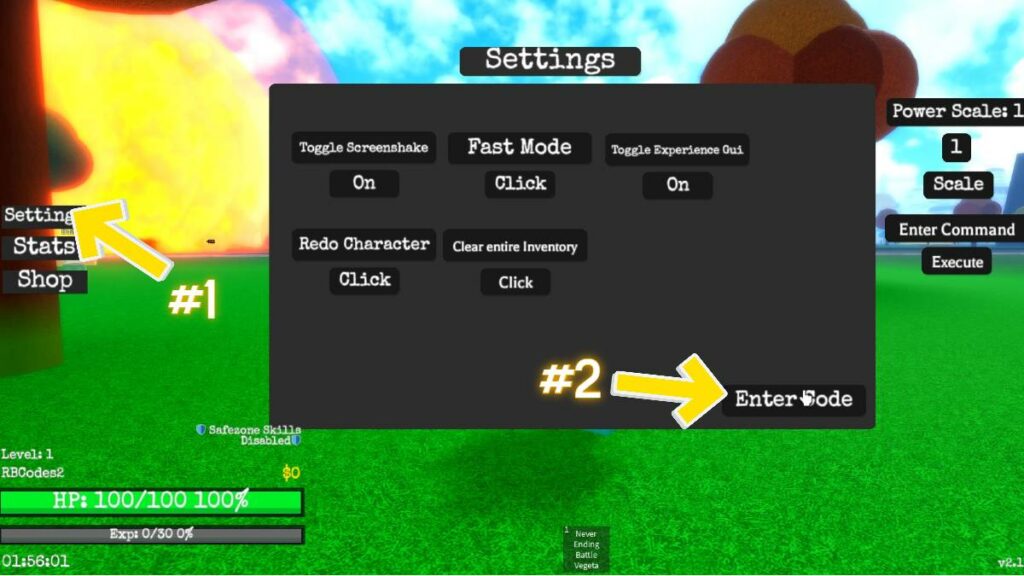 In the game, press the Setting button on the left side of the screen.
In the new window, there is a box in the bottom right that says Enter Code. In that box, enter the code exactly as it appears in the list above.
Press the 'Enter' key on your keyboard to claim your reward!
How to get more Anime Rifts codes
A grand way to get access to codes as they are released is to follow AspectGames on Twitter or to join the Anime Rifts Discord server.
If you are a Premium member or a Roblox Group member, you will earn an extra 20% experience playing Anime Rift.
Why aren't my Anime Rifts codes working
Like many Roblox codes, they all have a different lifespan, and Anime Rift codes are no different. Some codes may last a while, and other codes may last a day. So make sure to bookmark this page to keep coming back for the newest codes.
Always copy and paste a code rather than typing it manually, as the most common reason why codes are not working is that they have been misspelled, so still double-check they have been entered correctly!
What is Anime Rifts?
Anime Rift has taken the popular anime Dragon Ball Z and turned it into an excellent game. now featuring more anime! Create a custom character, and enter the world, defeating low-level minions at first to increase your level and ability mastery. Earn Zeni by completing quests to purchase items to make you stronger.
Learn new moves, explore the world and defeat familiar bosses like Krillin to become the strongest in the world!
If you're looking for codes for other games, we have a ton of them in our Roblox Game Codes post! You can also get a bunch of free stuff via our Roblox Promo Codes page.