Looking for Ants Simulator codes? We've got you covered for everything you need to improve your colony! You'll start out with basic tools, so use your codes to get yourself new pets and collection rates as you click to collect pollen. Then feed up your pets to improve your yield, open new areas, and work your way up the Ant Simulator leaderboards!
Ants Simulator codes can give you a huge array of rewards, often giving several free items at once. These include limited-time boosters that increase your collection rates in fields, food to level up your pets, and pet eggs to hatch to increase your colony's conversion rates. If you love Roblox clicker games, you should also check out Clicker Party Simulator.
All Ants Simulator Codes List
Ants Simulator Codes (Working)
These are all the working Ants Simulator codes.
1kfavorites—Redeem for Diamond Egg, 100 Snowflakes, 10 Bread, 1,000 Cookie, and 10 Branch (New)
100kvisits—Redeem for 5 Gingerbread, and 15 minutes of all boosts
quartzz—Redeem for Golden Egg, 15 Bottomless Bag, 15 Bread, and 15-minute field boosters
Ants Simulator Codes (Expired)
These are expired codes for Ants Simulator.
Yessir—This code has expired.
Related: Bee Simulator Codes
How to redeem codes in Ants Simulator
Follow the instructions below to redeem codes in Ants Simulator.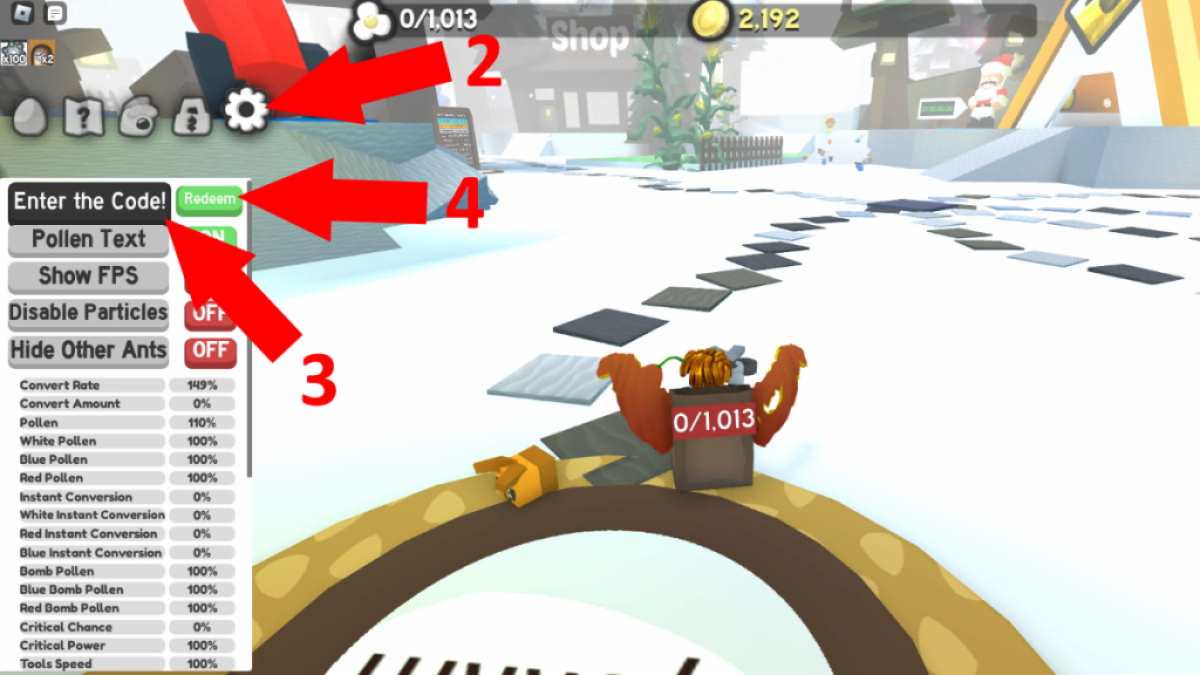 Launch Ants Simulator on Roblox.
Press the Settings cog icon in the top left of the screen.
In the text box at the top of the pop-up that says Enter the code!, do so exactly as it appears in the list above.
Press the green Redeem button to claim your reward!
How can you get more Ants Simulator codes?
If you love Ants Simulator and want to keep an eye out for new information and codes, you can start by following creator @qlemjo on Roblox. But the best option is to become part of the Ants Simulator Discord Server, which has dedicated channels for game and updates information, sneak peeks, and more.
Why are my Ants Simulator codes not working?
As with most Roblox experiences, Ants Simulator code needs to be entered exactly to work. This means that a typo, such as a capitalization mistake, can invalidate them, so try to cut and paste the codes where you can to avoid errors. If that doesn't fix a code, it's likely the code has expired. We can't help with that, except to tell you we're constantly searching for new codes. So let us know below that a code no longer works, then check back soon for new ones.
Other ways to get free rewards in Ants Simulator
If you're looking for ways to get an edge in Ants Simulator, start by talking to Donkey. Donkey will give you quests as you progress, which will give you free rewards while you simply get on with playing the game. This is super helpful, as it also guides you in what to do next while giving you everything from Candy Canes and Sprouts to Snowflakes. You can also talk to Santa to get quests for more free rewards. Finally, when collecting pollen, look out for floating discs in the fields. Running through these while you collect will give more free rewards, including Snowflakes and boosts.
What is Ants Simulator?
Ants Simulator is a collecting and crafting clicker Roblox experience with a few action elements thrown in. You start out collecting pollen and hatching pets to increase the quality of your colony. But as you advance to new flower fields, you can craft improved items as well as buy them while trying to avoid insects that will try and stop you from getting the pollen.
If you're looking for codes for other games, we have a ton of them in our Roblox Game Codes post! You can also get a bunch of free stuff via our Roblox Promo Codes page. And in the meantime, take a look at the latest news to stay up-to-date on all things entertainment.