Who knew babysitting could be so much fun? Relive some of your favorite horror film scenarios in Roblox Baby Evil, as you find yourself trapped indoors with a huge evil baby set on capturing you! Run around either the nursery or the hospital, finding and solving puzzles before Baby Evil captures you. Or you may find yourself playing as Baby Evil, at which point it will be your turn to do the capturing.
So far, no codes for Baby Evil have been released. However, the devs have said the first code will be revealed when the game reaches 1,000 likes on Roblox. When the codes are available, they will likely give you free gems or toys that you can spend in the Shop to get Baby Evil outfits, or Baby Monitors to help you in-game or use to respawn in the game if you are caught by Baby Evil! If you like this style of Roblox game, also check out Creature Chaos.
All Baby Evil Codes List
Baby Evil Codes (Working)
These are all the working Baby Evil codes.
There are no codes for Baby Evil yet. The first code will be announced when the game reaches 1K likes.
Baby Evil Codes (Expired)
These are expired codes for Baby Evil.
There are no expired codes for Baby Evil
How to redeem codes in Baby Evil
Follow the instructions below to redeem codes in Baby Evil.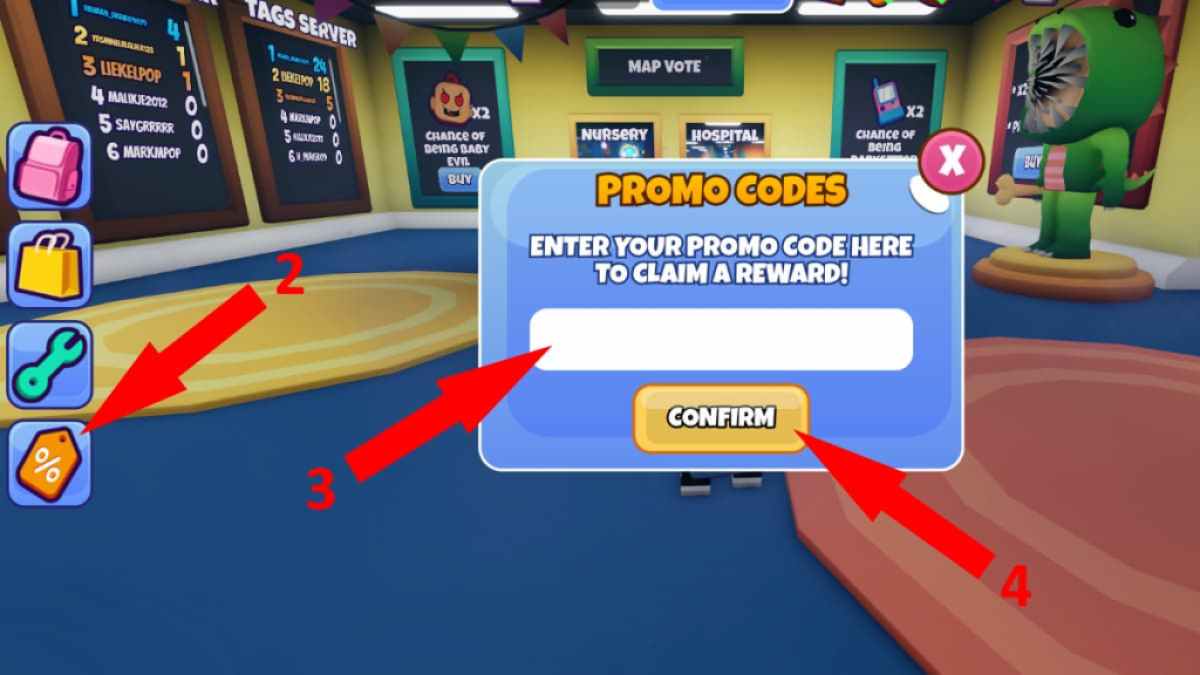 Launch Baby Evil on Roblox.
Press the orange Price Tag icon on the left of the screen.
In the Promo Codes pop-up that opens, cut and paste your code into the white text box, exactly as it appears in the list above.
Press the orange CONFIRM button beneath the text box to claim your reward!
How can you get more Baby Evil codes?
We're sneaking around the house looking for new Baby Evil codes regularly. But if you want to go on the hunt yourself, you can do so by joining the All The Gang Stockholm Roblox Group. You can also follow @TheGangSthlm on Twitter, become part of The Gang Gaming Discord Server, and subscribe to The Gang Gaming YouTube Channel.
Why are my Baby Evil codes not working?
Are you having trouble with a Baby Evil code you found here at Pro Game Guides? The first thing you should do is check for typos, such as mistaking a letter for a number. Even getting something like capitalization wrong can mean a Roblox code won't work, which is why we suggest you cut and paste codes directly from here. If everything is correct, unfortunately, the code may have expired. This happens to most Roblox codes in the end. But we've got your back, checking for new codes all the time. So, check back soon for new ones!
How to complete puzzles in Baby Evil
The key to winning a round of Baby Evil is completing the puzzles, but it isn't made at all clear what to do before you start playing. So, here's how you complete puzzles in Baby Evil. As long as you're not the baby, once the timer starts, look at the top of your screen to the right of the timer. This will show you icons for the five puzzles you need to complete to win. If you see a glowing item, walk over to it to pick it up. Now you'll need to find the location to use it. Watch chat carefully, as someone may ask you to follow them if you have an item and they know the location. When you find the location, a large green circle will appear at the bottom of the screen. Click it to deliver the item. Also note that if you run over a different quest item, you'll drop the one you had, so be careful en route to your location!
What is Baby Evil?
Baby Evil is a cute-looking one-against-all Roblox game, in which one player plays as Baby Evil while the others try to solve puzzles and escape the rooms they're in before they're all caught by the baby. Players have five minutes to find the items they need to complete the puzzles and escape, which include keys to open doors and items that need to be put in particular places.
If you're looking for codes for other games, we have a ton of them in our Roblox Game Codes post! You can also get a bunch of free stuff via our Roblox Promo Codes page. And in the meantime, take a look at the latest news to stay up-to-date on all things entertainment.